Business Matters
The Hub Community Bike Shop again rides where it can be seen
Bellingham bike nonprofit relocates downtown after four years out of sight
December 14, 2022 at 4:50 a.m.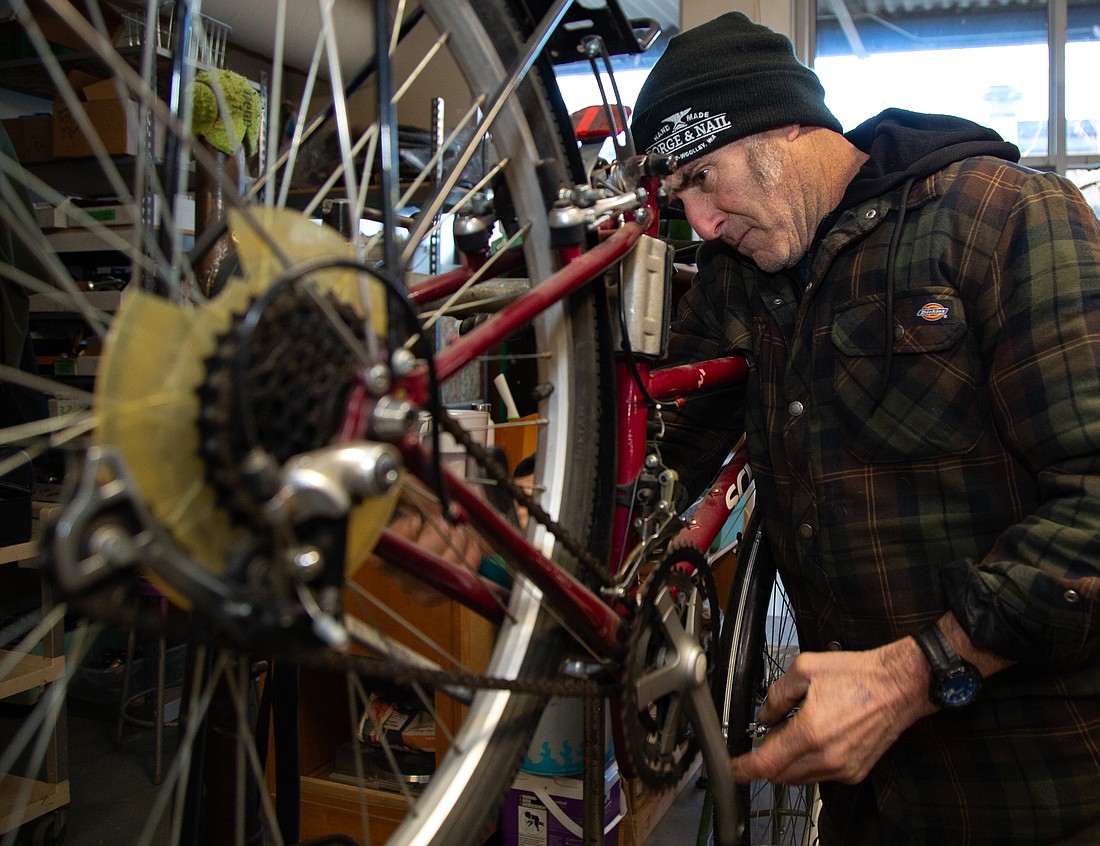 ---
---
A "public benefit" lease. The red-painted door and window trim is partly obscured by the parking garage overhang at 1320 Commercial St. in downtown Bellingham. But step inside, and the spoked wheels on hooks overhead and tires neatly stuffed into cubbies make it clear you're in a bike shop.
Not any bike shop: nonprofit The Hub Community Bike Shop, located centrally downtown again after four years on the edge of the Sunnyland neighborhood.
"They're starting to find us, which is great," said Kyle Morris, executive director of the longtime 501(c)(3) public charity formally known as The Pedal Project. "Our other location they didn't really know where to go, where we were, if we were still existing."
That "other location" was 110 Ohio St., tucked away in an alley behind Wander Brewing. The Hub moved there in 2018 after its downtown home of 16 years at 903-1/2 N. State St. was tapped for redevelopment. 
The Hub's most recent shift, to the Commercial Street address of the defunct Bellingham Railway Museum, occurred in late September. 
It's a large indoor space — about 2,400 square feet, Morris said — but the nonprofit plans to hang onto the Ohio Street spot with its outdoor storage "as long as we can … we can fill an airplane hangar with the stuff that comes in here and then some, probably."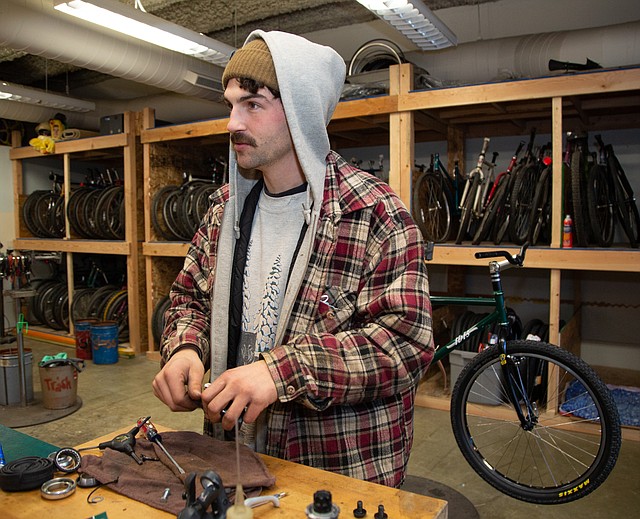 An attraction of the new location wasn't only the renewed visibility, but subsidized rent. The Hub applied for, and received unanimous Bellingham City Council approval of, a "public benefit lease" in the city-owned building. The negotiated below-market rate of $50 per month plus a share of operating expenses and state taxes was OK'd instead of what the city said was the monthly market value of $1,800.
All nonprofits have a business model, though they may not use that term. Core to The Hub's continued operations are bikes that are donated in any condition.
"Basically we're processors," Morris said. "We either take them apart, recycle parts, have parts for resale or else we rebuild them for resale as a bike. And it's on a sliding scale, largely."
The nonprofit's revenue mostly comes from those sales, as well as full-service repairs. What, in turn, does it invest in?
"Just our community," Morris said simply. That includes offering a self-repair station for riders to work on their bikes, keeping unwanted or inoperable bicycles out of landfills and doing "work with local organizations to get bikes into the hands that need them," according to its website.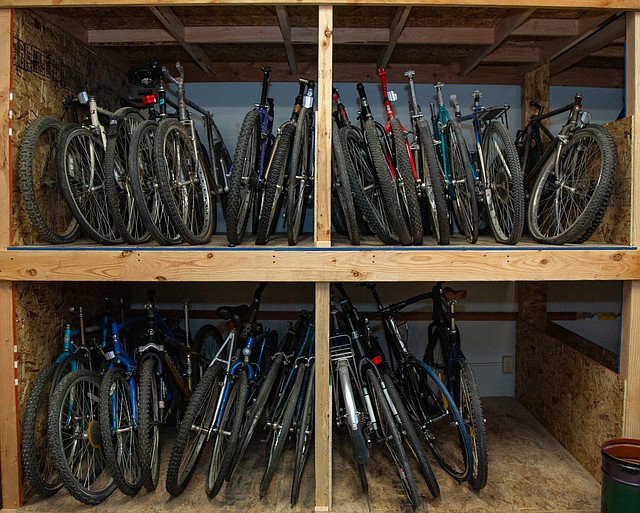 Morris said The Hub has "only a couple" of full-time employees. Its opening hours are limited to Thursdays, Fridays and Saturdays from 10 a.m. to 6 p.m. 
But it's adding educational outreach programs. It soft-launched donation-based sessions in November, Morris said, including "basic maintenance classes and then we're trying to host some ridership classes." He said details will be posted on The Hub's website at www.thebikehub.org. 
Meanwhile, the nonprofit continues to build out the new space, build more bikes and reengage with the community downtown after four years off the beaten path.
Unemployment up, sort of
After skimming along the surface at a record low 3.7% from July through September, the seasonally adjusted state unemployment rate ticked up to 3.8% in October, according to the Washington State Employment Security Department. 
While not directly comparable to the state rate, the non-seasonally adjusted county rate in Whatcom was flat, holding steady at 4.0% in October and September. Skagit County went from 4.1% to 4.2% over the same two months.
The extremes? Ferry County, which hugs the Canadian border in northeast Washington state, was the highest in October at 7.3%. King County, at 3.0%, was the lowest. 
People
Brad Barron will become CEO of Ferndale-based Barron Heating AC Electrical and Plumbing on Jan. 1. Principal owner and current CEO John Barron will continue as executive chair and coach, according to the company announcement. Brad Barron has been COO since 2020. The firm, which marked its 50th anniversary this year, said it has more than 200 employees and projected 2022 revenues of $40 million.
Places & things
Burlington Plaza is the new name of the shopping center along I-5 at 448 Fashion Way in Burlington, previously known as the Shops at Burlington and the Outlet Shoppes at Burlington. One pledge, according to a real estate lease listing, is that "the property will no longer be an outlet mall." Instead, there will be "a blend of office, medical, professional, recreational, retail" and other uses. 
Al Monjazeb, whose Burlington Investment Properties bought the center in March for $9.5 million, has since reroofed, repainted and relandscaped it. He was light on specifics when emailed with questions about new tenants, but said new signage is coming and "any more info will be in 2023."
(For the latest Places & Things, check here throughout the week.)
Frank Catalano's column appears Wednesdays. Email: frankcatalano@cascadiadaily.com; Twitter @FrankCatalano.