Environment
700 birds found dead in Skagit Bay area
Die-off likely caused by highly contagious bird flu
December 8, 2022 at 3:03 p.m.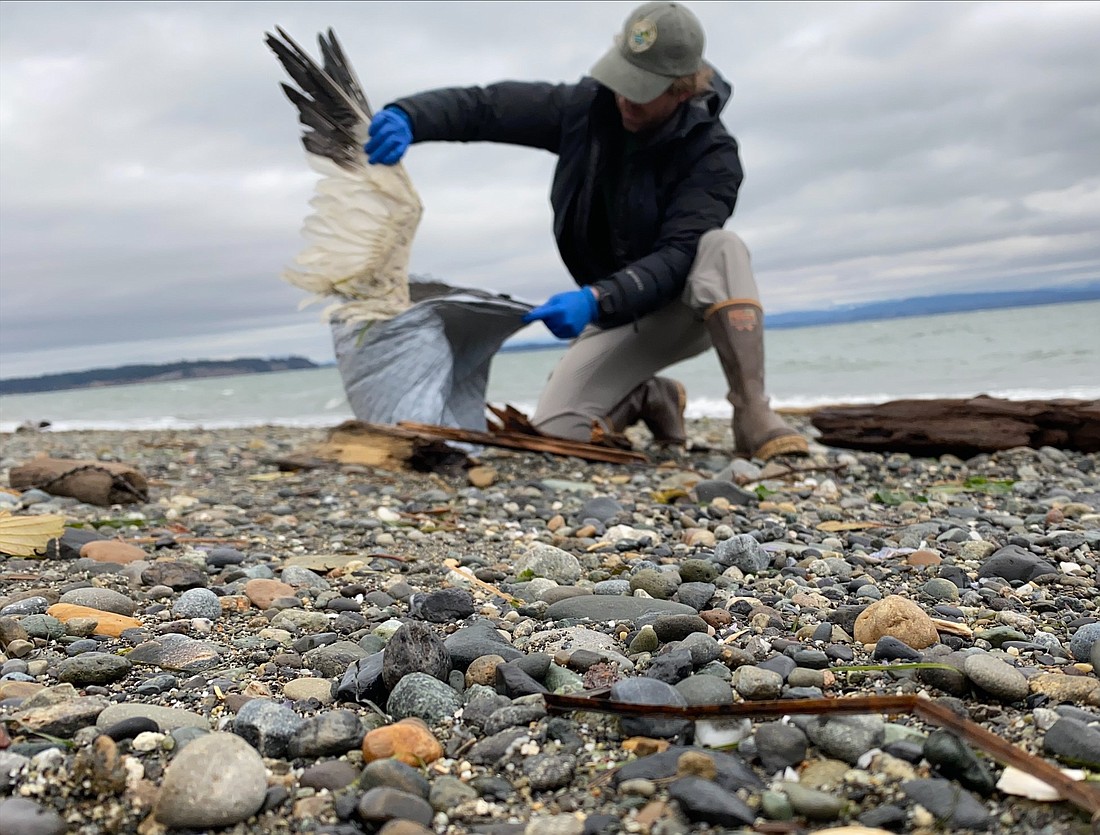 ---
---
The Washington Department of Fish and Wildlife (WDFW) has collected more than 700 sick or dead waterfowl from the waters around Skagit Bay in recent days. The suspected cause of death: H5N1, a strain of bird flu. 
The birds, primarily juvenile snow geese, have been found around Skagit Bay, as well as in northwestern Snohomish County and Island County. 
Throughout the fall and winter, the region becomes a major feeding and roosting area for snow geese and other migratory waterfowl, making the virus easier to spread. 
"With the weather getting cooler and some areas not having as much water coming out of the summer, the geese will flock together in an area to feed," WDFW Communications Manager Staci Lehman said in late November. "With all these geese together, they just pass it to each other." 
The virus spreads from animal to animal through droppings and secretions. 
Due to the extreme size of the Skagit Bay outbreak, WDFW said staff will not be able to respond to each reported sick or dead bird, though the department encourages residents to report any and all birds of concern through an online form. 
It's highly unlikely the H5N1 virus will spread to humans, though it has happened before. 
"We have seen it spread to humans, but it's mostly people who worked closely with birds, like in the poultry industry — you know, someone touching a lot of birds on a daily basis," Lehman said previously. 
Dogs and other small animals are at risk of infection, though, and the department encourages residents to keep their pets inside. 
Bird flu has plagued Washington flocks this year, with dozens of reported cases and even more deaths throughout the summer. According to a recent update from the Washington Department of Agriculture, more than 2,400 birds have been impacted by the outbreak. 
The Skagit Bay die-off follows on the heels of a recent outbreak in Whatcom County. In late November, the Whatcom County Health Department issued a notice that around 400 dead or sick birds had been recovered from Wiser Lake, near Lynden. On Dec. 7, WDFW reported that deaths at the lake had slowed significantly, with a majority of deaths in the county occurring in the days before Thanksgiving. 
At this point, around 450 birds have been recovered from Wiser Lake, Lehman said. 
In November, the Centers for Disease Control and Prevention reported record numbers of bird flu outbreaks across the country. 
"Since early 2022, more than 49 million birds in 46 states have either died as a result of bird flu virus infection or have been culled (killed) due to exposure to infected birds," according to a Nov. 3 press release. "This number is nearing 50.5 million birds in 21 states that were affected by the largest bird flu outbreak that occurred in 2015."
At this point, Lehman said, the state will not euthanize healthy birds to prevent spread, though they may kill already-infected animals.