Business Matters
Carnal owners expand footprint locally, plan consumer products nationally
Restaurant partners now have three Bellingham locations
December 7, 2022 at 4:50 a.m.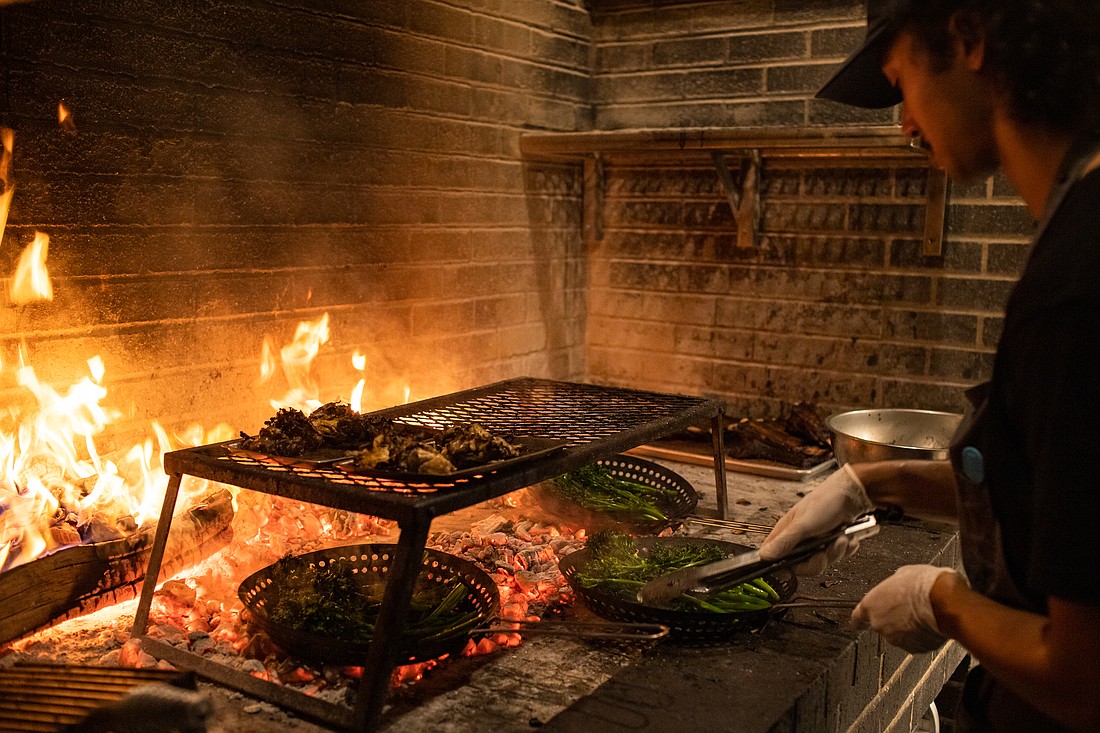 ---
---
A national jerky brand. Restaurants are the fireflies of retail. Some burn brightly for a time and then fade due to thin margins, high costs, unpredictable supply chains and labor shortages. Then layer on a dollop of fickle food-as-fashion customers. 
So it's notable when an independent restaurant not only thrives, but reproduces. And reveals national consumer product aspirations.
Carnal Restaurant Group, which was tested by opening in the depths of the pandemic, now has three Bellingham restaurants run by four partners: former New York City chefs James Zamory, Aaron Saurer and Sean McDermott, and film and music producer Skip Williamson. It was Williamson, already living in Bellingham, who approached the team of chefs about relocating.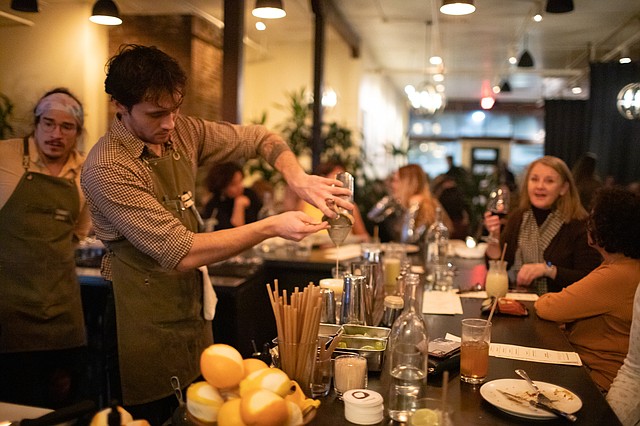 The first result was wood-fired Carnal, which opened at 1234 N. State St. in downtown Bellingham in August 2020. Burger-oriented Accomplice set up shop next door in December 2021 after opening as a pop-up named Comrade that January. French bistro Estelle completed the triumvirate when it welcomed diners to the former Swim Club location, at 1147 11th St. in the Fairhaven neighborhood in October 2022.
Of the three, Williamson said, "Carnal is for sure the busiest," in large part due to its capacity. 
"At one point this summer we had, I think, 212 people sat at once, and there's no other restaurant in town that size," he said. Staffing reflects that difference: Williamson said 40 people work at Carnal, compared with 10 at Accomplice and 30 at Estelle.
Opening Carnal almost six months into COVID-19's disruptions "was wildly challenging, for all of the obvious reasons," Williamson said. But it did have an upside. "The main benefit is it sent us on a 'slow burn' journey where we didn't have to get everything immediately right," he said.
That included — and Williamson paused to use care in his wording — "an educational process." Take the menu. 
"When you see something on the menu like grilled maitake mushrooms with chutney and mangoes, it sounds crazy: like, what is this?" he said. "So, in the beginning, we just had chicken and ribs and like three sides." 
As customers became more comfortable with the cuisine, that gave way to "more complex" menu items, something Williamson said they may have offered out of the gate had it not been for all of the pandemic restrictions. "It allowed us to introduce people to the processes of Carnal in such a way that they could kind of follow along with our evolution," he said.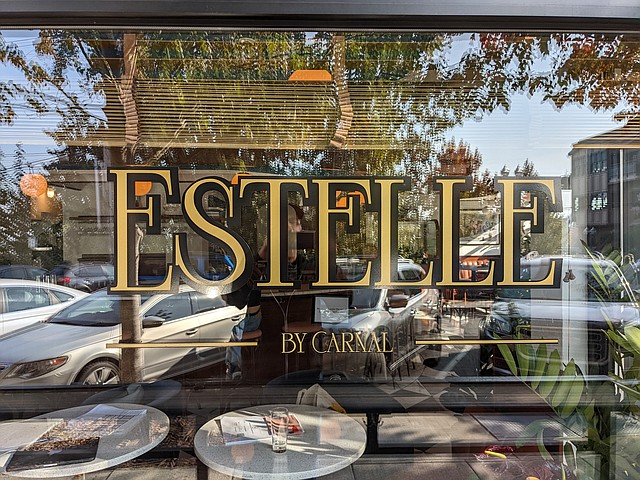 The evolution begat both Accomplice and Estelle. If you look closely, near each name you'll see "by Carnal," by design. It's what marketers call endorsement branding, a tag "so the guests will understand the menus are created and executed by our chef partners," Williamson said.
Though Williamson doesn't expect more eateries in Carnal's immediate future, the restaurant's packaged beef jerky will be the next level of the company's evolution. Plans are in place for a national launch of Carnal's jerky brand — sold locally since early 2021 "with a lot of success" — by the end of first quarter 2023. 
It won't look the same. Nor will you find it at a corner convenience store.
"I can say that we have one of the most famous modern artists in the world designing the packaging," Williamson said. "No one's ever seen anything like it." He likens the packaging's potential impact to the surprise that greeted the original round-potato-chip Pringles can.
"I took a flier on this particular artist and he happened to be a big fan of jerky," he said. "It's mind-boggling." Also new will be additional recipes.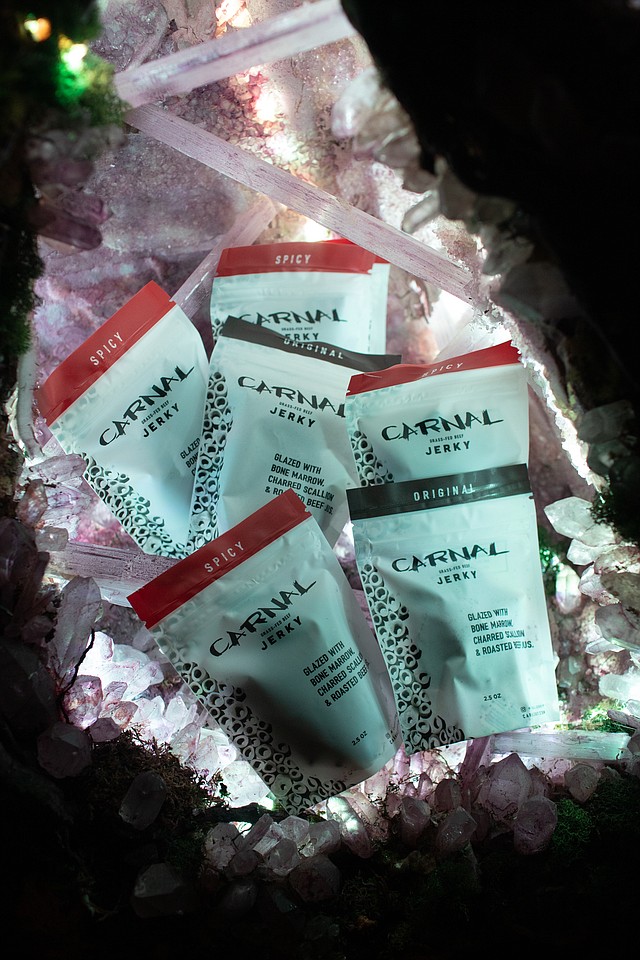 The repackaged jerky will be sold online, but not at grocery stores or Amazon. Instead, Williamson said, think boutique hotel minibars, private airports, golf courses and art galleries. 
"It's more of a lifestyle brand at this point," he said. It may not be the only food product that will eventually sport the Carnal label; Williamson can envision "four or five" in the salty snacks category.
"The restaurant is kind of the home base for this food brand that we're creating," he explained. "I always wondered, 'Why don't these famous chefs scale their business out into grocery stores and out into the world?' That's kind of the model that we're after."
What ties it all together — and it's a word Williamson uses frequently — is an "elevated" approach, a thoughtful and focused one. Plus the chefs' first effort in Bellingham, today a bit more than two years old. 
"Carnal will always be my favorite," he said of the partners' restaurants. "I mean, it's my dream menu that these guys have created. It's a miracle that they moved to Bellingham. It's a miracle." 
Places & things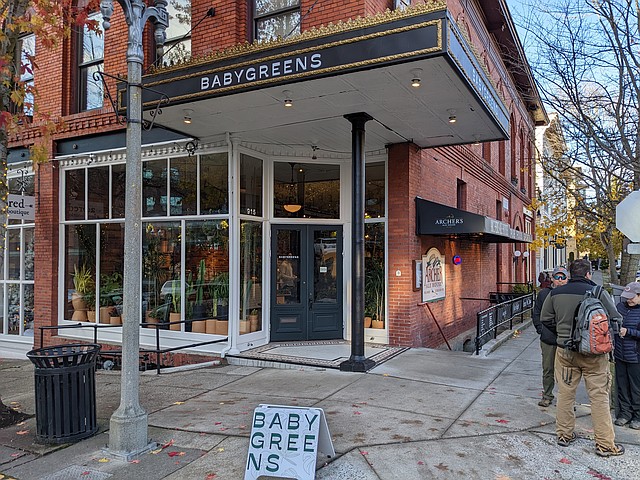 Babygreens — which said in October it would be moving from downtown Bellingham — has officially relocated to 915 Harris Ave. in the Fairhaven neighborhood, taking the corner spot where Renaissance Celebration had been. The store specializes in indoor plants.
(For the latest Places & Things, check here throughout the week.)
Frank Catalano's column appears Wednesdays. Email: frankcatalano@cascadiadaily.com; Twitter @FrankCatalano.