Football
Lynden triumphs over North Kitsap, repeats as 2A champions
Lions defeat Vikings 31-24 via thrilling game-winning drive
December 3, 2022 at 9:38 p.m.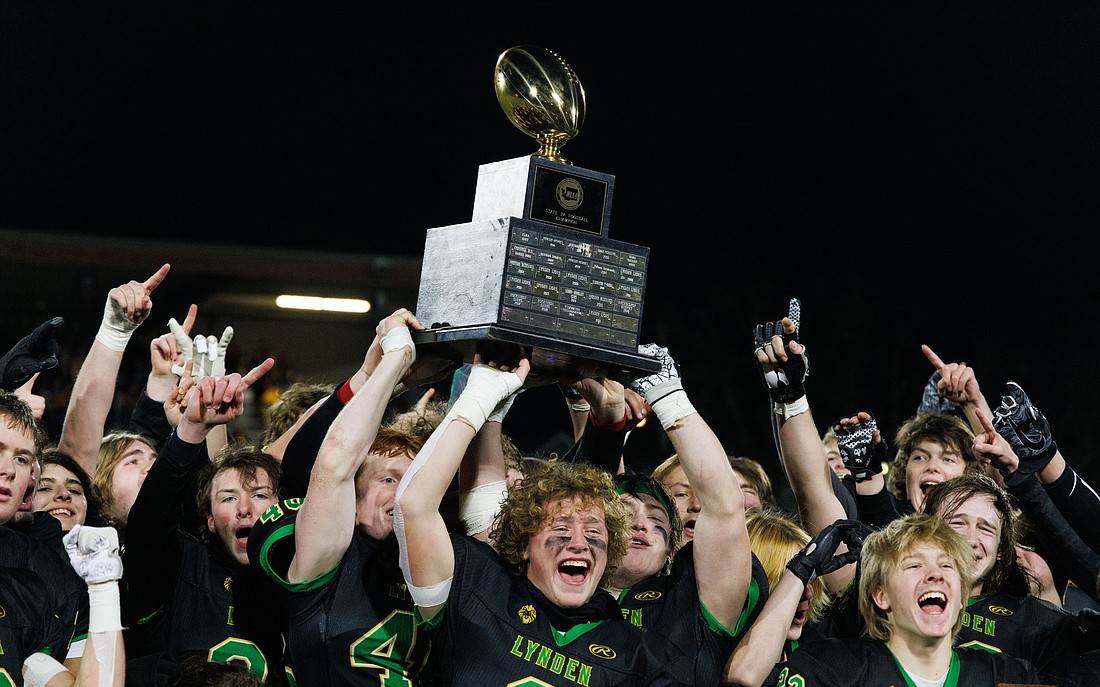 ---
---
PUYALLUP — The Lynden Lions are back-to-back 2A state champions as of Saturday night.
Lynden mounted a game-winning fourth-quarter drive with nine minutes remaining, fueled by three-straight fourth down conversions and capped by a 1-yard rushing touchdown by Brant Heppner, to defeat North Kitsap 31-24 at Carl Sparks Stadium on Saturday.
"It's just so awesome, man," Heppner said. "The coaches put their whole trust in us on that drive. Isaiah Stanley was coming up with clutch catches that whole drive — it was amazing."
After leading 17-3 at halftime, Lynden lost its grip and allowed North Kitsap to roar back and tie the game at 24-24. 
All three fourth-down conversions on the Lions' final drive were passes from Heppner to Isaiah Stanley, with a fourth completion setting Lynden up on the 1-yard line for the go-ahead score.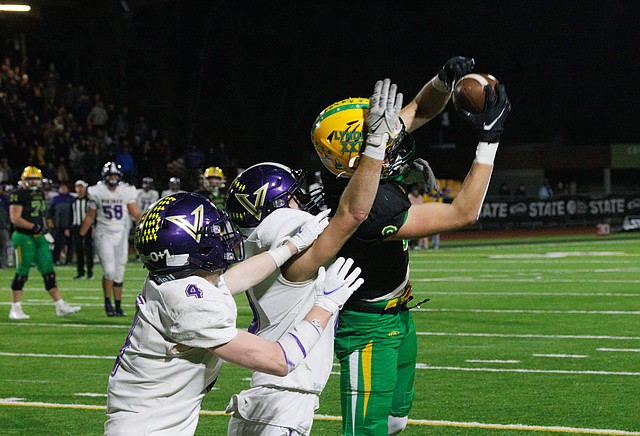 The duo looked as in sync as they had been all season with the game on the line. After being shut down in the first half, Stanley said senior running back Campbell Nolte told him it was going to be his time in the second half — almost prophetically.
"To be honest, it was bound to happen one of these times," Stanley said. "I knew I was going to have a game, I just didn't know what game it was [going to be]."
Lynden has now won 24 straight games dating back to Sept. 17, 2021. The win gave the Lions their eighth state title since 2006 and 10th total as a program.
"The kids handled the pressure really well," Lynden coach Blake VanDalen said. "To be in the Lynden legacy, you've got to go back-to-back … you've got to do something special because our program is so special."
North Kitsap got off to about the best start it could have hoped for. The Lions fumbled the opening kickoff and the Vikings recovered it on Lynden's 11-yard line. Standing tall despite the mistake, Lynden forced a field goal and went down 3-0.
The Vikings immediately got another shot, intercepting a pass and returning it to the Lions 17-yard line. It was a complete disaster for top-seeded Lynden out of the gates.
North Kitsap set up for a 47-yard field goal after having the drive thwarted, but senior defensive back Collin Anker had other plans. Anker blocked the kick as senior athlete Troy Petz flew in for the recovery and scampered 63 yards for a touchdown. The momentum and energy had flipped completely.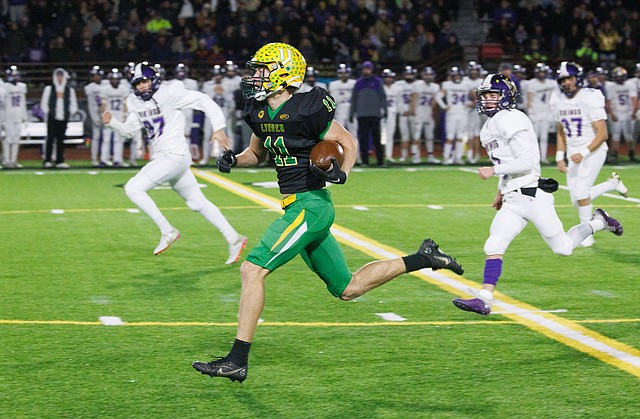 Lynden converted a 24-yard field goal with 9:57 remaining in the second quarter before Heppner scored the first of his three 1-yard rushing touchdowns on the last play of the first half.
Following a North Kitsap score, Petz returned a kickoff 100 yards for a touchdown only to have it brought back on a penalty. Petz was a huge factor on offense in the first half as well, catching all but one of Lynden's total completions in the first 24 minutes.
Lynden began at North Kitsap's 17-yard line, and Heppner got his second score a few plays later.
Senior running back Benen Lawler, who scored all three of North Kitsap's touchdowns, got his second score on a direct snap with 1:48 remaining in the third quarter. His third was with 9:27 left in the game, which was followed by Lynden's game-winning drive. The rest is history.
Stanley had four catches for 42 yards on the final drive — all potentially game-saving.
"I just want to perform for everybody else in this black and green over here," Stanley said, pointing to his teammates. "I love every single one of them like they're my blood. I love them to death."
VanDalen gave kudos to North Kitsap for posting such a fierce comeback and specifically complimented the Vikings' second-half adjustments.
"Tip your hat to North Kitsap," VanDalen said. "We made some mistakes to start the game. That gave them a little bit of life. They came back all on their own and brought it to us."
Lynden completed its season 13-0 and will lose 32 seniors heading into next season. The Lions followed the same formula as last season, not worrying about who gets the glory. With no highly-touted college recruits, this is a team that believes in its family-first mentality.
At the end of the game, it just came down to trusting the players.
"That last drive was just finding kids who wanted to make plays, and they made every play," VanDalen said.