Football
1A state title slips away from Mount Baker
Mountaineers surrender 3 fourth-quarter TDs in 35-20 loss to Royal
December 3, 2022 at 6:01 p.m.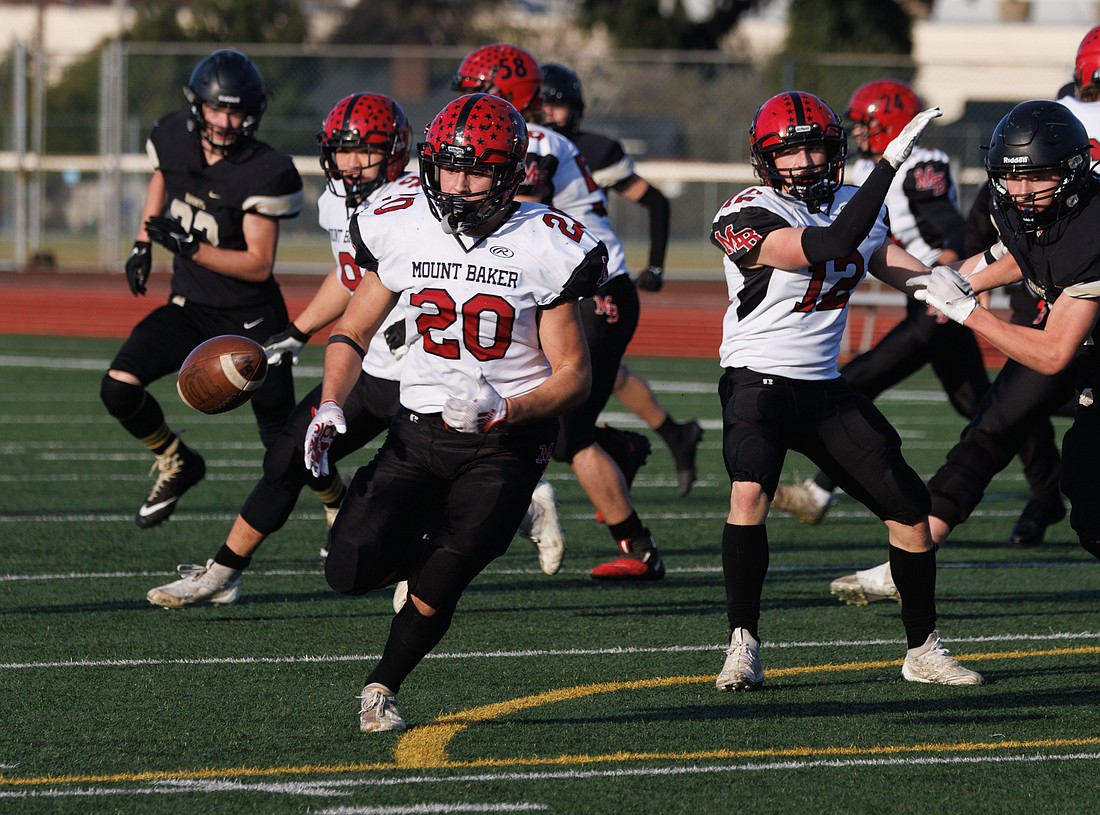 ---
---
LAKEWOOD — The path to the 1A state title game was a long, hard and — at one point in the season — unlikely achievement for this Mountaineers team.
No. 10-seeded Mount Baker is proud of the story it wrote, despite the fact the Mountaineers will drive back to Whatcom County without a championship after falling to top-seeded Royal 35-20 on Saturday night.
"It's disappointing right now, there's no doubt about that," Mount Baker coach Ron Lepper said. "When you step back and look at everything we've been through, and how it went — this is awesome."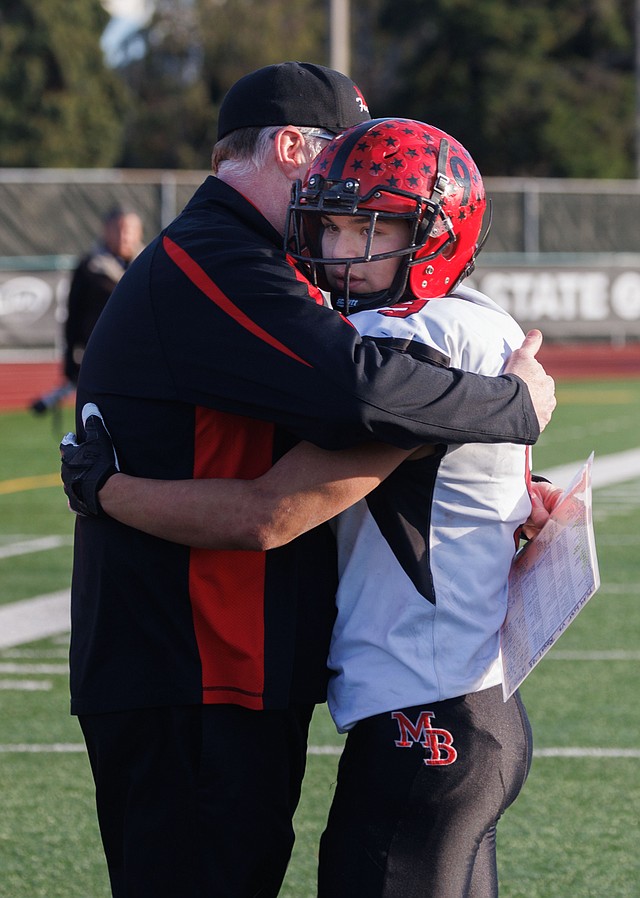 Mountaineers' senior lineman Ethan Larson said this season's improbable success was an experience he will never forget.
"We were 3-4, and everyone was doubting us," Larson said. "I think we just came out in the playoffs and knew we had a chip on our shoulder. We knew we were good, we just had to prove it and that's what we did."
It was the second appearance for Lepper in the 1A state championship game throughout his now-27-year career as head coach. The last trip was in 2013, and the Mountaineers will have to continue seeking their first title in program history. 
To be a part of the team that got Lepper back to this stage was an honor, Larson said — especially doing it alongside those he played peewee football with.
"It's a huge blessing," Larson said. "Coach [Lepper] is a hell of a coach, and to be one of two teams to ever get him here, it's pretty crazy."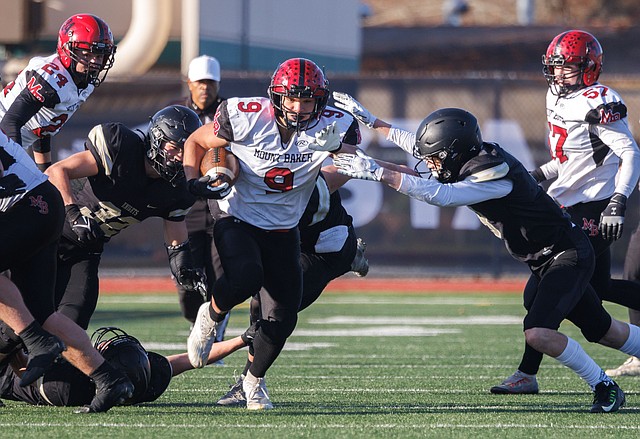 Mount Baker stopped Royal on the first drive of the game and proceeded to march down the field on its inaugural possession. Royal managed to shut the Mountaineers down on the Knights' 4-yard line, preventing the game's first points.
A few plays later, Mount Baker senior quarterback and safety Landon Smith picked off a pass from Royal senior quarterback Dylan Allred, returning it to the Knights' 14-yard line.
Senior running back Wilhem Maloley punched in an 8-yard touchdown run for Mount Baker a few plays later to give the Mountaineers the first score of the contest.
Royal found its first touchdown on a 4-yard catch by Edgar Delarosa from Allred. The game was tied at 7-7 following the extra point, and that was the last bit of excitement in the first quarter.
Mount Baker had various opportunities to take the lead or respond to strong Royal drives. The Mountaineers won the turnover battle with four takeaways to three for the Knights, but too often those bonus points were left on the field. 
Sophomore linebacker Dylan Moa nabbed one of those turnovers midway through the second quarter, ripping the ball out of a Royal runner's arms while junior lineman Alex Maloley jumped on top of it.
The Mountaineers suffered two-straight pre-snap penalties, which stalled the drive and forced a punt.
Royal came back strong on the following drive when Dylan Allred found sophomore wide receiver Lance Allred for a 10-yard touchdown pass with 4:32 remaining in the third quarter to give the Knights their first lead of the game. Royal entered halftime with a seven-point advantage.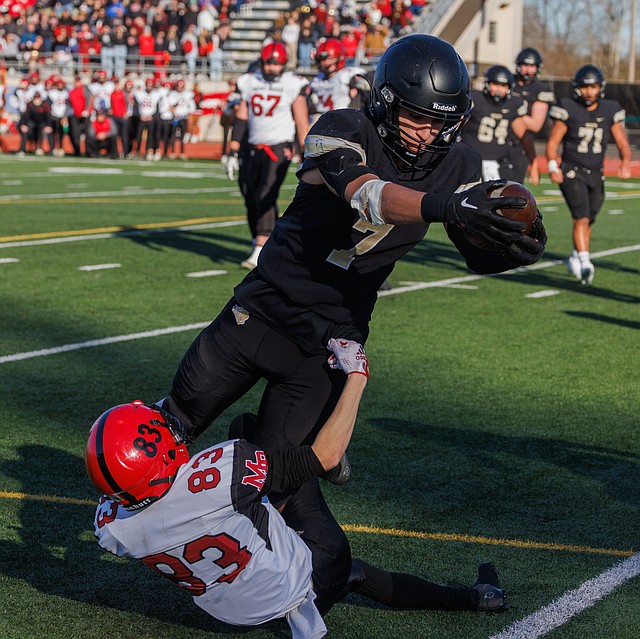 Mount Baker was eager to prove it was not done, thwarting Royal's first drive of the second half and mounting a nice one of its own. That possession, however, was cut short by an interception in the end zone by Royal's Delarosa.
Smith, visibly dismayed by his mistake, flushed any negative feelings and came right back on the next play to intercept a pass that was tipped by Mount Baker senior Marcques George. 
A few snaps later, senior running back Brady West flattened a Royal defender on a lead block up the middle, paving the way for George to carry multiple defenders into the end zone on a 12-yard touchdown run.
"We're gritty, man. We don't give up," Larson said.
A forced fumble by George was recovered by Mount Baker on Royal's 26-yard line, putting the Mountaineers in prime position to take a late lead. Delarosa, however, had other plans, picking off Smith inside the 10-yard line. A long return was erased by a penalty, but Royal retained possession.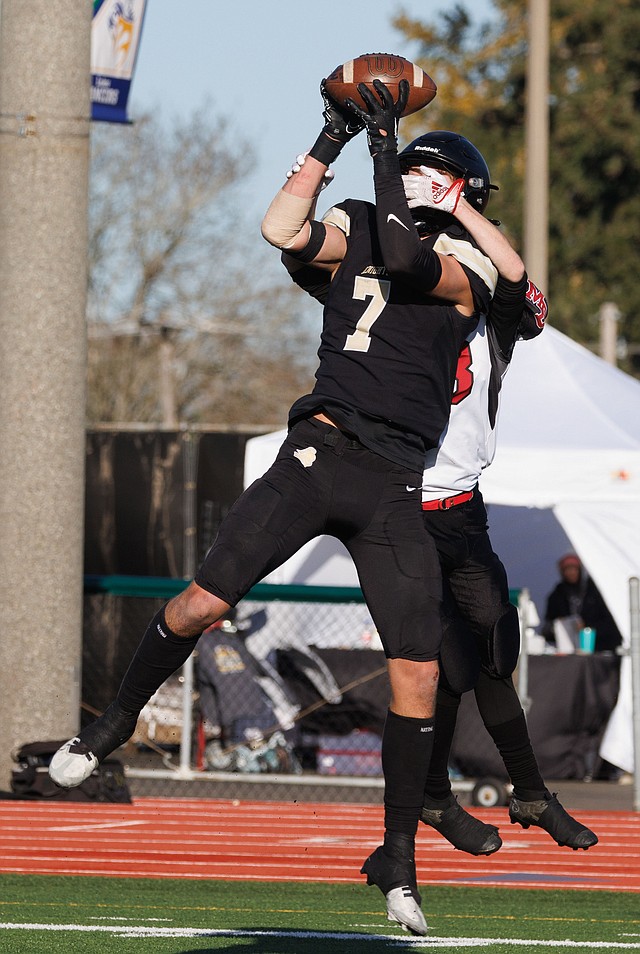 The Knights began the fourth quarter on Mount Baker's 18-yard line, which spurred the end of what had previously been an even battle.
Lance Allred caught a 1-yard touchdown pass to extend Royal's lead to 21-14 following the extra point. The Mountaineers turned it over on downs at the Knights' 32-yard line with eight minutes remaining, and that became seven points on the other end via a 4-yard juggling, back-of-the-end-zone catch by junior tight end Bennett Brown.
Royal recovered a fumble on Mount Baker's 5-yard line, setting up the final score by Dylan Allred on a short run. The Knights' three fourth-quarter touchdowns quickly pushed their lead to 35-14.
George got loose one last time while wearing black and red, ripping off a 60-yard run to set up a 1-yard score a couple snaps later. At that point, though, it was too little too late with only 1:35 remaining on the clock.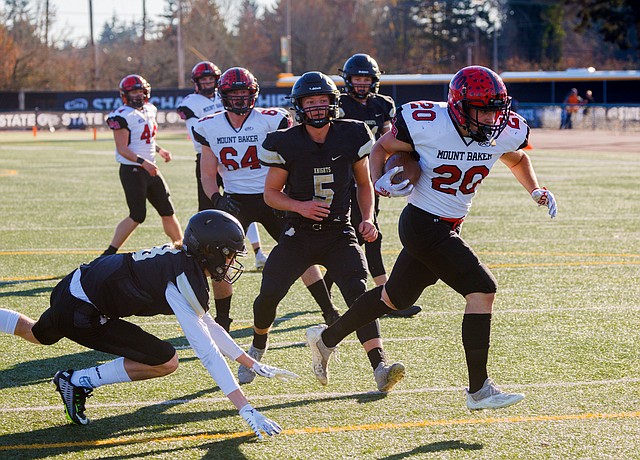 It wound up being a comfortable victory for the Knights, who won their third-straight 1A state championship and sixth title since 2015. 
"Our kids competed all game, really gave a great effort and made our community proud," Lepper said. 
Mount Baker completed its season 9-5 overall and hadn't lost since Oct. 14 before this game. The Mountaineers will lose 11 seniors heading into next season.