The A-List
A&E calendar: Sh'bang!, Art Walk, Waffle Day and more
A curated selection of events from Whatcom and Skagit counties
August 31, 2022 at 5:15 a.m.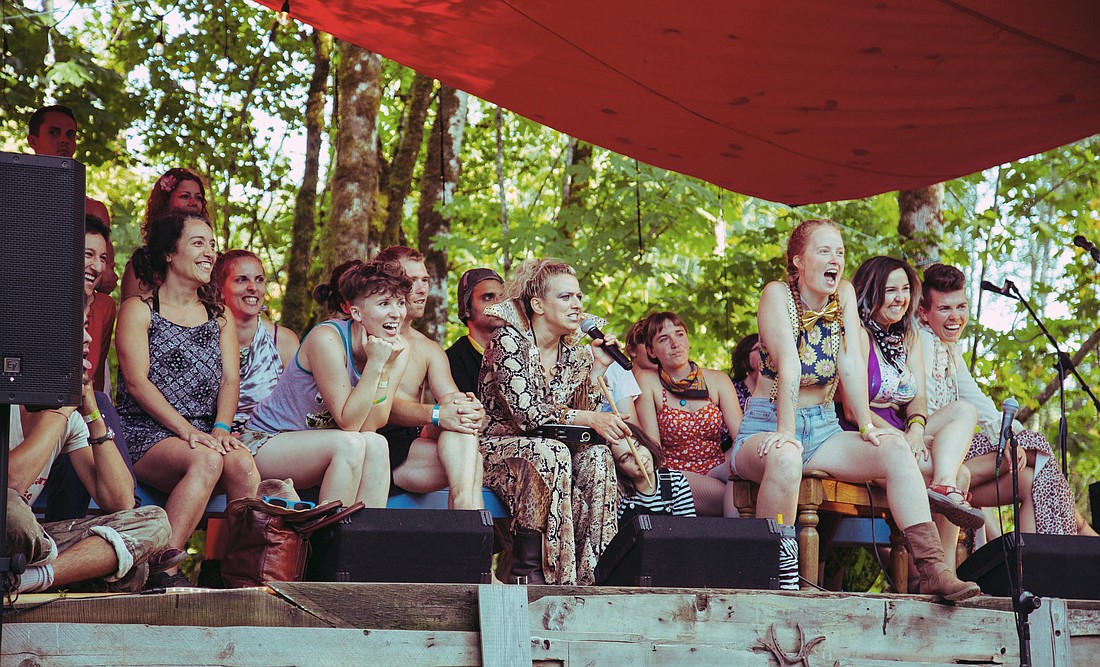 ---
---
Wednesday, Aug. 31
Final Wednesday Market
4–7 p.m., Waypoint Park, 300 W. Laurel St. 
Fresh produce, arts and crafts, and food can be found at the final mid-week market of the summer at the Port of Bellingham property located near Kushan Trackside Brewing. Live music and activities for kids will also be offered. Info: bellinghamfarmers.org. 
Thursday, Sept. 1
'A Calculated Retreat'
7:30 p.m., Anacortes Community Theatre, 918 M Ave. 
Local playwright Willow McLaughlin's comedy/mystery concludes this weekend with showings at 7:30 p.m. Thursday through Saturday at ACT. The production features one remote cabin, eight strangers, a dead diva and a puzzling mystery to solve. Expect laughs and twists galore. Tickets are $25. Info: acttheatre.com. 
Friday, Sept. 2
Sh'Bang! Festival
12 p.m. to 2 a.m., Lookout Arts Quarry, 246 Old Hwy 99 N. Rd. 
One of the region's most eclectic and inclusive art festivals returns from Friday through Sunday, with live music across genres, the return of the downhill soapbox derby, elves, pirates, all-star circus performances, burlesque of all shapes, puppets, water, art installations, floating dock dance parties, sound healing, swimming, costume-clad shenanigans and much more. All ages are welcome, dogs are not. Day passes are $55– $80; weekend passes are $130–$170. Cascadia Daily News readers can enter discount code "CASCADIA" at checkout for 10% off of full weekend passes. Info: shbangfest.com. 
Food Truck Friday
5:30 p.m., Pioneer Village, Ferndale 
As part of the City of Ferndale's "Summer of Fun," attend the final Food Truck Friday of the season. In addition to hot meals sold by various Whatcom County mobile eateries, expect interactive entertainment and all-ages fun. Info: cityofferndale.org. 
First Friday Artwalk 
6–8 p.m., Downtown Anacortes
MoonWater Arts, ONE Real Estate, The Majestic Inn and Spa, Scott Milo Gallery, the studios above Scott Milo, Trinity Skate and Fidalgo Fudge Co. will be among those keeping their doors open for this monthly event. Entry is free and all are welcome. Info: anacortesart.com. 
First Friday and Art Walk
6–10 p.m., downtown Bellingham
In addition to galleries opening their doors for this monthly event, businesses, restaurants and other venues throughout downtown Bellingham will offer specials, additional programming and more. Additionally, buskers will be performing throughout the night. Entry is free. Info: downtownbellingham.com. 
'Spring Awakening'
7 p.m., Mount Baker Theatre, 104 N. Commercial St. 
Bellingham Arts Academy for Youth's State Street Theatre Company performs this groundbreaking musical for the final weekend at 7 p.m. Friday and 2 p.m. and 7 p.m. Saturday, at the MBT's Walton Theatre. Parental guidance is strongly suggested, and patrons are asked to review a content warning before attending. Tickets are $16–$20. Info: mountbakertheatre.com. 
Saturday, Sept. 3
Dockside Market 
10 a.m. to 2 p.m., Squalicum Harbor, Gate 5
Local fisherfolk will be selling their fresh and frozen wares at this twice-monthly market. Visit the dock early to find the best selection of seafood options. Details and participating vendors and products are posted 24 hours ahead of sale days. Info: bellinghamseafeast.com. 
Rebel Artists of Whatcom
Noon to 5 p.m., 1314 Commercial St.
Attend a weekly art market featuring works by a collective of small local artists and artisans who have a mission to provide a space for creators and makers to be included and supported, and where their voices are heard and respected. Info: rebelartistsofwhatcom.com. 
Jesse Otero Reception
3–5 p.m., i.e. gallery, 5800 Cains Court, Edison 
Meet the sculptor and painter and peruse the pieces for the solo exhibit "May Contain Peanuts" at this opening night event. Expect witty, boundary-pushing art. The exhibit shows Fridays through Sundays throughout September. Info: ieedison.com. 
McKnight and Leggitt 
3–5 p.m., Smith & Vallee Gallery, 5742 Gilkey Ave., Edison
Attend a meet-and-greet with sculptor Aaron McKnight and painter Gretchen Legitt on opening weekend of this exhibit. The works can be seen from 11 a.m to 5 p.m. Thursdays through Mondays through Sept. 25. Info: smithandvalleegallery.com. 
Sunday, Sept. 4
Benefit Concert
Noon to 7 p.m., Christianson's Nursery, Mount Vernon 
FarmStrong, Savanna Woods, Pacific Twang, The W Lovers and the Brittany Collins Band will perform at an outdoor benefit concert for Friendship House. Food trucks, selfie stages, raffle items, a beer garden and more will be part of the day's festivities. Tickets are $75–$125. Info: skagitfriendshiphouse.org. 
Depot Comedy Club
8 p.m., Aslan Depot, 1322 N. State St.
This monthly standup comedy show featuring top-tier comics from around the Pacific Northwest returns with host Vanessa Dawn, featured comic Adam Tiller and headliner Mary Lou Gamba — an East Coast transplant happily nested in the PNW. Tickets are $20. Info: aslanbrewing.com. 
Monday, Sept. 5
Comedy Saloon
9 p.m., Horseshoe Cafe, 113 E. Holly St.
Head to one of the oldest cafe and cocktail lounges in Washington state when this event hits the Ranch Room stage. The free show has happy hour prices, featured standup comedians and a fast-paced open mic round. Tonight's event features Megan Doyle and stars Damon Lawton. Info: www.horseshoecafe.com. 
Tuesday, Sept. 6
Beats on the Bay
6 p.m., Community Boating Center, 555 Harris Ave. 
Sweater Weather String Band will perform at this outdoor fundraising concert for the Community Boating Center, which will be providing tickets to rent boats from its collection of kayaks, paddle boards and rowboats. Tickets are available onboard the Zodiac Schooner to enjoy the music for $50, or $30 to rent a boat. For a suggested $10 donation, watch from the Taylor Street boardwalk. Info: boatingcenter.org. 
Wednesday, Sept. 7
Waffle Day Celebration
4–9 p.m., East of Eden Farm, 4974 Patton Rd. 
Join Farmer Em and Chef Ruby in celebration of National Waffle Day. Enjoy sweet and savory waffles baked in cast iron over open flames on outdoor cookstoves, listen to live music, peruse arts and crafts vendors and more. Info: wafflesinparadise.com. 
Beach Cat Comedy Open Mic
8 p.m., Beach Cat Brewing Co., 7876 Birch Bay Drive 
Nikki Kilpatrick hosts this free standup comedy show on the first and third Wednesday of the month. Signups start at 7:30 p.m., with each performer getting five minutes onstage. The event is 18+, with some mature content. There will be zero tolerance of "punching down" on marginalized groups of people. Info: asnailspace@gmail.com.
Before heading out to attend in-person happenings, check with individual venues to make sure the event is still taking place as scheduled.
The A-List appears weekly on Wednesdays. To submit an event for consideration, email calendar@cascadiadaily.com.