Volleyball
Western volleyball sweeps season-opening invitational
Third-ranked Vikings begin season 4-0
August 28, 2022 at 9:53 p.m.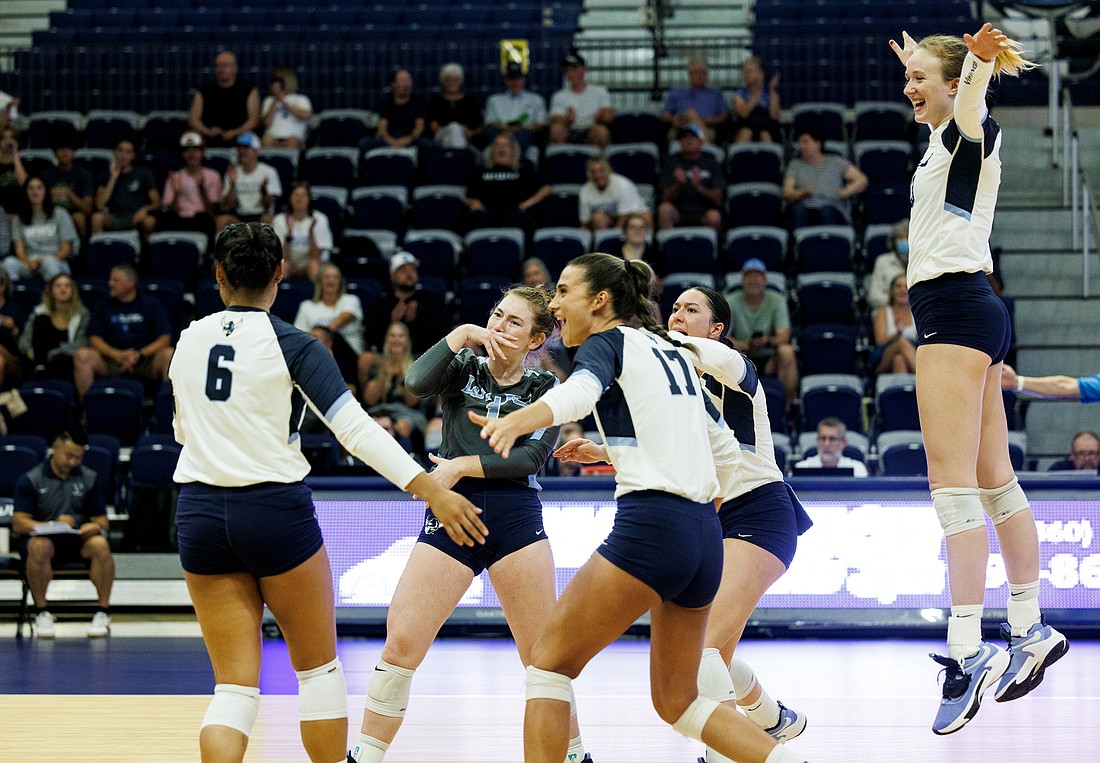 ---
---
Western Washington University volleyball couldn't have asked for a better start to the 2022 season. The No. 3 nationally ranked program in NCAA Division II kicked off its new campaign with a flurry of resounding victories in the three-day WWU Invitational from Aug. 25–27.
The Vikings hosted the six-team, 12-match invitational at Carver Gym, and showed why they are a juggernaut in Division II volleyball.  
Western's 23rd-year head coach Diane Flick-Williams had high expectations for a group that ended last season in the national semifinals. The team's entire starting lineup from that final game returned to the court this weekend, and picked up right where they left off, as Western opened their season with a perfect 4-0 start.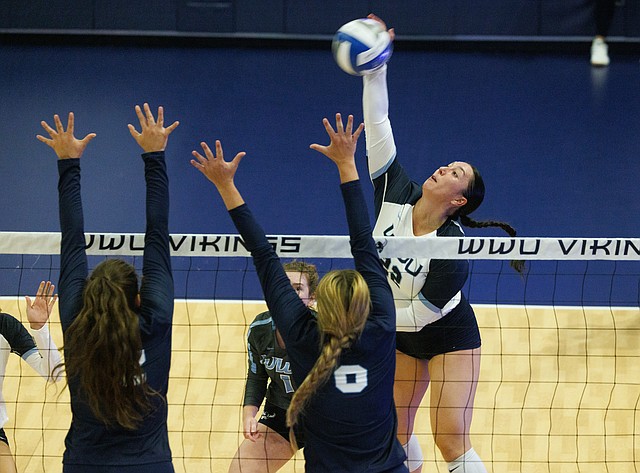 Flick-Williams, a 10-time Great Northwest Athletic Conference Coach of the Year, said this year's team is acutely aware of the potential they have with a slew of returning starters.  
"They're feeling the weight of expectations," Flick-Williams said. "It's great to have them all back because they're experienced. That's a great piece to have, but it comes with a little bit more of a spotlight, and we've got to be able to navigate that, as well." 
Thursday doubleheader
The WWU Invitational began with a doubleheader for Western on Thursday, Aug. 25, with a top-25 matchup against No. 20 Ferris State University, followed by a match against Sonoma State University.  
The Vikings opened with a 3-0 sweep of Ferris State, winning 25-8, 25-19, 29-27. Senior outside hitter Calley Heilborn collected 11 kills and nine digs on the night, while senior middle Chloe Roetcisoender added seven kills and a match-high seven blocks.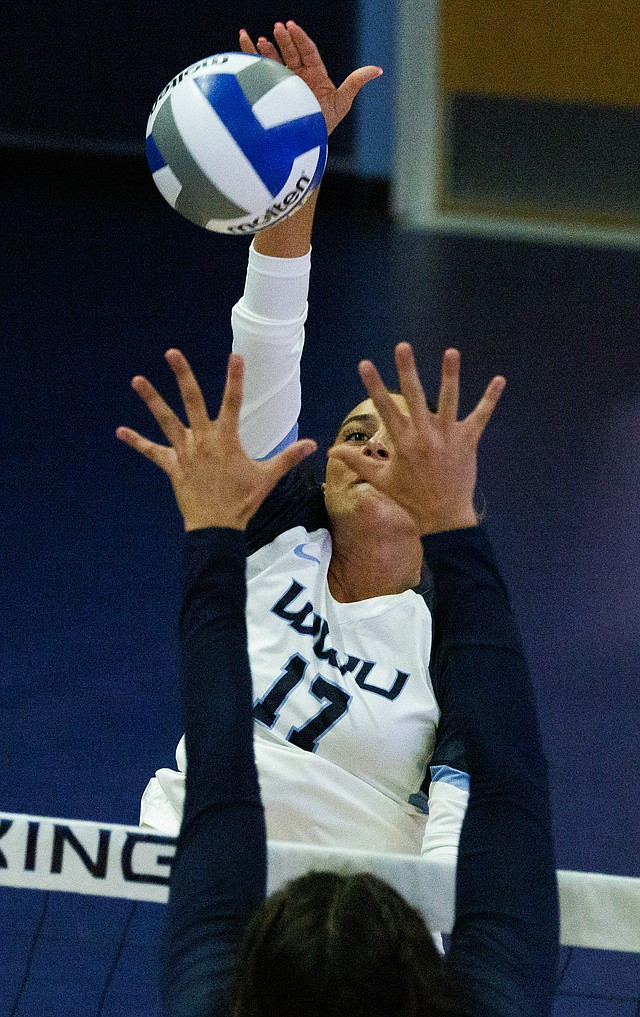 Western dominated throughout the first sweep with a .344 hit percentage, nine service aces and just 12 errors compared to Ferris State's 17.  
The Vikings extended their sweep-streak to two matches later that night with a dominating 25-20, 25-21, 25-20 performance against Sonoma State.  
Heilborn, again, led the team with 10 kills to go with seven digs, while senior outside hitter Gabby Gunterman recorded a career-high five aces. Over the Vikings' first two games, they tallied 21 aces as a team, compared to just a combined 12 from Sonoma State and Ferris State.  
Gunterman recorded 12 total kills across both matchups, passing 1,000 kills in her career, a milestone achieved by just 15 players in program history. Gunterman finished the night with 1,008 career kills through 99 matches.  
Friday night bout
Western's string of sweeps ended in the second set of their match against Regis University, but the Vikings prevailed to win in four sets, 25-16, 18-25, 27-25, 25-21, bringing their season record to 3-0.  
The night was dominated by Roetcisoender, who logged a career-high 16 kills with a .600 hitting percentage, along with eight blocks.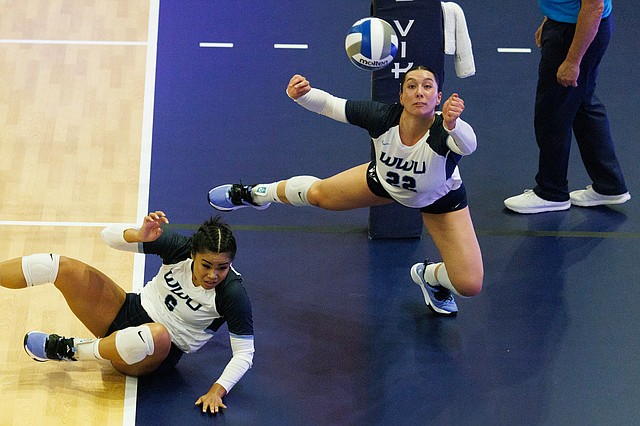 "Chloe was amazing tonight, not just statistically, but also with the timing in which her big moments happened," Flick-Williams said. "To hit .600 with 16 kills and also have a big blocking night is really special." 
The Vikings also saw contributions from other veteran seniors, like setter Malia Aleaga, who delivered a whopping 43 assists, allowing four different players to collect eight or more kills from her sets.  
"Malia was efficient and smart in how she ran the offense, putting our hitters in a great spot to be successful," Flick-Williams said. 
Saturday sweep 
The reigning GNAC champions finished off the invitational with yet another three-set sweep, this time over California State University, Los Angeles.  
Just as they did in last season's West Regional finals of the NCAA tournament, Western swept the Golden Eagles, winning 25-20, 25-21, 26-24.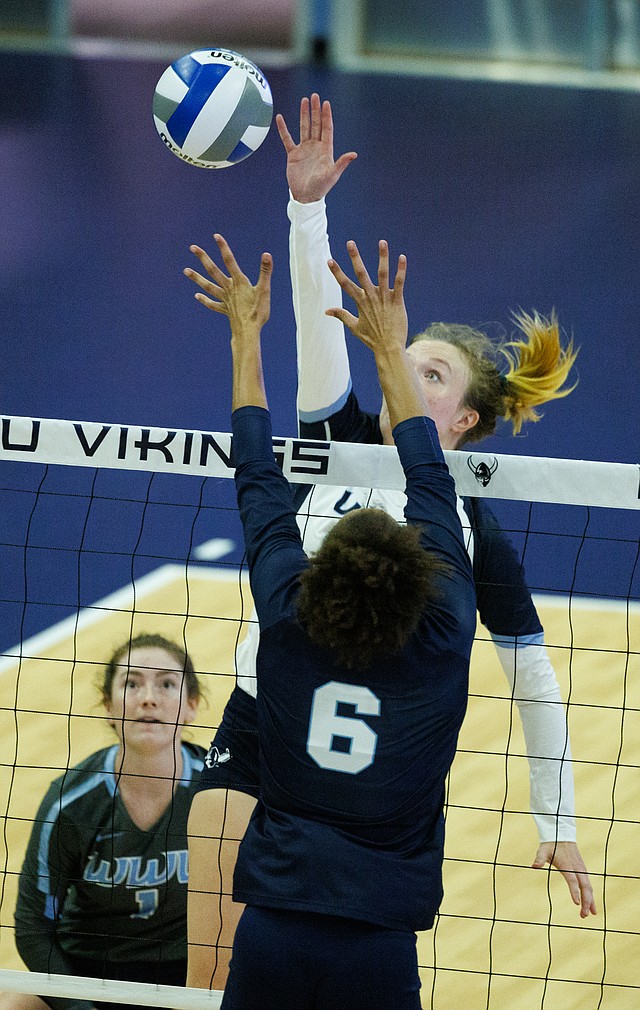 In yet another dominating offensive performance, Gunterman kept on adding to her career kill total with an 11-kill performance, along with four digs and a pair of aces.  
Flick-Williams had nothing but praise for her group of seasoned veterans. 
"This was a really good opening weekend for our team against a very tough tournament field," she said. "It was a true WWU volleyball kind of weekend where it was a galaxy of stars. We had so many players make key contributions and step up in big moments that made for a successful tournament." 
The Vikings now take their 4-0 record on the road to Denver for the Colorado Premier Challenge on Sept. 2 and 3, another four-game invitational against non-conference opponents. They then return home for conference play on Sept. 8 with a match against in-state rival Seattle Pacific University at Carver Gym.