Baseball
Iris Skinner, aka 'Ichiro Girl,' throws out Ichiro Weekend first pitch
Bellingham resident kicked off festivities for Mariners legend
August 27, 2022 at 9:25 a.m.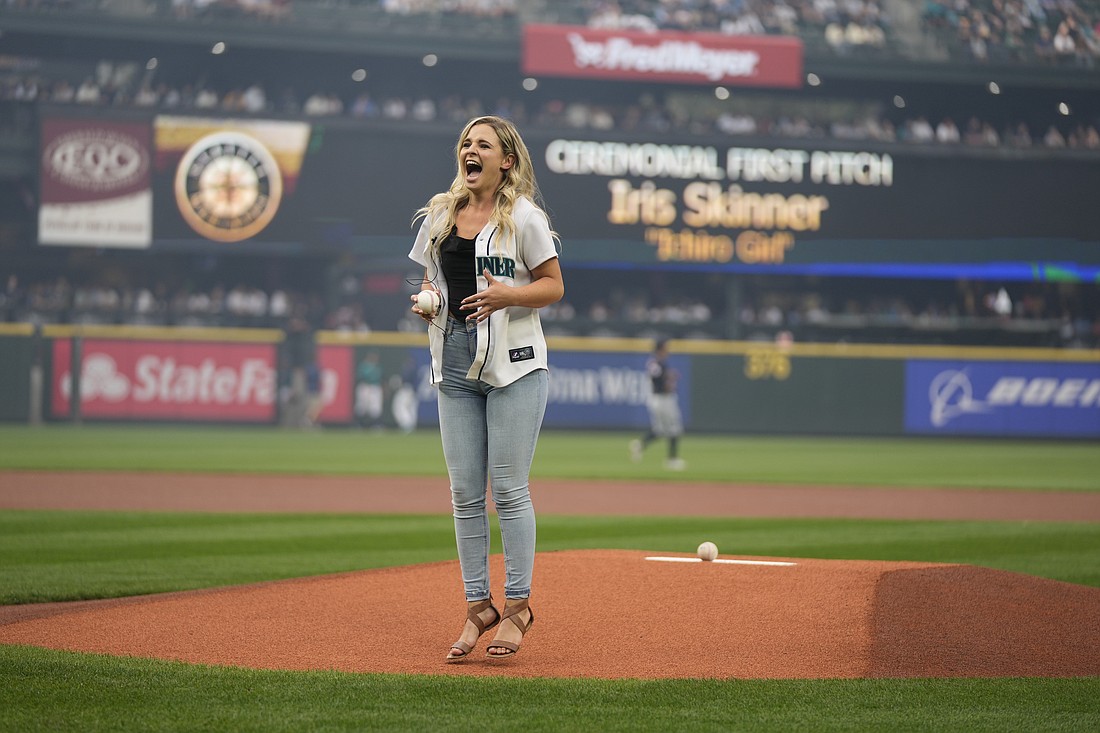 ---
---
When a seemingly routine foul ball drifted into the stands on July 8, 2010, it was a play Ichiro Suzuki had made thousands of times in his storied career.  
For Iris Skinner, the 18-year-old girl attempting to avoid the incoming baseball and accidentally moving directly into the Mariner's right fielder, it was "probably the best day of my life," she said.
On Aug. 26, 12 years after the pair's initial interaction, Skinner threw out the first pitch of Ichiro Weekend, a celebration of both Ichiro's induction into the Mariners Hall of Fame and the impact he can make by simply running into a fan.
That foul ball in 2010, off the bat of New York Yankees first baseman Mark Texeira, was never caught and the game continued on. But for the audience watching at home, a brand new spectacle was demanding the camera's attention. It was Skinner's unbridled shock and joy from colliding with Ichiro.
Her reaction went viral almost as soon as it was broadcast live. Skinner could be seen, mouth agape, attempting to form coherent sentences like "He just touched me!" and, "I have to call my mom!"
Skinner immediately fired out texts to let her family and friends know what happened, but everyone she reached out to was already watching her reaction live on television.  
"Sure enough, everyone said, 'Oh, we know, we saw you on TV,'" Skinner said. "Obviously I had no idea, I was just being myself and freaking out because that's just how I am." 
A Poulsbo native, Skinner, now 29 and living in Bellingham, said she had no plans to go to that fateful game over a decade ago but was offered a pair of tickets from her best friend's parents, who were season ticket holders.
"It was kind of a spur-of-the-moment thing," Skinner said. "It was just a really random day, we hadn't even planned on going to the game until the last second." 
But that decision ended up changing Skinner's life, she said.
"Things changed dramatically," she said. "Taking the ferry home, everyone recognized me. I had so many people come up and say they saw my reaction and thought it was funny." 
Skinner received attention from friends, family and strangers, and loads of gear from the Mariners, including a customized jersey and signed baseball.
Now, she can add the first pitch to that list. 
The three-day celebration of the Japanese-born player will continue today with a pregame induction ceremony to retire Ichiro's No. 51 jersey, and tomorrow at T-Mobile park the first 20,000 fans will receive an Ichiro bobblehead.
"I'm just not very good at throwing a baseball and I'm a little insecure about what people are going to say about me," Skinner said before the event. "But I'm also really excited because I just feel so honored that they would even ask me to do this." 
The only thing that Skinner didn't get from her brief encounter with Ichiro was a moment to talk with the man himself. Prior to the first pitch, Skinner didn't know who would be catching but hoped she could simply thank Ichiro for all his contributions to Seattle and the game of baseball.
"I'm really hoping maybe I'll get to meet him and shake his hand. That would be really cool," Skinner said before the game. "I think if I meet him, I'm going to probably freak out again." 
As it turned out, Ichiro surprised her and crouched behind home plate to catch her first pitch Friday. The two then hugged and he signed the ball as she ran off the field in excitement.