Outdoors
Excelsior continues to excel
It's peak alpine time in the North Cascades
August 25, 2022 at 5:05 a.m.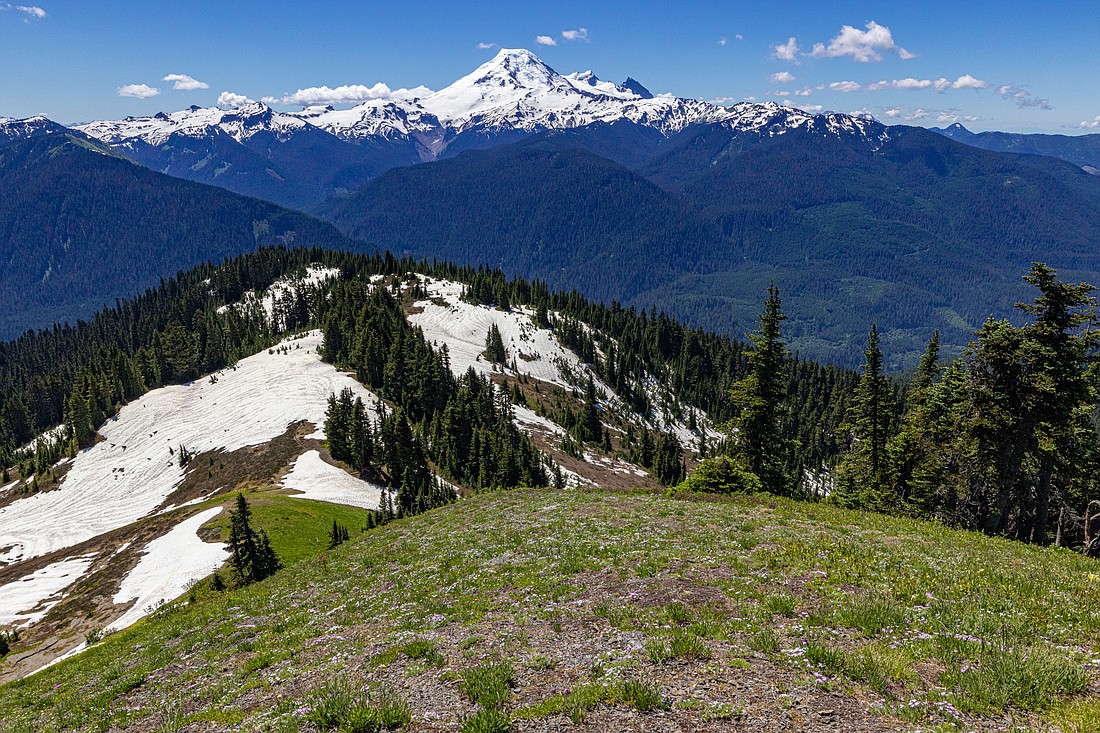 ---
---
MOUNT BAKER WILDERNESS — The Excelsior Peak spur laid out before us as if a confectioner had scooped gallons and gallons of milky glaze onto the mountainside.
Late-season storms layered the slopes along the Mount Baker Highway corridor with mounds of snow that stubbornly remained to delay the annual summer march into Whatcom County wildlands. 
Then came the Big Melt in late July.  
The harsh elements that had thwarted many frustrated day hikers receded to send hordes of outdoor lovers rambling into the high country like hungry bears awakening from winter hibernation.  
I witnessed the abrupt change in the course of 2 1/2 weeks when after summiting Excelsior Peak in microspikes, I started up 6,844-foot Goat Mountain on the last day of July.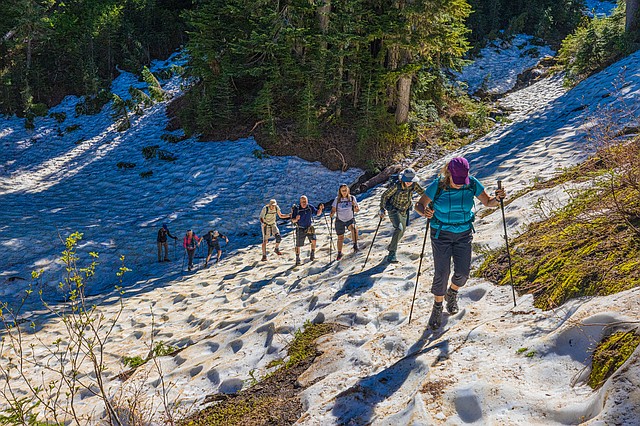 The seething summer heatwave of the Pacific Northwest produced one more soul-sucking day to make the ceaseless ascent challenging. 
I'm glad we climbed Excelsior Peak in mid-July when it took a good memory and expert navigational skill to reach the summit with much of the Damfino Trail blanketed in snow.
Hiking to 5,699-foot Excelsior Peak has become one of the area's favorite day trips for about a zillion reasons — none more than how it leads to the kind of 360-degree vistas that make you wet your pants.
Or in my case, the bottoms got soaked when I tripped on a snowy embankment and glissaded to our Bellingham hiking group that scrutinized the descent for any signs of Olympic luge potential.
I obviously impressed no one and so far, U.S. officials have yet to extend an invitation to the national training camp in Lake Placid, New York.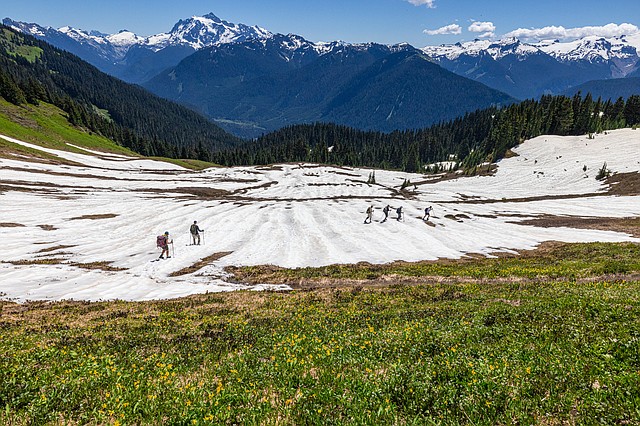 Gazing at snow-free Excelsior from Goat Mountain, I imagined a colorful bouquet of wildflowers from the hilly meadow where I had glissaded just weeks earlier. 
U.S. Forest Service Ranger Magenta Widner of the Glacier Public Visitors Center expects the routes to Excelsior Pass to see heavier-than-normal traffic this year because two other wildly popular trails are pretty much inaccessible.
Mount Baker-Snoqualmie National Forest officials closed roads to the trailheads for Heliotrope Ridge and the Skyline Divide until Nov. 29 because of damage from torrential rains and flooding last November.
A ranger at the Heather Meadows Visitors Center told me some people are biking to the trailheads to take advantage of the solitude.
Thankfully, the 15-mile Canyon Creek Road was clear to the Damfino Lakes Trailhead where we started our ascent of Excelsior, which lies on the border of the Mount Baker Wilderness. The one-lane, partially paved route is greatly appreciated by those who want to get the scream-out-loud views without trekking the Excelsior Pass Trail that starts just off Mount Baker Highway.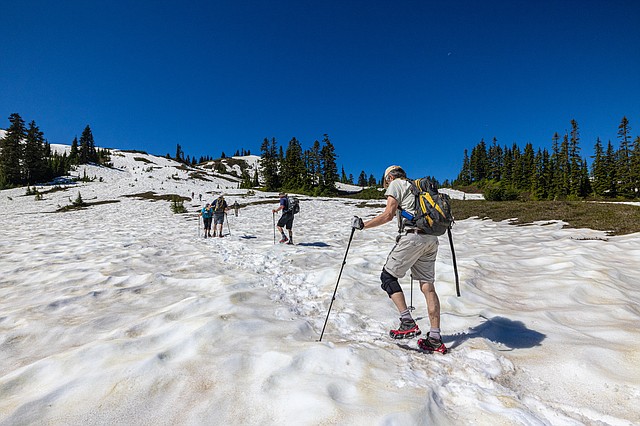 Four women warriors in our group wanted to experience the 3,600-foot elevation gain and extra mileage. Vicki and Teresa are in training for treks in the Himalayas and Dolomites, respectively, so it made sense to push themselves. 
Many others prefer the Damfino Lakes route because it ascends at a much gentler rate with less than half the elevation gain. Besides, some say, the Excelsior Pass trail is nothing but a staircase climb through the Mount Baker Wilderness forest. 
I am grateful for our timing now that the snow has begun its annual retreat. Crossing snow-covered meadows in microspikes added to the magic of a bluebird day. It felt as if we were witnessing winter's last gasp.
Widner endorses the Damfino trail for its variety of ecosystems. 
"You start in the big trees, and you get to see little ponds, and berries when they are ripe," she said. "It is a gentle grade and breaks out into the meadows. I like the transition."
Gold miners once dug up the mountains here before the timber industry began harvesting the forest. Damfino lakes and ridge apparently got their name from miners, according to the former Dolly Connelly, a Bellingham writer and outdoors adventurer.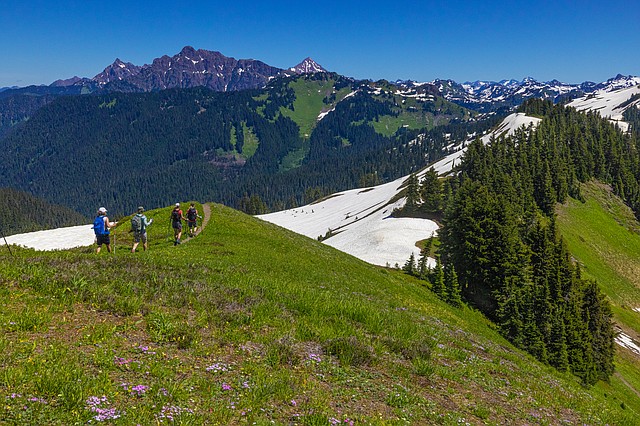 In a 1963 report for Sports Illustrated, Connelly wrote: "I know that Damfino Ridge, the massive upheaval of rock extending from Church Mountain to Tomyhoi Peak, was so named because gold prospectors came upon an old coot hacking into a quartz vein and asked him, 'Any gold in these mountains?' 'Damfino,' answered the miner, and Damfino is the ridge to this day."
Like many hiking routes along the Mount Baker Scenic Byway, the trails to Excelsior Peak once led to a fire lookout. Many lookouts in our region were built by the Civilian Conservation Corps out of Camp Glacier, according to a book by Bellingham historian Michael G. Impero.
The structure atop Excelsior was a 10-foot-by-10-foot lookout house known as an L-5 cab. The lookout was completed in 1935 and abandoned by 1968. Impero told me officials destroyed many of the lookouts by burning them down where they stood.
We didn't notice remnants of the old building while gawking at mountain tops. 
One of our friends, Elizabeth, pulled out a topographic map to help the gang identify the peaks beyond Shuksan and Baker. Mount Larrabee and Tomyhoi stood before us, while Yellow Aster Butte was just below that section. We could see all the way to the jagged Canadian Cascades, including 6,588-foot Mount McGuire.
To the east, Winchester, Goat, Sefrit and Ruth appeared next to Shuksan. 
We lingered at the summit, unable to pry ourselves from such bewitching scenery. 
Every Pacific Northwest mountaineer knows the feeling.
If you go
For Excelsior Peak via Damfino Lakes
Mileage: 6.6 miles (probably 1 mile shorter without dealing with snow) with an elevation gain of 1,500 feet.
Directions: Go east on SR 542 for about 2 miles past the Glacier Public Service Center to Canyon Creek Road (FR 31). Turn left and continue 15 miles on a one-lane road that is paved for a little more than half the distance. The road eventually becomes gravel with some large potholes. The road ends at a parking area for the trailhead. 
Via Excelsior Pass trail
Mileage: 9 miles with an elevation gain of 3,600 feet.
Directions: Go east on Mount Baker Highway (SR 542) for about 7 ½ miles past the Glacier Public Service Center. The trailhead is next to the highway on the left (north) side of the road.
For Goat Mountain
Mileage: About 8 miles with an elevation gain of about 3,100 feet.
Directions: Go east on SR 542 12 ½ miles past the Glacier Public Service Center. Turn left on Hennegan Pass Road (FS 32). Drive about 2 miles to the trailhead that is well marked. Parking is available before and after the trailhead.
Passes for these hikes: A valid Recreation Pass, such as a $5-day pass, an annual Northwest pass or interagency passes, including America the Beautiful passes. 
Elliott Almond's outdoor column appears monthly. Email: elliottalmond4@gmail.com.