Football
Simon Fraser University to play 'home' football in Blaine
Blaine High School will be host to Lone Star Conference games
August 24, 2022 at 5:55 a.m.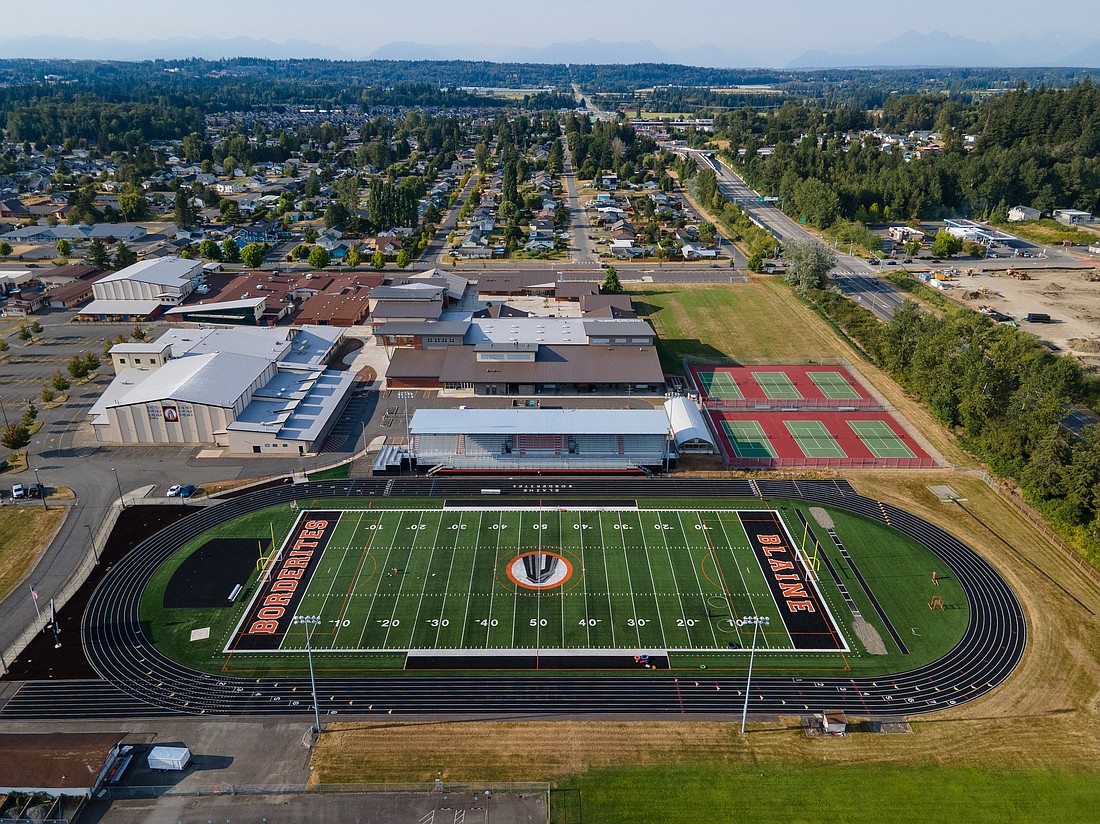 ---
---
The recent decision by Simon Fraser University, the only Canadian university to compete against American colleges in the NCAA, to play four home games at Blaine High School for the upcoming 2022 season was driven by ongoing, often convoluted pandemic border rules. 
In an effort to play an entire season of NCAA Division II football under Canada's COVID-19 vaccination requirement for international travelers, the team will move from SFU Stadium at Terry Fox Field in Burnaby, British Columbia, to Blaine High School's football stadium, a roughly hour-long, international drive south.
In February, SFU announced it would be hosting five Lone Star Conference matchups at the Burnaby campus stadium. Now, only one of those conference games will take place in Canada. 
The games played in Blaine will be Oct. 1 against Texas A&M-Kingsville, Oct. 22 facing Western New Mexico, Oct. 29 versus Angelo State, and Nov. 12 with West Texas A&M. A previously scheduled non-conference game against Montana State-Northern on Oct. 10 has been canceled. 
SFU Athletics stated in a release that the decision was made, "due to the continuing impact of the global pandemic and the Canada-USA border restriction that requires all visitors entering Canada to be fully vaccinated." 
Steve Frost, associate director of marketing and communications for SFU Athletics, said the university had few viable options when faced with the ongoing travel restrictions.  
Both the Centers for Disease Control and Prevention and the Canadian Health Ministry require full vaccination against COVID-19 to enter either country via air travel, meaning teams traveling to play SFU would have to be fully vaccinated. 
"If we didn't move our games to Blaine High School the alternative was not playing those four games," Frost said. "For the experience of our student-athletes, we want them to play the games, and that's why we decided to make the drive to Blaine." 
SFU has what is considered a high vaccination rate among team members, making the cross-border travel practical, the university said.
In November 2021, SFU joined the Texas-based Lone Star Conference (LSC) as a "football-only affiliate" along with the only other two remining Division II football programs in the Pacific Northwest, Western Oregon University and Central Washington University. 
Theresa Hanson, senior director of athletics and recreation at Simon Fraser University, said while the topic of international border closures and vaccine mandates did come up in negotiations with the LSC, the parties assumed the restrictions would be lifted in time for the 2022 football season.  
"The conversations about [COVID travel] restrictions at the time were certainly part of the discussion," Hanson said. "We were all hoping that there'd be no restrictions come this year." 
On June 29, the Canadian Health Ministry extended its vaccination requirement for all international travelers until Sept. 30. The requirement has a chance to be lifted by the September deadline, but Simon Fraser had to finalize its football schedule far in advance. 
"Canada's border measures will remain flexible and adaptable, guided by science and prudence," Candian Health Minister Jean-Yves Duclos said in a June 29 press release.  
Whether that means the border will be open to all international travelers, regardless of vaccination status, has yet to be determined.  
"At the end of the day, as disappointing as it is for our student-athletes, we're really happy to be able to provide them with a full season. That's really important for them, to play football, especially given the last two years because of COVID." — Theresa Hanson, SFU senior director of athletics and recreation
Hanson said universities can and do encourage student-athletes to get vaccinated, but neither the schools nor athletic conferences can require vaccinations. However, SFU has a high vaccination rate among student-athletes due to the amount of travel required in athletics.  
"We cannot mandate our student-athletes to get vaccinated, just like the Lone Star [Conference] schools," Hanson said. "[But] in order to travel and compete, our athletes need to get vaccinated, so we have a very high vaccination rate, but it's not the same across different states." 
Before settling on Blaine, Hanson said, the school considered stadiums in Seattle and Bellingham. Blaine High School hosts home games on Friday nights and games for Ferndale High School on certain Saturday nights, and the scheduling worked out perfectly for SFU with no overbookings.  
Blaine High School Athletic Director Chas Kok took the serendipitous scheduling as a sign. 
"To be honest, it kind of seemed meant to be," Kok said. "It was just nice that all those dates worked out. I think it's really cool for our community to have Division II football here; it's been a long time." 
Due to the pandemic, SFU did not play any competitive football in 2020 and played a limited schedule in 2021. The school opened its new 2,000-person capacity stadium at Terry Fox Field in September 2021. Simon Fraser has only played two football games in the Burnaby venue since its opening.
"At the end of the day, as disappointing as it is for our student-athletes, we're really happy to be able to provide them with a full season," Hanson said. "That's really important for them, to play football, especially given the last two years because of COVID."
LSC Commissioner Jay Poerner said in a statement to Cascadia Daily News that SFU's move to Blaine "is a testament to the strong leadership at Simon Fraser, Angelo State, Texas A&M-Kingsville, West Texas A&M and Western New Mexico, that we were able to find a solution and move these games to ensure they could be played." 
Poerner, and the athletic directors from the four schools slated to play against SFU in Blaine, did not respond to follow-up questions on the role of vaccination status in SFU's home-game move.  
Simon Fraser will still get to host two home games in Burnaby against Central Washington University on Sept. 17, and the University of British Columbia on Dec. 2. Central Washington University has a vaccination requirement in place for its students and employees, according to the school's website. 
On SFU's limited ability to play home games at the brand-new home stadium, Hanson put it simply. 
"That stings. Yes, it does," she said.