Business
Pandemic-inspired parklets to remain downtown fixtures
Some have traffic safety concerns; city to reevaluate in fall
August 24, 2022 at 5:55 a.m.
|
Updated August 24, 2022 at 9:12 a.m.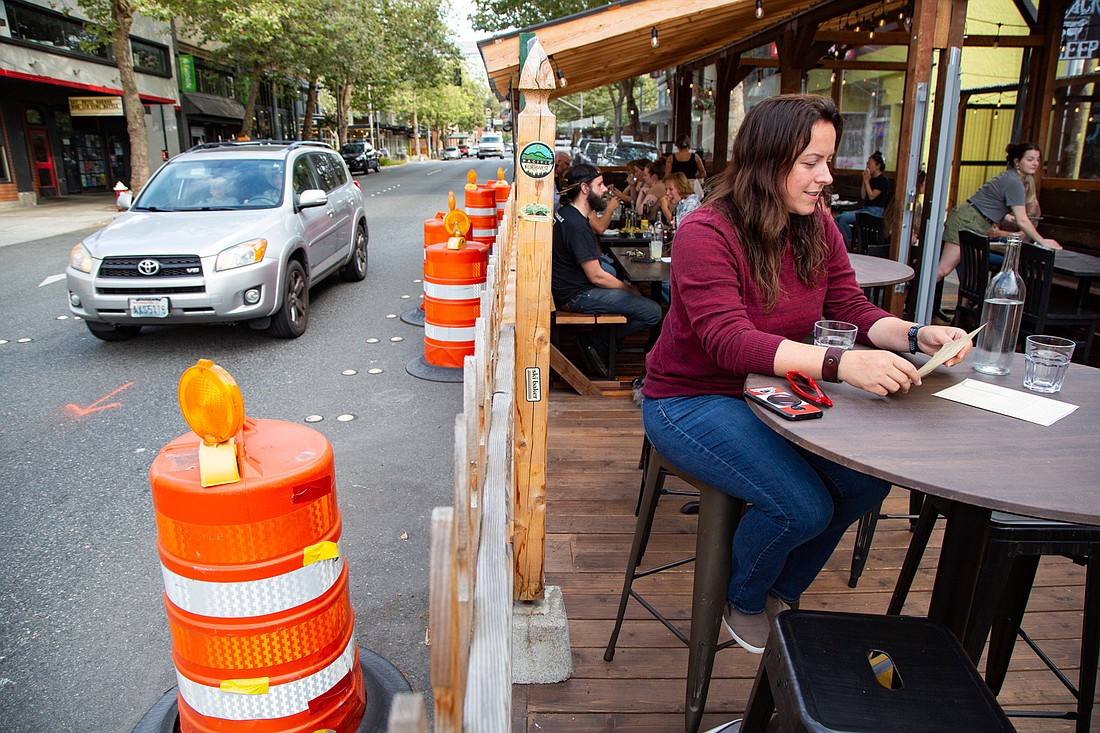 ---
---
More than two years after the onset of the COVID-19 pandemic forced downtown eateries to shutter indoor service, parklets — temporary curbside seating areas that kept many businesses alive — have remained a feature of downtown Bellingham.  
Although the parklets' contributions to the business community, the downtown atmosphere and customer experience have been widely lauded, some worry the placement of parklets present a hazard to pedestrian safety. 
The City of Bellingham had been planning to establish permitting for parklets prior to the pandemic, Darby Galligan, the City's senior planner, wrote in an email.  
"[The goal was] to release a number of benefits, including supporting a healthy, vibrant retail district, supporting the City's downtown plan and establishing our retail districts as safe, walkable, people-oriented gathering places," Galligan said. 
After the COVID-19 pandemic hit and Washington regulations closed indoor dining at restaurants, bars and cafes, parklets became a lifeline for businesses. 
"For a number of months, more than a year, we were unsure of exactly what business would look like," said Patrick Mori, bar director at Black Sheep Bellingham. "In a very real sense, the parklets that businesses were able to provide kept us alive."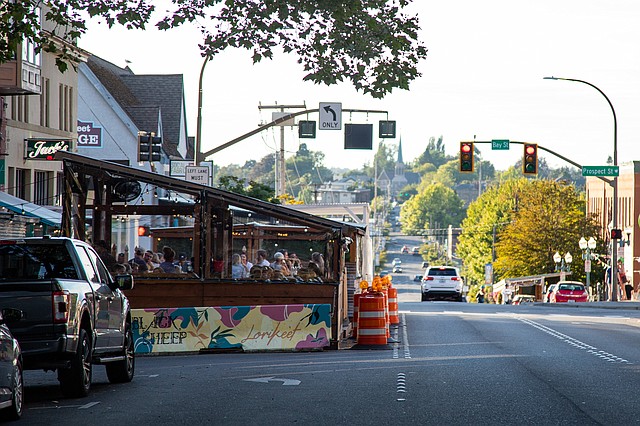 Although parklets are here to stay, Galligan said the City will consider updating standards this fall. Considerations include reevaluating fees for parklets, instituting design regulations, improving safety and potentially reinstating a cap on the number of parklet permits issued. The cap was temporarily lifted during the early months of the pandemic to allow businesses to continue operating. 
On the issue of safety, Galligan maintains "there have been no reported incidents of damage, vandalism or injury in any of the parklet structures to date."  
But at least one resident has experienced traffic-related injuries as a result of visibility issues caused by parklets. 
Sam Boroughs, 31, was crossing Bay Street at the crosswalk one evening this summer, heading toward Camber Coffee, when a car turning right "drove right into me, hit me on the side [and] threw me onto the concrete," he said. The driver apologized and said "she couldn't see anything because the light was shining in her face from the parklet on the corner." 
In addition to the light reflection issues, the parklet has no visibility due to its positioning on the corner, Boroughs said.  
"I've almost been hit probably 20 times on that intersection," Boroughs said. 
Camber could not be reached for comment in time for print deadline. 
Parklets are reviewed by traffic safety staff and building code experts as part of the permitting process, Galligan said, and are required to conform to the parklet design guidance released by the National Association of City Transportation Officials (NACTO). Corner parklets like Camber's go against NACTO's recommendations — but not requirements — for parklet design. 
NACTO recommends that parklets should avoid corners. If a parklet is approved on a corner, it should be placed at least one parking space away from the intersection corner, the organization states. The parklet that led to Boroughs' accident satisfies neither of these recommendations. 
Boroughs felt most parklets don't pose a safety risk to pedestrians. However, he said they shouldn't be on corners where they limit visibility.  
But business owners like Mori view parklets as an asset to a pedestrian-centered city. Mori said the parklets represent a beneficial step toward a more pedestrian-centered downtown. 
"All of the best cities that I've been to, especially in older cities in Europe — a lot of their business is done outside and a lot of the streets are only for pedestrians," he said. "For as long as you have a vibrant downtown main quarter, especially through Holly and other main streets, I think it's really healthy for the city and for businesses to have parklets, and people walking through and having a good time.
"I really hope that people can realize that a lot of the streets in Bellingham are better utilized towards pedestrians and foot traffic than they are for cars," he added. 
A previous version of this story incorrectly attributed the City of Bellingham's perspective to Janice Keller, communications director. The information was sent in an email from Keller, but was attributed to the City's Senior Planner Darby Galligan. The story was updated to reflect this change on Aug. 24, 2022 at 9:12 a.m. The Cascadia Daily News regrets the error.