Business Matters
Downtown Bellingham Insiders sees an upside
Nonprofit's loyalty program rebounds after pandemic disruption
August 24, 2022 at 4:50 a.m.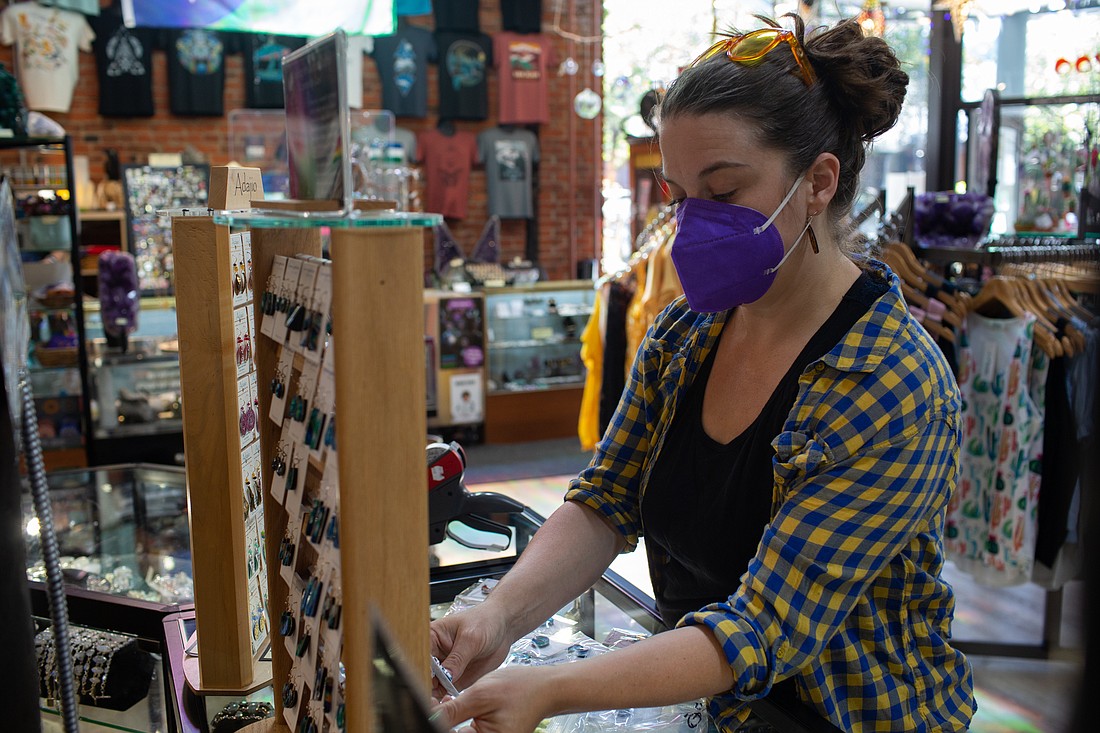 ---
---
Benefits tangible & intangible. The start of the pandemic was not kind to retail — or to nearly new programs that depended on storefronts staying open to customers. But after two years of disruption, a promising Bellingham business program is rebooting and rebuilding.
The nonprofit Downtown Bellingham Partnership (DBP) began its Downtown Bellingham Insiders program in February 2019. Insiders is both a loyalty and fundraising initiative. For an ongoing monthly donation starting at $5, Insiders members get discounts and offers from businesses located (appropriately) downtown. Donors at $10 or $25+ monthly giving levels get access to special benefits at the DBP-organized Downtown Sounds and Wine Walk events. 
In a perfect world, consumers get perks, retailers and restaurants get new or additional business and DBP gets a revenue stream to help fund its work.
From the start, Insiders appeared to have momentum. Thanks to partnerships with over a dozen participating businesses, "we quickly grew [to] a membership of over 100 sustaining Insiders within three business quarters" said Jenny Hagemann, DBP's marketing and communications manager. 
Of course, in a perfect world, no global pandemic occurred. 
"The pandemic affected every element of this program," Hagemann said. "First, we wanted to respect the financial pain businesses were experiencing and didn't feel it was appropriate to market discounts for more than a year. Second, households and individuals were suspended in layers of financial uncertainty and chose to cull underutilized subscriptions."
Put another way: Membership dipped, and the program was effectively back-burnered for much of 2020 and 2021. Even the Insiders website — until July 2022, when I mentioned the dated wording to Hagemann — read that 2020 Insiders cards were valid through the end of 2021.
But now, like a sports franchise with a loyal fan base, Insiders is aggressively rebuilding. DPB held focus groups and did interviews with members and businesses with the intent, Hagemann said, to "refocus and re-energize" the program in the second quarter of this year. 
"Members wanted more participating businesses and businesses wanted to be connected, or in some cases reconnected, with customers invested in shopping local," Hagemann said. "Already this year, we have doubled the number of participating businesses and are welcoming in dozens of new members each week."
As of Aug. 11, she said the member count was up to 144. The Insiders website currently lists more than two dozen participating businesses. The deals vary. 
Typically you'll find discounts of 10% to 20% on purchases at eateries including Banter, Pure Bliss Desserts and Snowy River Cocktail Co., or retailers such as MW Soapworks, WinkWink Boutique and Fringe. Others have free-with-purchase offers. Stressed Insiders even get a discount on a first massage at Resilient Acupuncture + Fire Cupping + Massage.
As a Bellinghamster yet to reach his first Bellingbirthday and still getting acclimated, I signed up for the Insiders program. I noticed it was tax deductible. I also liked the promise of getting a "limited-edition Bham Window Cling."
A confirmation email was prompt and detailed, outlining the benefits and one DBP activity of which I was unaware: Gallery Alley, doors refurbished into works of art and hung in the alley between the Wild Buffalo and Mindport from June to September. "These types of projects are possible in part due to our donors like you, so THANK YOU!" the email enthused.
So Gallery Alley, Downtown Sounds and Wine Walk, plus discounts, are great for consumers. But how does Insiders work for businesses?
"Our experience has been incredibly positive," said Erika Millage, manager of The Third Planet, a participant in the program both before the pandemic and today.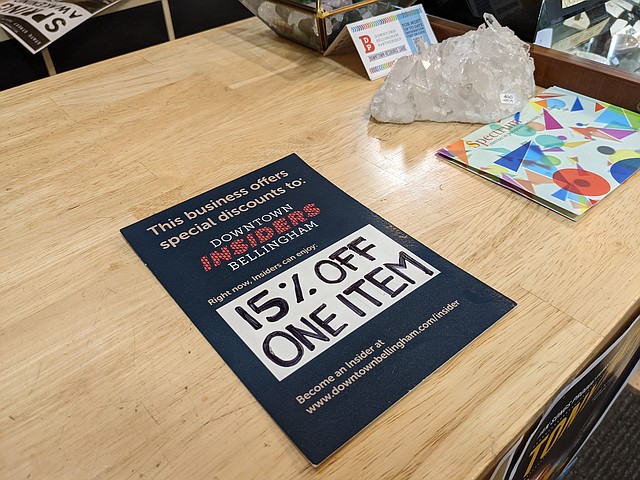 The store has an eclectic selection of what it describes as local handmade items and fair trade import goods (plus what I'd describe as clever stuff). Third Planet's offer, posted on a sign on the brick wall behind the counter, is for 15% off any one item. It's redeemable every time a shopper comes in.  
"I think that the discount is really effective when people want to get something a bit more expensive that they normally wouldn't let themselves splurge on," she said. "We saw the largest amount of redemptions during the holidays."
Aside from continued business promotion, Millage finds another benefit that may seem less tangible from partnering with the Partnership. 
"I love supporting downtown," she said. "It is such a simple way to give back to a wonderful organization that does so much to help ensure that downtown stays a strong and thriving area."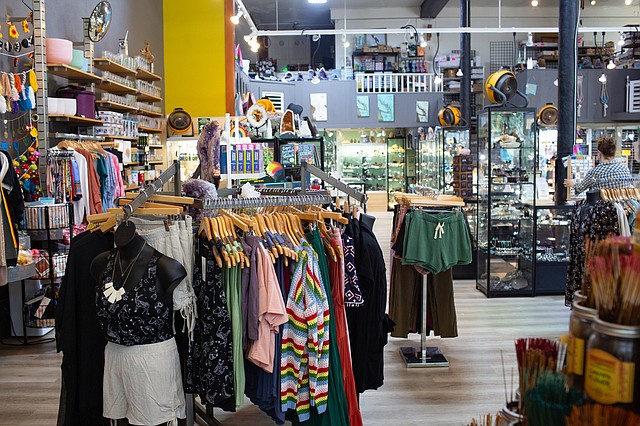 Help really wanted
People looking for workers and work are expected in Mount Vernon on Aug. 30. The Economic Development Alliance of Skagit County (EDASC) is organizing a three-hour Northwest Regional Job Fair at the Northwest Career & Technical Center from 3–6 p.m.
Up to 60 employers from Skagit, Whatcom and Island counties will take part, from Samish Bay Cheese and Skagit Regional Health to Draper Valley Farms and Nordic Tugs. Demand has been strong: the initial 50 employer cap was raised to 60 due to a "high influx of companies," according to Matthew Johnson Money, program support coordinator for EDASC. 
"We are seeing companies from many industry sectors sign up," Money said, including health care, advanced manufacturing, construction, education, agriculture, recreation, government and retail. 
While employers pay $50 for a booth, job seekers get in free and can register to attend at the EDASC website (skagit.org) under "Events and Workshops." 
People
Bellingham-based North Coast Credit Union (NCCU) has appointed Julia Parker as vice president, member business lending. NCCU said Parker has more than 30 years of experience in the financial industry in Whatcom and Skagit counties.
Places & things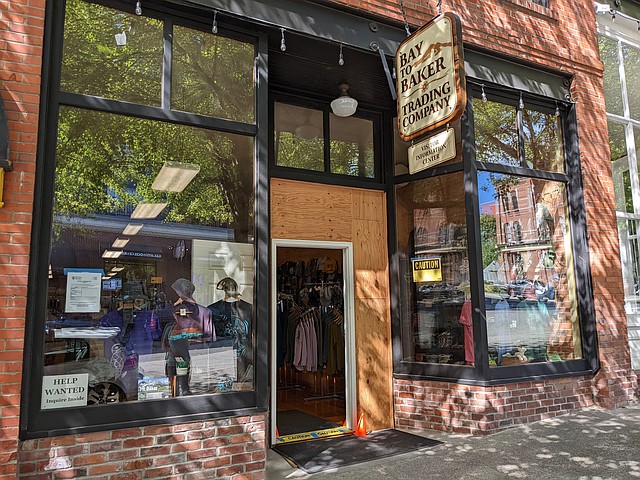 Bay to Baker Trading Company in the Fairhaven neighborhood has fully reopened after a "freak accident with a pickup truck" on Christmas Eve 2021. Known for its T-shirts and gifts (and as home to the Fairhaven Visitor Information Center), the shop at 911 Harris Ave. in Bellingham is still awaiting a replacement for its historic set of double doors, which owner Tina Anderson said are being custom made.
(For the latest Places & Things, check here throughout the week.)
Frank Catalano's column appears Wednesdays. Email: frankcatalano@cascadiadaily.com; Twitter @FrankCatalano.