Education
Follow the money: A look at Western salaries
State released 2021 salary data for university employees
August 18, 2022 at 5:50 a.m.
|
Updated August 22, 2022 at 3:34 p.m.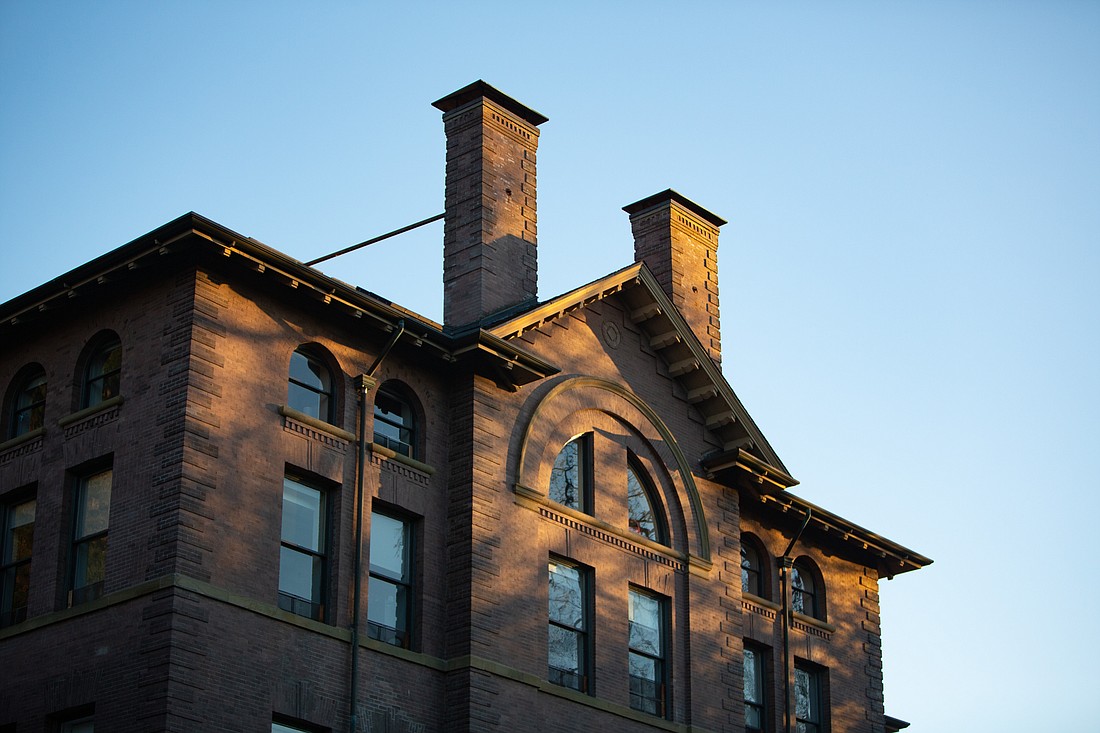 ---
---
At Western Washington University, faculty and staff can reach high highs and low lows when it comes to salary.
Washington state Legislative Evaluation and Accountability Program (LEAP) Committee recently released 2021 salary data for all state level employees, including Western's staff.
According to the data, comprising sometimes various permanent and temporary roles held by Western faculty, four employees made more than $250,000 and more than 700 made less than $25,000 in calendar year 2021. The data included take-home salaries as low as $300 for temporary faculty and staff. The median take-home salary for temporary faculty is $16,650 and for permanent faculty is $104,000. For classified staff, it was $41,000, and across the entire university, it was $56,550.
In comparison, the median household income is $56,198 in Bellingham and $65,420 in Whatcom County, according to the U.S. Census Bureau.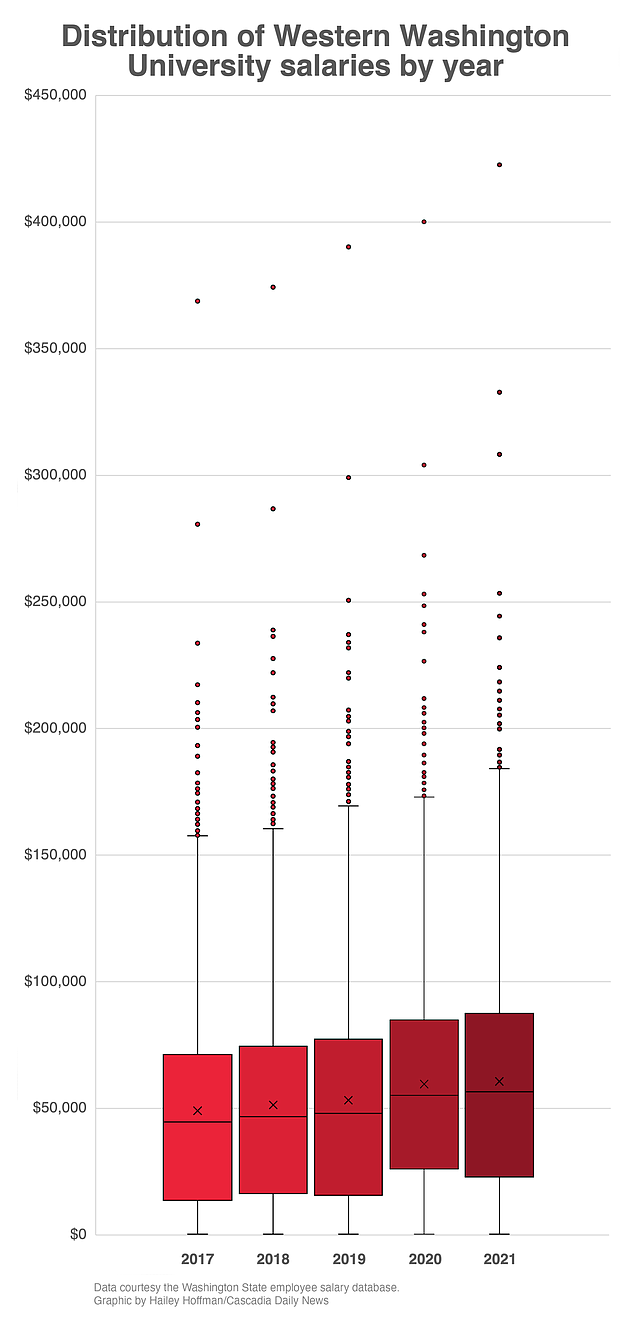 Since 2017, spending on employees has steadily increased while the number of employees has decreased. In calendar year 2017, the university spent $142.8 million on staffing 2,911 people. In 2021, that has risen to $165.7 million for 2,734 employees — an increase of 16% in overall funding with a 7% decrease in staff, according to the state salary database.
Additionally, in 2017, 14,876 students were enrolled full-time for fall quarter. At that time, resident undergraduate tuition and fees were $7,933 for three academic quarters, according to the university. In fall 2021, full-time enrollment dipped, largely due to the COVID-19 pandemic, to 13,953 students with resident undergraduate tuition and fees at $8,703.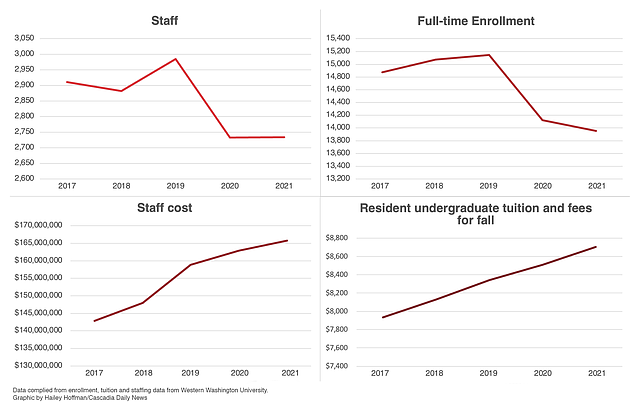 For the fiscal year 2022 operating budget from July 2021 to June 2022, Western budgeted $170 million to pay for faculty, student, professional staff and classified staff salaries. Of that, $131.7 million came from state funding and $38.4 million from self-sustaining funding. In addition, the university paid out more than $50 million to cover benefits for full-time employees.
State funding incorporates money allotted from Washington and tuition paid by students for expenses "such as salaries, goods and services, travel and equipment," according to Western's accounting department. Self-sustaining funding comes from additional fees charged to students for specific services and program costs.
Highest paid
Coming in with the highest salary at the university is President Sabah Randhawa with $422,600 in 2021. Following behind is College of Business and Economics and Institute of Energy Studies professor Craig Dunn with $322,800, Vice Provost Brent Carbajal with $308,300, Vice President for Business and Financial Affairs Rich Van Den Hul with $253,400 and Vice President for Enrollment and Student Services Melynda Huskey with $245,000. Van Den Hul retired in 2021 and Carbajal in 2022.
According to Randhawa's 2016 hiring contract, he started on Aug. 1, 2016, with a first-year salary of $365,000. For the most recent school year — Aug. 1, 2021, to July 31, 2022 — he received $460,000 in compensation, according to the 2021 renewal and contract extension. Over six years, Randhawa's salary grew by about 26%.
Additionally, the university has added about $175,000 into a deferred compensation account to be accessed upon his retirement. An additional $155,000 will be deposited by July 31, 2026. He also receives health and dental care, life and disability insurance, paid sick leave, 30 days annual paid vacation leave and tickets to WWU events.
Western provided Randhawa with a modern vehicle and a house with a total appraised value of $1,356,186, according to the Whatcom County Accessors Office. The university pays for all utilities, maintenance and insurance of the car and house.
In comparison to other universities, the president at Central Washington University made $339,700; May David at Eastern Washington University made $311,300; Ana Cauce at University of Washington was paid $859,700; and Kirk Schulz at Washington State University made out with $592,000 in 2021.
Professional staff govern the university and work in high-level administrative roles, therefore, they are some of the most highly-paid employees — outside of some faculty — at Western. In fiscal year 2022, the university provided $38.9 million for the 298.510 full-time-equivalent (FTE) staff.
FTE combines the number of staff who work full-time, or 40 hours, and staff who work part-time. For example, 2.5 FTE employees could represent one full-time employee and three employees who work 20 hours per week. 
Faculty salaries
For peak salaries for temporary (adjunct professors and instructors) and permanent (tenured or tenure-track professors) faculty, Dunn made the most with $322,800, followed by Burak Dolar with $235,800, Edwin Love with $214,800, Edward Vajda with $203,300 and Jongwook Kim with $201,900. The top five earners are tenured and belong to the College of Business and Economics, except for Vajda who is a Russian and Linguistics professor in the College of Humanities and Social Sciences. Kim is the chair of the business college.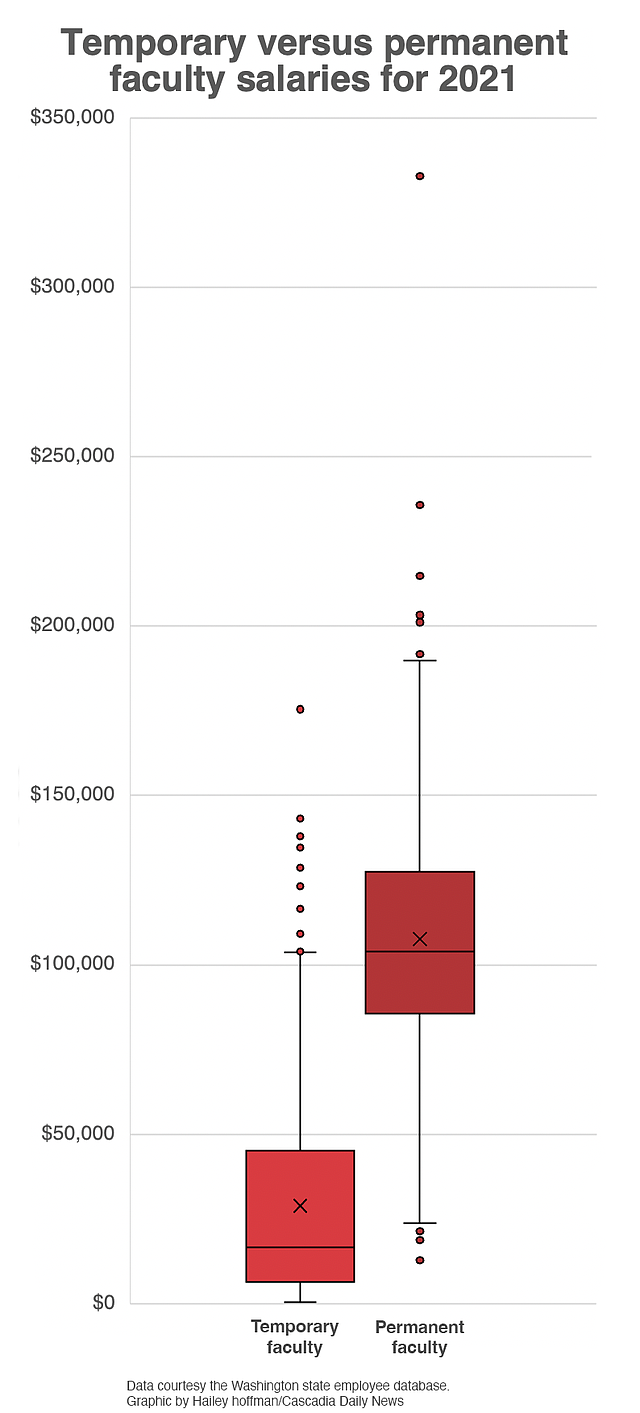 The median salary for faculty who are only filed as temporary is $16,650, excluding outliers with the highest paid earning $175,400. The median salary for permanent faculty who may hold temporary positions and be program chairs is much higher at $104,000, excluding the five highest-paid, who are all outliers.
"Faculty compensation varies by field because the market for expertise in those areas varies as well," Interim Communications Director John Thompson said.
Beyond financial compensation, medical and dental care, life and long-term disability plans and other benefits, tenure track faculty "may be granted" one year of academic leave following six years of service to the university and accrue more the longer they work at the university, according to the United Faculty of Western Washington University Agreement for 2021-2023. Permanent faculty can take paid professional leave "to carry forward research, to improve teaching techniques or methods, or to participate in other creative endeavors."
In September 2021, all faculty received a "basic salary increase" of 3%. This September, they will receive a base salary increase of 4.25%.
Classified staff and student salaries
In fiscal year 2022, $45 million funds the 510.858 FTE classified staff who fill roles like custodians, electricians, event coordinators and administrative assistants. Classified staff salary is guided by a sliding scale from the Washington State Office of Financial Management.
In calendar year 2021, for workers who had been employed for more than one year, custodians made between $2,700 and $50,800, campus police officers between $42,200 and $93,600 and early childhood program specialists between $17,700 and $53,900. 
An additional $9.2 million went toward student employees who work for up to 19 hours a week.
A previous version of this story misstated the basic salary increase faculty will receive this year. It is 4.25%, not 1%. The story also stated that faculty are guaranteed a year of leave, but they "may be granted" that much leave and it is not guaranteed. The story was updated on Aug. 18 at 1:18 p.m. Cascadia Daily News regrets this error.