Soccer
WWU men's, women's soccer forge different paths toward similar goals
Western women on the rise, men clawing back up
August 16, 2022 at 5:00 a.m.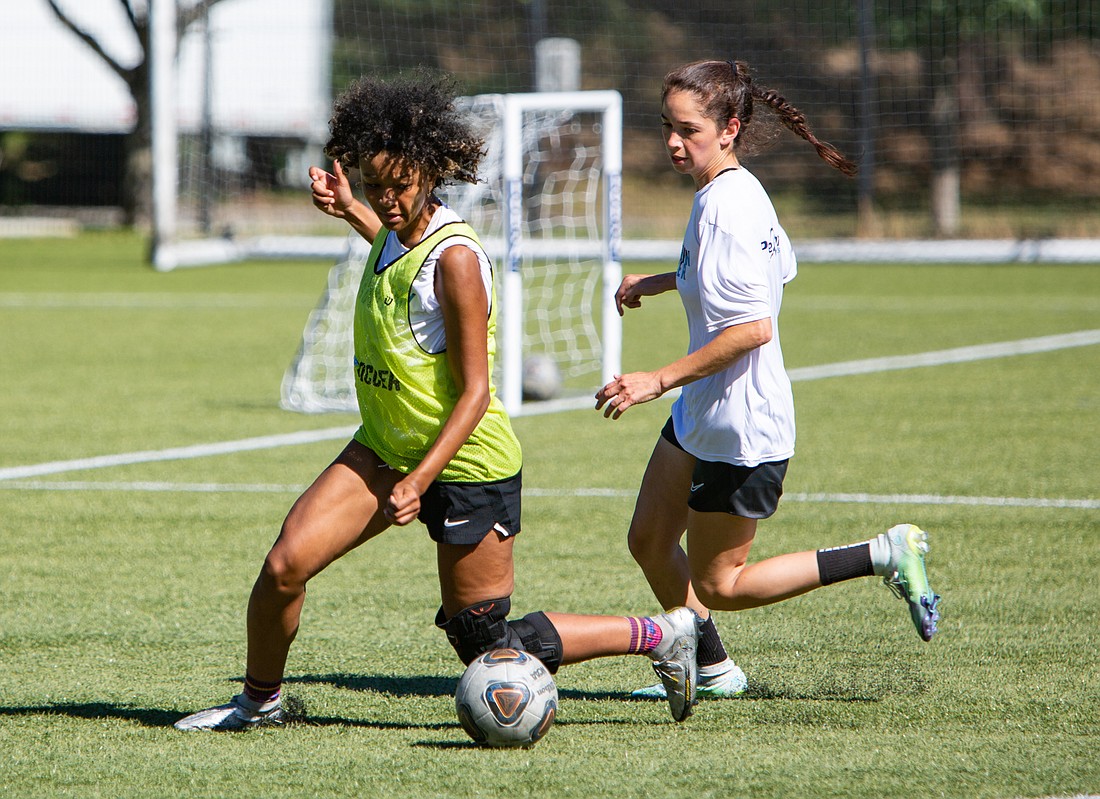 ---
---
As Western Washington University's men's and women's soccer teams kicked off first practices of the season Aug. 8, one squad is looking to build off last year's success, while the other is clawing its way back into contention after a down year.
Viking women
For 19th-year women's coach Travis Connell, he'll look to extend his 18-year streak of winning seasons and nine consecutive NCAA Division II postseason berths following another banner season.
Connell and the Vikings clinched their sixth-straight West Regional Championship berth after going 15-5-3 overall and placing second in the Great Northwest Athletic Conference (GNAC) with a 10-3-1 league mark in 2021. They eventually lost in the Sweet 16.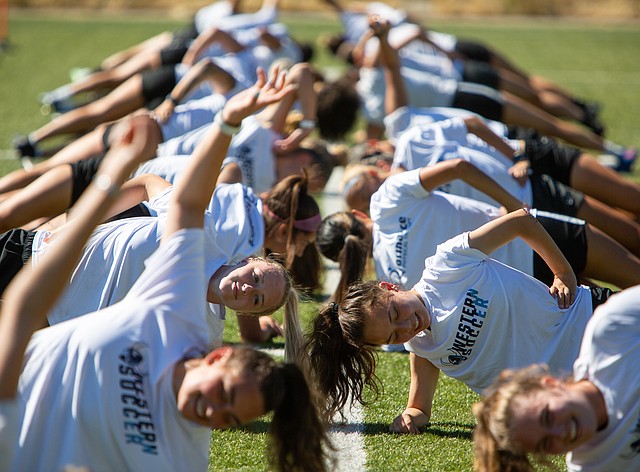 The Vikings are now ranked 10th in the Division II Preseason Poll announced by the United Soccer Coaches Aug. 2, and are poised to build off their perennial success as they navigate the 2022 season.
The preseason ranking means little to Connell, however, who is more focused on what the team can control and how they respond to adversity.
"Every year you just try to become the best version of yourselves you can be," Connell said. "We don't really set goals other than being our best selves when we step on the field. We just try to learn stuff and get better every time and try to peak at the right time at the end of the year."
They certainly have the personnel to make another run, returning 16 letterwinners and seven starters from last year, including second-team All-American senior midfielder Tera Ziemer, all-GNAC defender Katie Watt and all-GNAC forwards Dayana Diaz and Estera Levinte.
One of the biggest boosts they'll have this year is freshman forward Claire Potter, a two-time league MVP who led Pasco High School in scoring all four years of her high school career. 
"I would expect her to play a lot and make an impact," Connell said.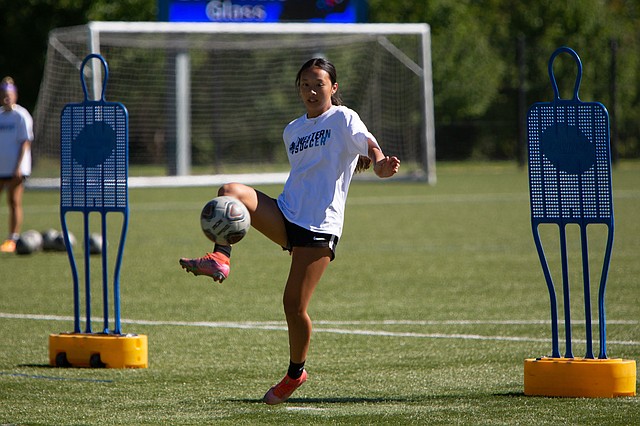 Another key addition is junior defender Kascia Muscutt, a transfer from community-college powerhouse Peninsula College.
As Connell looks to steer the team toward its fifth NCAA Final Four bid during his tenure, the Vikings will take on a formidable 19-match regular season schedule. They'll face a pair of nationally ranked teams during non-conference play in No. 20 Sonoma State (Sept. 3) and No. 22 Point Loma (Sept. 6).
The Vikings then open a 14-match GNAC schedule with a home game vs. Simon Fraser Sept. 15, before hitting the road for three-straight road tilts. Seven of their first 10 matches will be on the road.
Connell isn't worried. He knows he has the roster — even with nine newcomers — to make another successful postseason run.
"I'm excited about every season," Connell said. "There are a lot of new players, so that's a little bit unusual for us. But it's exciting to see a lot of people with new opportunities make a big impact. Seeing how that all plays out is probably the most exciting part of it."
Viking men
In his 10th year, men's coach Greg Brisbon is more focused on getting his squad back into postseason contention.
The men's conference does not have a GNAC tournament, meaning only the conference champion gets an automatic bid to the NCAA tournament. A second- or third-place finisher could still make the tournament with an impressive season, though it's still up to the NCAA selection committee.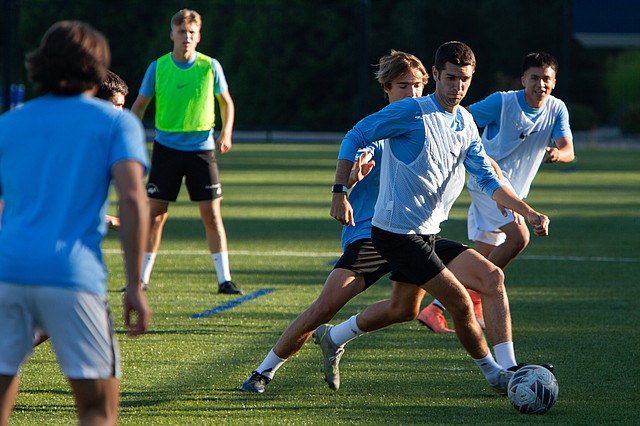 The Vikings failed to make the postseason in 2021 after finishing with a 7-8-2 overall record, including going 5-3-2 in league play.
It was an uncharacteristically down year for a program just one full season removed from appearing in the 2019 NCAA Division II Championships. 
Now Brisbon has the task of getting the Vikings back to relevance and clinching another postseason bid. He certainly has the squad to do it, returning 24 letterwinners and 10 starters.
Back is Sehome alumnus Gus Diehl, a senior second-team all-GNAC midfielder; junior Brandon Locke, a second-team goalkeeper; junior defender Mitchell Hutter; senior midfielder Dakota Stamnes; and senior Gilbert De La Luz, an honorable mention midfielder.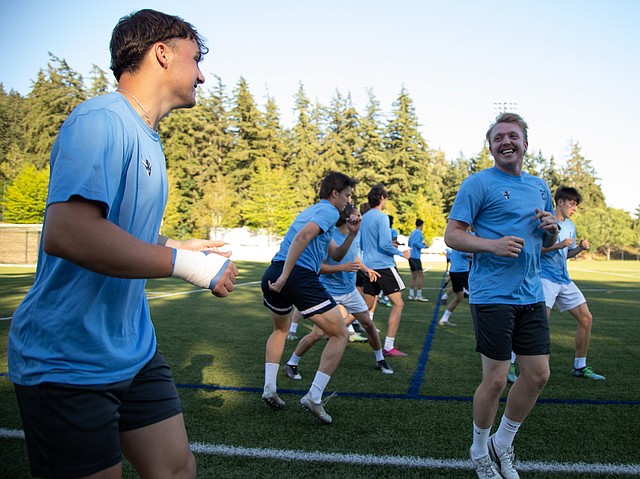 "I have a good core returning," Brisbon said.
Key newcomers include Andrew Rotter, a sophomore forward transfer from Saint Mary's College; Joar Tidblom, a freshman defender from Sweden; Albin Jonsson, a freshman forward from Sweden; and Kyota Hirate, a junior midfielder from Hawaii Pacific University.
"Those guys stick out right now," Brisbon said. "Rotter is definitely one that will make an immediate impact."
With 24 letterwinners back, Brisbon said the strength of the team will be its experience and leadership. Most of the seniors have been with the team for five years — and have also played all five years since they were granted an extra year of eligibility due to the pandemic.
"We're a fairly mature team," Brisbon said. "Even most of our new players coming in are older guys. It's a very experienced older group."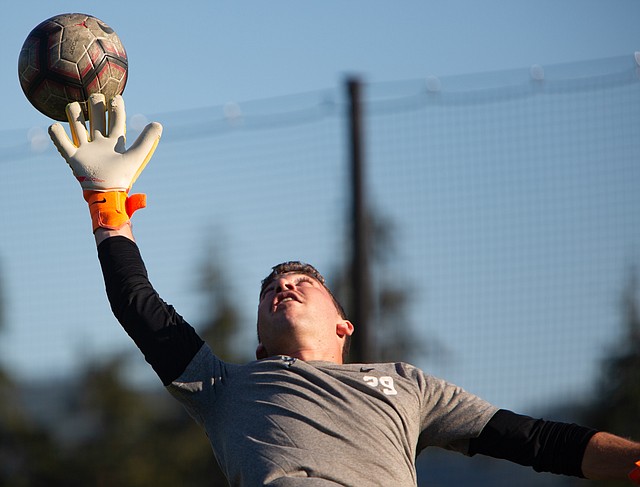 Their main goal right now is to win the conference and get back to the NCAA tournament, a place they've made a home in recent years, despite 2021's down season.
"It's all about the program," Brisbon said. "The program No. 1. Being good teammates, being coachable — if we can do those things, everything else falls into place. We're just trying to get better and have a good journey this fall as a group."
For now, Brisbon is just excited to see his new group on the field and playing together, then strategizing how to best utilize his deep roster.
"I'm excited to see us play in real games," Brisbon said. "Probably got 12 different lineups to throw out. We have a lot of depth this year. The gap between our best player and our not-so-best player is the closest it's ever been since I've been a part of the program. We've got guys that can play multiple positions as well."
The Vikings started their three-match preseason exhibition schedule on Aug. 13, then open the regular season at home against Sonoma State on Aug. 25. Their 12-match GNAC schedule begins on Sept. 22 with a road game at Saint Martin's University.