Environment
San Juan fuel spill response a 'wake-up call'
Continued fallout from Saturday's diesel spill
August 16, 2022 at 1:06 p.m.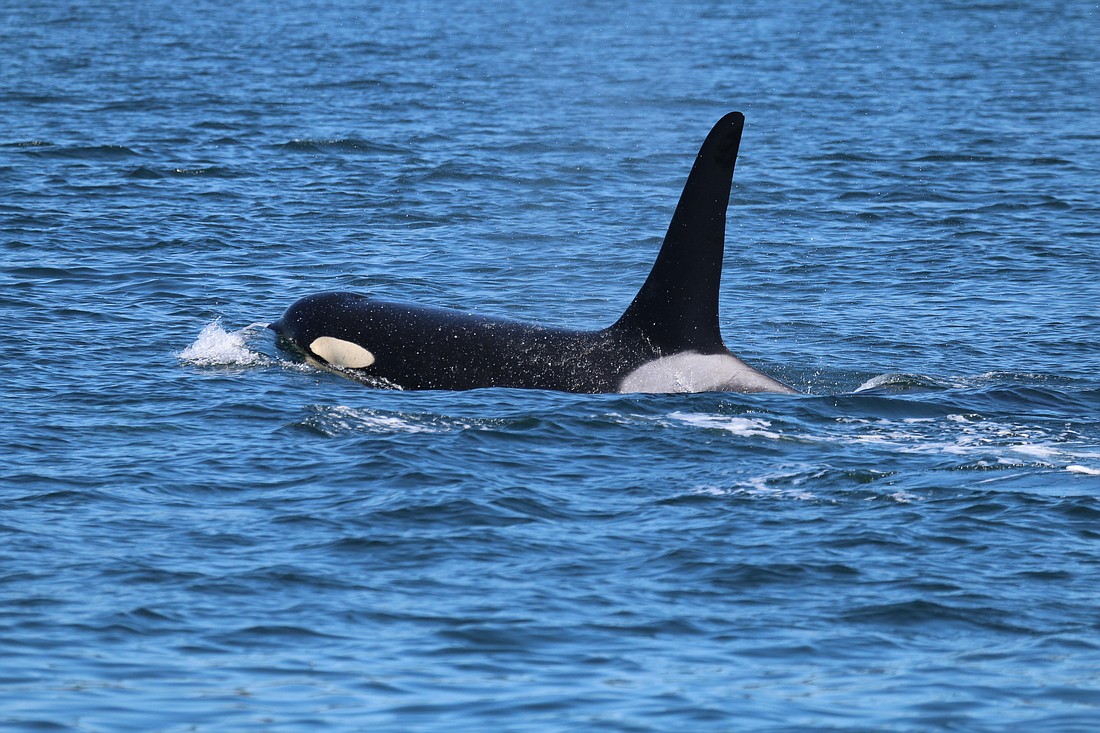 ---
---
Federal and local response to a fuel spill off the west side of San Juan Island Saturday has environmental experts and orca researchers concerned by ecological impacts and future oil spills. 
On Saturday afternoon, a 49-foot commercial fishing vessel, the Aleutian Isle, sank near Sunset Point. The vessel had about 2,500 gallons of diesel, and another 100 gallons of motor oil and other oils, on board when it sank in about 100 feet of water, according to the Washington State Department of Ecology (DOE).
Since then, crews from DOE, the U.S. Coast Guard (USCG), the San Juan Office of Emergency Management and the Swinomish Tribe have been working to contain the spill, placing more than 2,000 feet of booming to contain the spill and deploying commercial dive and salvage teams. 
The response to the spill, though, was slow, said Ander Russell, a program director at local environmental nonprofit RE Sources. 
"One of the biggest things you can do for an oil or diesel spill is to act quickly and get it contained, and my understanding is that wasn't able to happen because the equipment wasn't there," Russell said Tuesday. "We've prioritized vessel traffic and allowed vessels carrying diesel or fossil fuel tankers to move around the Salish Sea without prioritizing response and readiness when something like this happens."
"This is a wake-up call," Russell added. 
Late Monday night, dive teams discovered the vessel, which initially sank about 100 feet, has shifted, and is now located in waters around 200 feet deep, according to a status update from DOE. Additionally, crews discovered a net previously attached to the vessel has since floated free, and divers plan to extract it from the water Tuesday afternoon. 
Because the vessel shifted, crews haven't been able to remove remaining fuel sources from it, which could lead to additional leaks.
"There's still the threat of a larger spill," said Lovel Pratt, the marine protection and policy director at Friends of the San Juans, a group protecting the land and water around San Juan island. "The oil that's still aboard the vessel hasn't been secured or recovered, so as long as the boat still has oil products aboard, there's a risk." 
Pratt says there is "definitely room for improvement" in how the responding agencies, which have since formed a Unified Command, coordinated to minimize damage to marine life from the spill. 
Of particular concern are the Southern Resident orca pods: critically endangered salmon-eating orcas in Puget Sound. Two of the pods — J and K — were in close proximity to the spill Sunday, but have since left the area. 
"This accident is a reminder that every gas or diesel-powered vessel, every fossil fuel tanker in the Salish Sea and in the San Juan Islands, represents a risk," Russell said. "It could really spell the end of our Southern Resident orcas." 
The afternoon of the spill, the Center for Whale Research tracked all three pods of the Southern Resident orcas in the region, with J pod whales traveling "east-southeast, but grouped up somewhat and angled for San Juan Island's west side by late afternoon," according to an encounter log from Saturday. 
Hannah Miller, a biologist contractor for the National Oceanic and Atmospheric Administration (NOAA), said the J and K pods were the closest to the spill, but have since moved west through the Strait of Juan De Fuca, closer to Port Angeles. 
Since then, no whales have been observed in the vicinity of the area, but "qualified personnel are on scene and prepared to prevent marine mammals from approaching or entering the affected area," according to DOE. 
Though the resident orcas have since left the area, other marine life is still at risk. Juvenile fish, such as herring and salmon, are present in the area of the spill, and are particularly sensitive to oil, according to NOAA researchers. 
Russell said Saturday's spill is an "opportunity" to prepare for bigger spills that may happen in the future. 
"This is an opportunity to get ourselves in a better place to respond and decrease risk of a larger, more catastrophic spill and increase our readiness," Russell said. "It's a matter of when, not if." 
Pratt agreed. 
"My hope is that this spill will have minimal environmental impacts," she said. "It will also provide us an opportunity to see where we have these vulnerabilities, where we need more spill response preparedness and resources, where we need more wildlife response resources, and how we can be better prepared when another spill happens in the future."
For more information, visit the Department of Ecology's Aleutian Isle Response website. To report any oiled wildlife, call 1-800-22-BIRDS.