Restaurants
Review: Ambo Ethiopian Cuisine
Where home-style feasts are made for sharing
August 12, 2022 at 5:00 a.m.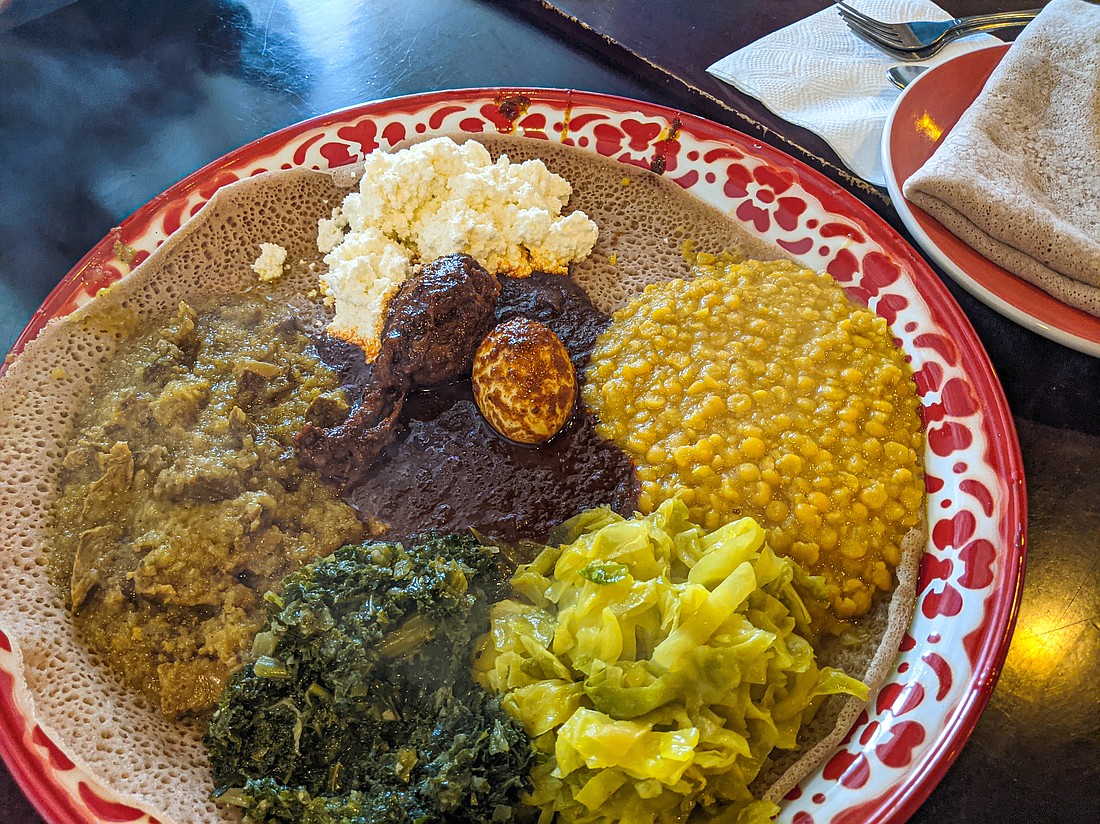 ---
---
If you've been around the Bellingham area a while, you might remember the Ambo Ethiopian food stall at the Bellingham Farmers Market. It was wildly popular and owner Mulunesh (Mulu) Belay was eventually able to open a permanent location in the Bellingham Public Market. When that closed, she moved to her current location. Conveniently located near the end of State Street next to Flatstick Pub, it's a place you should absolutely be bringing all your friends for an Ethiopian feast.
Like nearly every Ethiopian restaurant I've ever been to, there is no outside seating and the interior is minimal, with a few tables and a drinks cooler, but you won't mind that once the food comes out. Place your order at the counter, pick out your beer or soda, and your food will be brought out before you know it, on injera-covered platters loaded with stew and vegetables.
Injera, if you're not familiar with it, is the heart of every Ethiopian meal. It's like a giant, spongy pancake made from a long-fermented batter of teff and other grains. A good injera should be bubbly, sour and very stretchy. It's often naturally gluten-free, although Belay offers hers with and without gluten.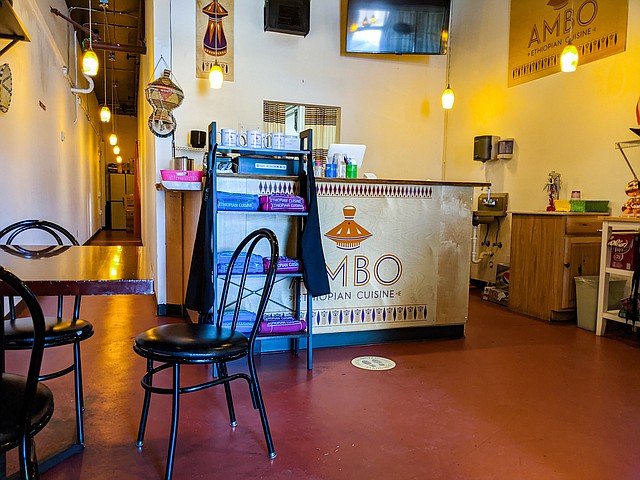 Meat and vegetable dishes are ladled onto a large platter lined with injera, so the bread soaks up all the juices. The food is typically eaten with your hands, by tearing off pieces of injera and using them to scoop up the stew and vegetables. Forks and spoons are available for those who want them, however, and while Ethiopian food is usually served family style, Ambo can do single servings as well if you prefer not to share.
Unless you have a large party, half-orders are the way to go. One half-order with an accompanying side vegetable, served on injera, is about the right amount for one person, but it's always better to get several dishes to share for a proper feast. On one occasion, feeling very hungry, my dining partner and I got three half-orders, each with its own side and an extra roll of injera. This proved to be enough food to stuff us both so full we could hardly move. It was totally worth it.
The menu is short, so there's no reason not to try everything. My favorite dish here is probably alicha wat ($16 full/$12 half), or lamb stew. Tender bite-sized pieces of lamb bathe in an incredibly fragrant sauce of ginger, garlic, onion and turmeric. 
Doro wat, or chicken stew ($15.50 full order/$11 half) is possibly the most famous Ethiopian dish, and one of Ambo's most popular offerings. A rich, oniony gravy is studded with whole chicken legs, so tender the meat falls off the bone, and hard-boiled eggs. This dish is traditionally seasoned with berbere, a fantastic spice blend that includes chiles, cardamom, coriander and fenugreek, creating a wonderfully complex flavor.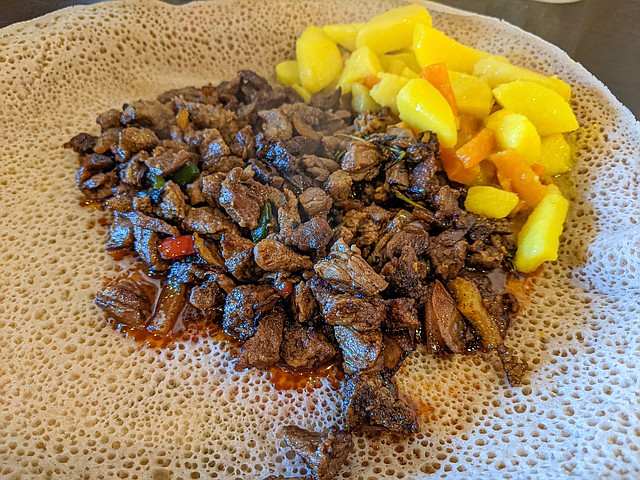 Siga tibs ($15.50), a dish of beef stir-fried with peppers and onions, is only available as a full order, but it's well worth making room for. Redolent with butter, spices and fresh rosemary, it's fragrant and deeply savory. Unlike the tender meat in a wat, the meat is on the chewy side, but the pieces are small for easy scooping.
Ethiopian is a great cuisine for vegetarians and vegans, thanks to the frequent fasting days of the country's religious calendar. There are two vegan mains to choose from on Ambo's menu, yekik wat (yellow split peas) and yemisir wat (green lentils; both are $13.50 full/$10.50 half). These are simply prepared, delicious and easily make a full meal when paired with a vegetable and injera.
Every main comes with an included side, but additional sides are available for $3. You can choose from carrot and potato stew, kale, spinach, stewed cabbage (all vegan) and ayib (cottage cheese). The homemade cheese is crumbly and sour, making a good contrast to the rich, spicy flavors of the meat and legumes. I love the cabbage, which is soft and sweet, but the surprise winner for us was the carrot and potato stew, which is melt-in-the-mouth tender and has ridiculously good flavor for such a simple dish. While all of the food is flavorful, none of it is particularly spicy, but hot sauce is readily available by request.
Belay's regular menu is missing several classic Ethiopian dishes I love, such as kitfo and shiro, but sometimes she offers specials on weekends or holidays, so you never know what might come up. Regardless, if what you need is warming, delicious, home-style Ethiopian food served with a friendly smile, Ambo is absolutely perfect.
Ambo Ethiopian Cuisine is open from 11 a.m. to 3 p.m and 5–8 p.m. Monday through Saturday at 902 N. State St., Bellingham. Info: amboethiopian.com.