Outdoors
18 hours at Artist Point
An abundance of mountains, stars, snowfields
August 11, 2022 at 5:00 a.m.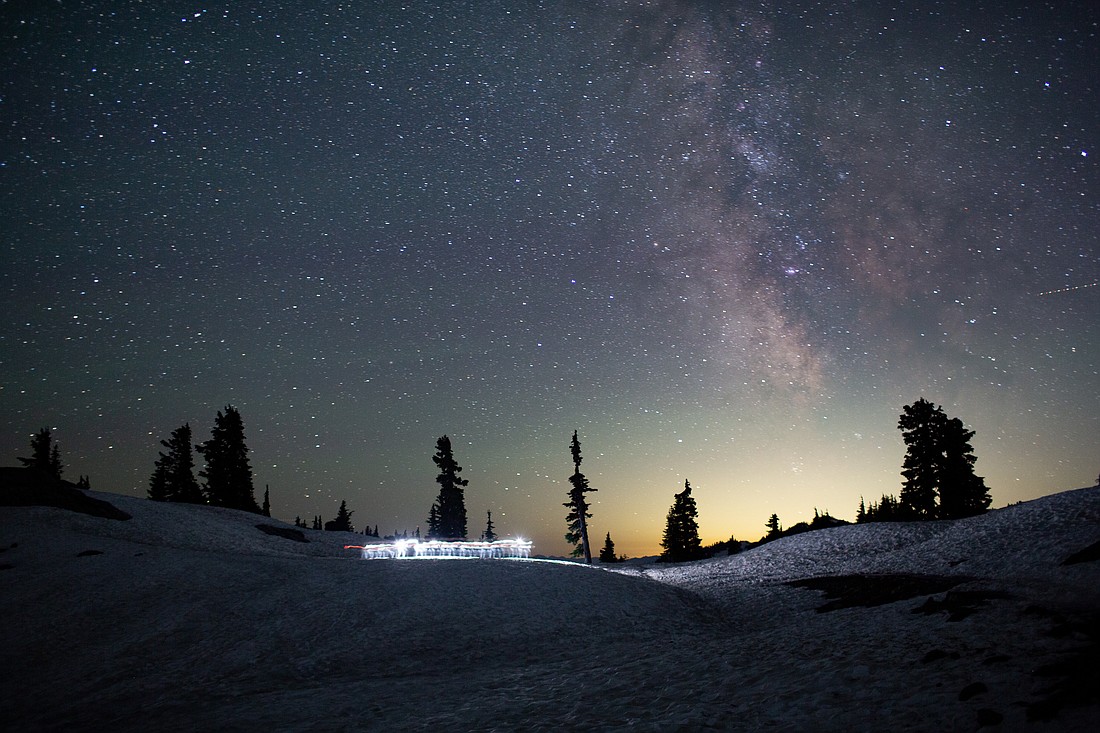 ---
---
Nothing screams "summer hiking in Washington" like slipping and sliding down a snowfield — despite the best efforts of your trusty Yaktrax — while some guy with a full pack and fishing poles slowly makes his way in wearing foam Crocs.
After Washington's unseasonably wet and cold spring, much of the snowpack has rendered the North Cascades un-hikeable until very recently for the less-extreme, less-experienced hikers out there. About a month ago, the Washington Department of Transportation used its beefiest snowplows to clear the feet of snow that continued to cover the end of Highway 542 and the iconic Artist Point.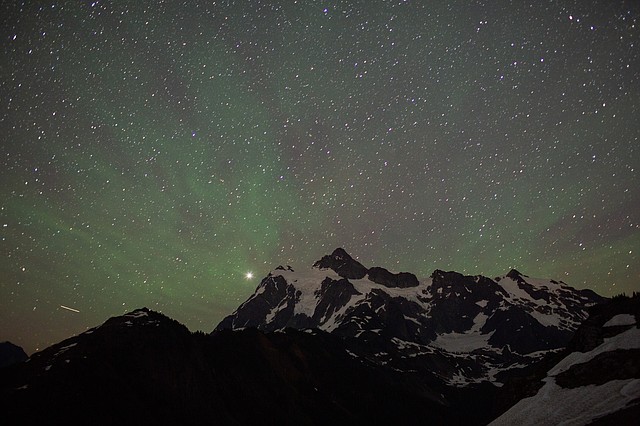 Three weeks later, I was determined to make the journey up, photograph the rising stars among the peaks and finally hike Chain Lakes Loop all within a narrow 18-hour window in my ever-busy schedule.
I left Bellingham at 7:30 p.m. and arrived at Artist Point just after 9 p.m. I was bummed to have just missed the sunset and its glow lighting up Mount Shuksan, but I knew I had many beautiful sights ahead of me.
Once I carefully skated (with the help of a tripod for balance) across the stubbornly lingering snowfields, I attached my cameras to said tripod, set the exposure to 30 seconds and began capturing the night sky. Time flew with my awe of the rising Milky Way and flitting shooting stars from the Perseid meteor shower among the jagged mountain peaks. Each photo I took brought a new hit of dopamine. 
As the night went on, other stargazers and astro-photographers began quietly leaving the parking lot. Shortly after 2 a.m., I slipped into the back of my car for a quick nap to prepare for the coming sunrise. (Note: Camping is not technically allowed at Artist Point.)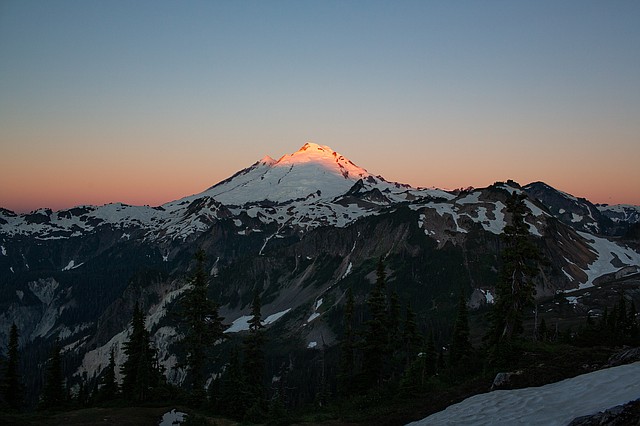 At just around 5 a.m., I woke to a warm, yellow glow outlining the back of Mount Shuksan. I leapt to life, grabbing my cameras and once again skating across the icy snow to the cleared trail to Huntoon Point, which offers expansive views of Mount Baker and the valley beneath it.
I got there just in time to witness the light of the rising sun painting the snow-capped peak a bright, salmon pink. I ran up and down the trail, maniacally swatting at mosquitos and swapping lenses, as I tried to capture the moment as I experienced it. 
As the light strengthened and the pink tones died, I returned to my car to eat breakfast and prep my pack for the 6.5-mile Chain Lakes Loop trail.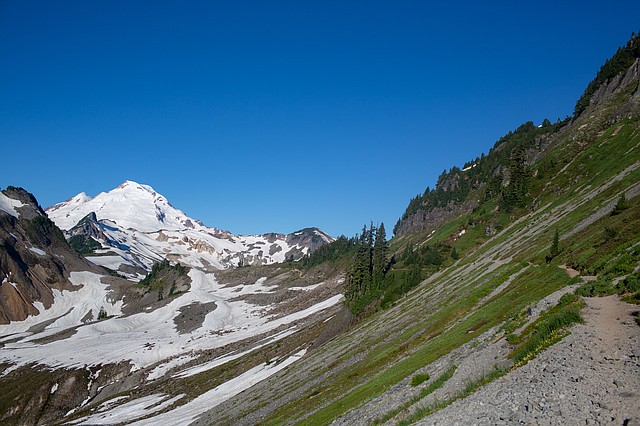 Heading west out of Artist Point at 7 a.m., I was met with Mount Baker looming directly in front of me, unobstructed. I stopped once, every few minutes (or steps), to photograph the mountain framed by sloping green fields.
In the first hour of the hike, I encountered numerous snowfields. I was lucky to have found my Yaktrax — traction cleats — in the depths of my car left over from winter exploration. I was continually yanking them on and off as I made my way across slippery snowfields blanketing the trail, hiding in the shadows of ravines and of Table Mountain. 
At around 8:15 a.m., I arrived at Mazama Lake and 15 minutes later, at Iceberg Lake — named for the chunks of ice floating around. From there, I began my first real ascent to the Herman Saddle and arrived at 9:15 a.m. After taking in the view and more pictures, I headed down, quickly finding myself off trail and sliding across yet another now-slushy snowfield to find the cleared trail.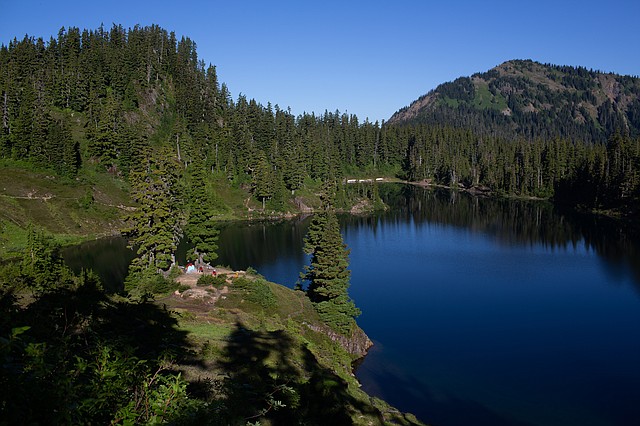 I descended and arrived at the Bagley Lakes at about 10:30 a.m. I soaked my swollen feet in the icy water and failed to force myself to jump into the cold, alpine lake despite the rising temperatures. After a snack and a long drink of water, I climbed to the Heather Meadows Visitor Center — a building I'd only seen buried in snow.
With my narrow time window closing and my dwindling motivation to hike another 1,500 feet in elevation in the hot sun, I hitched a ride with two nice dads up to Artist Point to finish my day. 
I returned to my car in a full parking lot just before noon and headed home, arriving 18 hours after I'd left with a host of new memories of the beauty of the North Cascades.