Profiles
The Oddacity: New tattoo shop took a risk
Ink and inclusivity on Cornwall Avenue
August 10, 2022 at 5:55 a.m.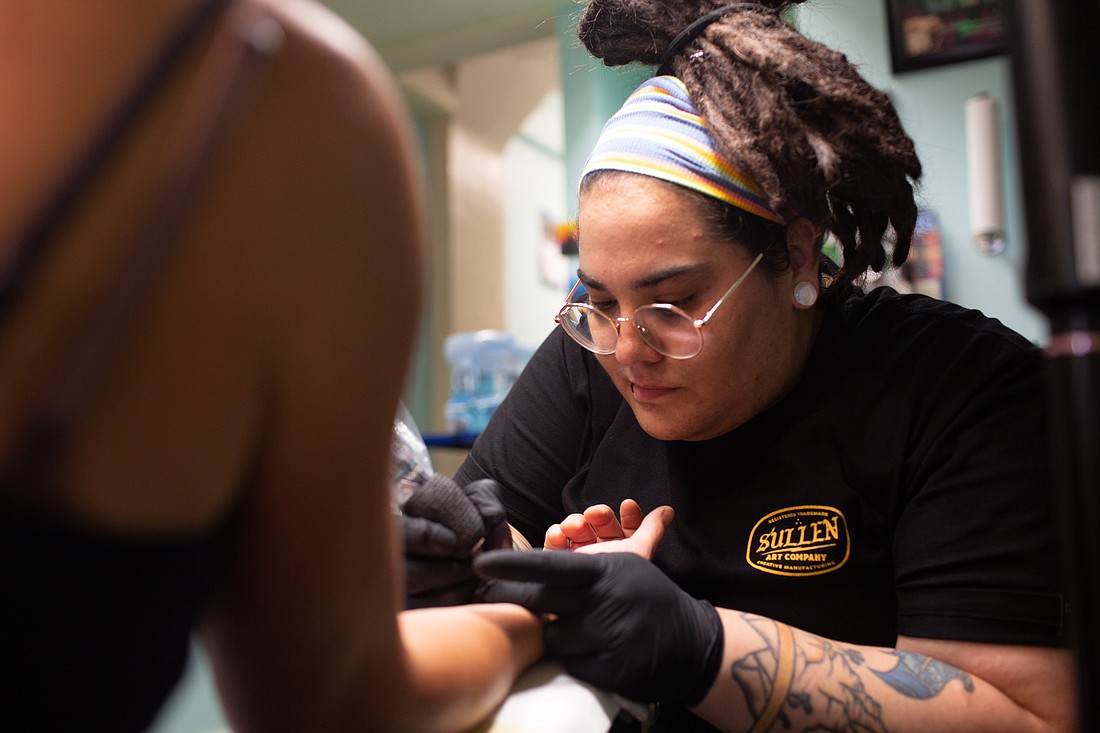 ---
---
Before future spouses Shelby Downing and Alana Hatt opened a tattoo shop in downtown Bellingham, they needed to overcome a few obstacles — not the least of which was relocating from Oklahoma to Washington state with a moving truck full of tattoo supplies and their dog, Panda, in tow.
It was an audacious move, but the bold risk helped when it came time to name their new business.
"We were having a conversation with friends and someone was like, 'Oh, the audacity of us,'" Hatt, 34, said on a recent weekday afternoon from the reception area at The Oddacity, located underneath Hotel Leo at 1208 Cornwall Ave. "We're a women-owned, queer tattoo shop that opened after moving more than 2,000 miles from home. And we're strange, odd people. Another friend suggested the (alternate) spelling and we thought, that's what we're going to go with."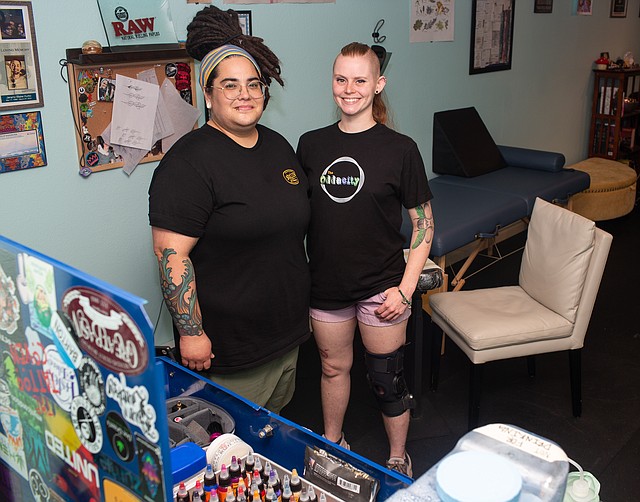 The duo is happy to have landed at their current locale, but before securing the space and opening on April 1, Downing and Hatt said they were having trouble finding a landlord willing to rent to them due to the high volume of ink-related establishments already operating in Bellingham.
"Several people heard 'tattoo shop' and were immediately like no, we prefer you be a bakery or a dog-grooming place," Downing, 26, said. "We had seen this spot previously. The pictures weren't great, but we checked it out in person and it ended up working out really well."
The only downside, Downing said, is the signage from Cornwall Avenue is nearly nonexistent. Although the large window leading to their below-ground business has The Oddacity logo on it, the entrance can be hard to spot — especially for those driving by. As the couple waits for the go-ahead to be able to paint out front and get approval for their design, a planter near the sidewalk has arrows pointing the way.
Once visitors enter the welcoming space, the first thing they'll see is a rainbow-hued Bellingham Pride flag above the front desk. Comfy couches populate the reception area, with board games such as backgammon and Battleship found underneath a glass end table. Near the front door, a rendering of actor Christopher Walken reminds patrons that "Walk-ens welcome."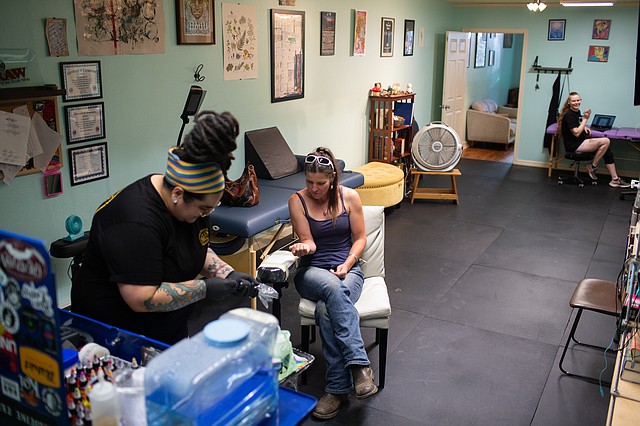 Another door leads to The Oddacity's long work space, which features two purple tattoo beds, tall lime-green toolboxes festooned with stickers and full of the tools of the trade (ink, sanitary supplies such as Saran Wrap and gloves, etc.), reading material, a large television, various seating areas, mirrors and, above Downing's side of the shop, a framed bachelor's degree in animal science, topped by a stethoscope.
The artifacts of Downing's past are there to remind them life didn't necessarily turn out the way they thought it would. Although they were studying to be a doctor of veterinary medicine, Downing realized they wanted to be a researcher. But the expense of a master's degree and a lack of work studies at their college, combined with not being able to find a job in their chosen field and being burnt out from school, led Downing to take a couple years off and work odd jobs. They were also an artist, but never thought it was a way they could make a living.
Serendipitously, Downing met Hatt and they became friends, then romantic partners. Hatt — who'd undergone her own career change after studying graphic design and video multimedia before apprenticing at a tattoo parlor owned by a high school friend in Stillwater, Oklahoma — encouraged Downing to pursue tattooing as a career. After Downing showed their portfolio to Hatt's mentor, he agreed to take them on as an apprentice.
"That's when my pursuit in art truly began," Downing said. "It was my focus, and I was able to do the thing I didn't think was possible and pursue art as a career."
Once Downing joined Hatt in fulfilling the legal accreditations to become a full-fledged tattoo artist, the couple decided they wanted to do their own thing. They began looking at queer-friendly cities in Oregon and Washington where they could set up shop, and after visiting Bellingham, decided it fit the bill.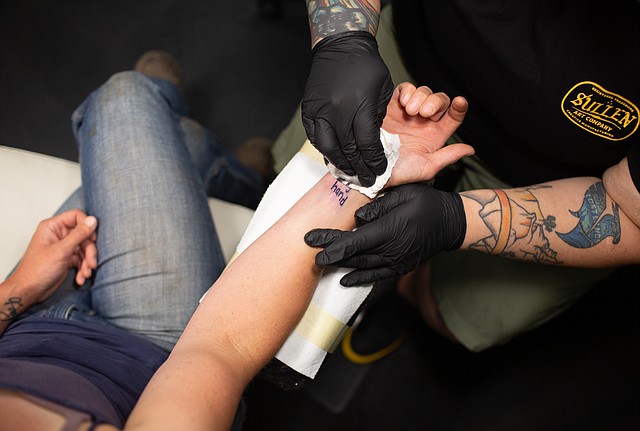 Downing and Hatt said they're aware they're competing with a number of other tattoo shops in Bellingham, but want people to know they're committed to providing a welcoming, inclusive space for their clientele.
"Anyone can get a great tattoo, but if the experience is not good they're not going to go back," Hatt said. "We just want everyone to have that good experience. If anyone ever wants a private tattoo, just schedule it. We'll throw a movie on if you want it, or music. We want people to feel safe, and we've had a good response with that goal."
Downing said the work they're doing is rewarding for both of them, as well.
"I think you should be a healthy amount of anxious about permanently altering somebody's skin, and I feel like we are very conscious and conscientious of the work that we're doing and what we're putting on people," Downing said. "Once you see a finished piece or a work in progress slowly becoming a final big piece, it's super-rewarding. Seeing people's faces light up when they see it in the mirror for the first time gives me an overwhelming amount of serotonin."
The Oddacity is located at 1208 Cornwall Ave., Bellingham. Email Downing and Hatt at oddacity.tattoo@gmail.com with questions and to get quotes, and find them on Instagram @oddacity.tattoo.