Citizens Agenda
It's (almost) last call for CDN Citizens Agenda
Questions for candidates due by week's end
August 10, 2022 at 5:05 a.m.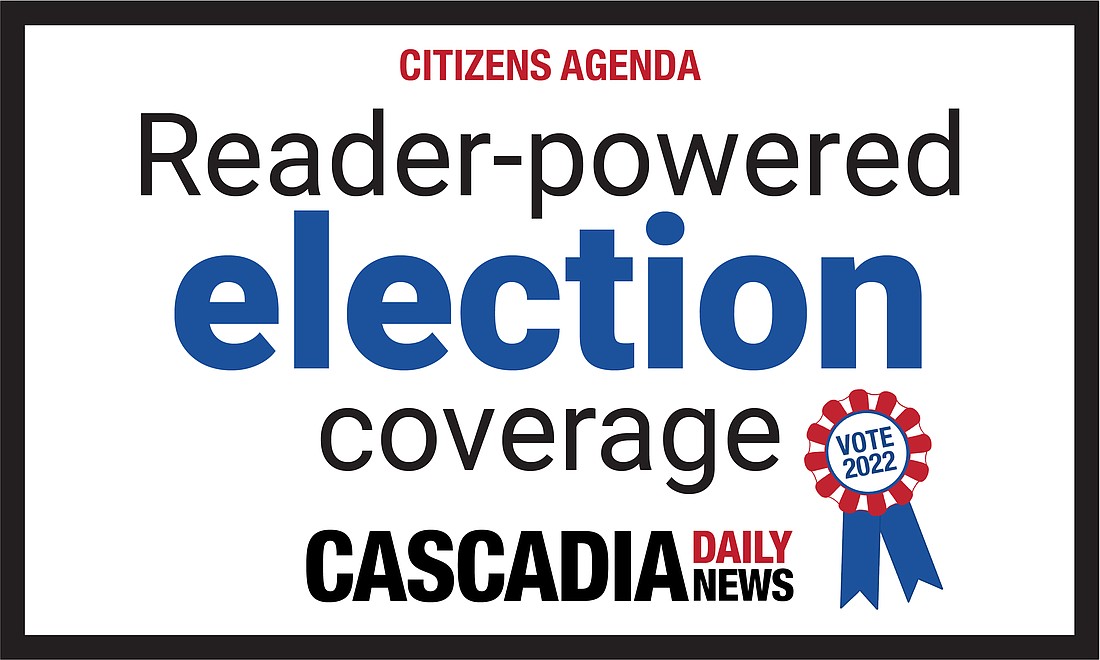 ---
---
With results nearly finalized for the Aug. 2 primary election, campaigns for state and federal seats are heating up quickly in Northwest Washington. And there's still time for citizen-readers to affect the process.
At Cascadia Daily News, we're aiming for "reader-powered election coverage" through a tested grassroots agenda-setting model known as Citizens Agenda. With deadlines approaching to engage, here are some questions and answers about that process.
What is Citizens Agenda and why should I care?
A: Citizens Agenda is a proven formula for shifting election coverage from (sadly) traditional horse-race- and talking-points-style coverage favored by national media, to a reader-oriented focus. The goal is for publications to tailor their election coverage to issues of true local concerns. The mechanism: We collect questions from readers/voters about what is of interest to them, not local party strategists seeking to shape a narrative using issues that tend to favor their candidates. 
Citizens Agenda has been used successfully by many media organizations, with much success, over the past couple decades. You can learn more about the Citizens Agenda process at thecitizensagenda.org.
How will this play out locally?
A: CDN since June 29 has been collecting candidate questions submitted by readers, answering the prompt: What do you want candidates to be talking about as they compete for votes? 
The response has been tremendous, with hundreds of submitted questions on a broad range of topics. We'll publish a Big List of reader questions in CDN's online and print editions next Wednesday, Aug. 17, asking you to vote for the five most important. We'll reveal those choices in our Aug. 31 edition.
What happens then?
A: We'll submit your five top questions to candidates for local and national audiences, publishing the responses in a CDN Voter Guide on Oct. 19, well in advance of the Nov. 8 election.
Is it too late to submit questions?
A: No! Feel free to send us your questions at newstips@cascadiadaily.com through Friday, Aug. 12.
What happens if a candidate declines to answer our questions?
A: We'll submit the questions to all candidates in written form and publish their answers as received. If they decline to answer a question, the space will be left blank, with a "no response" notation.
What is the incentive for candidates to answer?
A: Seems a small thing to ask for someone seeking to become or remain a public servant, does it not? Also, non-responsiveness is not likely to help a candidate win an election endorsement from CDN.
When will your endorsements become public?
A: CDN endorsements will be made in the Oct. 19 Voter Guide, a special section in our newspaper. This coincides roughly with the time when ballots for the general election will be mailed to voters.
What will be the basis for CDN endorsements?
A: CDN is scheduling interviews with candidates for the U.S. 2nd Congressional District, state House Legislative District 40, Position 2; state House Legislative District 42, Positions 1 and 2; state Senate Legislative District 42; and District Court Judge, Position 2. (The latter position will require its own set of questions, separate from the Citizens Agenda process.)
Candidates will be provided with readers' Citizens Agenda questions in advance. In our meetings, they will have an opportunity to elaborate on their answers, and also answer additional questions from CDN's editorial and reporting staff. The newspaper will consider this entire process in choosing candidates who seem the best fit for positions in our readership area.
Where can I find all of CDN's news election coverage to date?
A: See the "Elections" link in the navigation bar atop our website, cascadiadaily.com.