Business Matters
Exporting the great outdoors
Local kayak manufacturers surf the pandemic
August 10, 2022 at 4:50 a.m.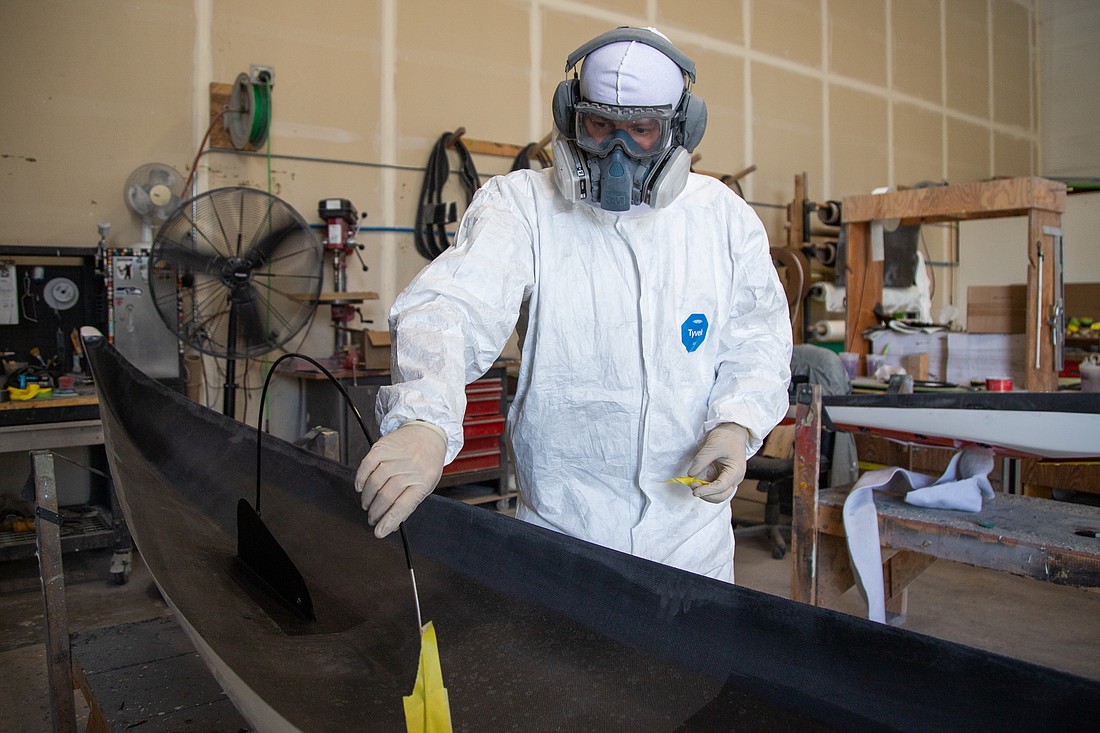 ---
---
Design locally, sell globally. The pandemic was a tide that lifted all paddlesports as more people sought the relative safety and convenience of the outdoors for recreation. Now, northwest Washington state's kayak makers are adjusting — and looking at new areas for expansion — in a year when pandemic growth has scaled back.
"Kayaking has exploded since the pandemic," said Alexandra Vrampas, sales manager for Bellingham-based Sterling Kayaks, while she walked me through the company's high-ceilinged metal building on Guide Meridian. 
On the warm mid-July day, the large shipping doors had been rolled open and a couple of Sterling's employees were at work in the back, where high-end composite sea kayaks are built or, perhaps more accurately, crafted.  
Sterling has a storied history. Founded in 2003 by Sterling Donalson, its Reflection model went on to win Outside magazine's Gear of the Year award in the boat category for 2012 — the same year an electrical fire destroyed everything inside Sterling's shop except four demo kayaks. Out of that came its current location in Bellingham and a fifth model, the Progression, to join Sterling's Ice Kap, Illusion, Grand Illusion and Reflection models.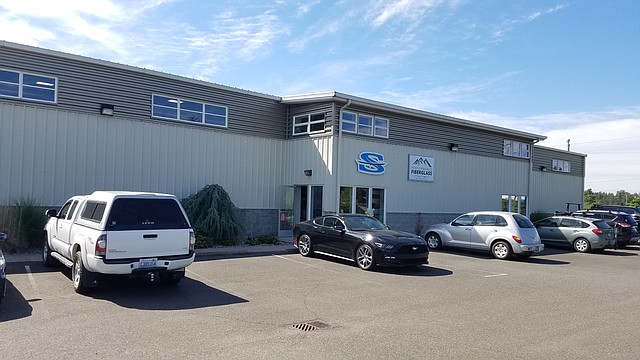 The company has also navigated changes during the pandemic. Donalson retired last year and sold Sterling Kayaks to area kayaking enthusiasts Scott and Sarah Boden. Along with the wave of increased interest in paddlesports, Sterling began to expand under the new owners. 
Over the past year, Vrampas said the company filled a shipping container with 11 kayaks and sent it to a distributor in France. It started a companion fiberglass repair shop in the same Bellingham building, Performance Fiberglass, which works on everything from boats to RVs. Now, Vrampas said, there are about 11 employees across the two connected businesses.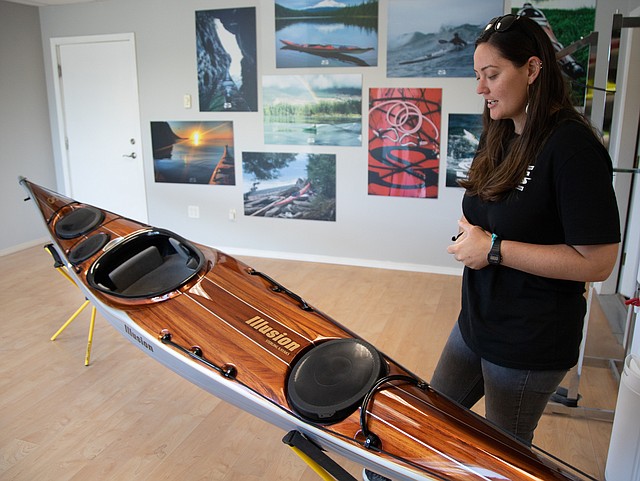 But kayak demand began to soften this spring. Vrampas saw a two-fold opportunity to get early pandemic buyers of inexpensive plastic boats to upgrade — a new version of the Illusion, for example, is due this fall  — and to increase Sterling's reach.
"We're trying to grow in Europe, but then also grow out on the East Coast and in the Great Lakes area where there's a lot of sea kayaking as well," Vrampas said. "We're kind of unicorns on the East Coast — people have heard of them (our kayaks) but never seen them."
The market softness observations are echoed by another long-time area kayak maker, Eddyline Kayaks in Burlington. 
"Across the industry, there's definitely been a slowdown," said Scott Holley, Eddyline co-owner and president. "Which is a good thing, because it was an unsustainable demand spike." 
Holley said the overall reduced demand hasn't hurt Eddyline as much as other vendors.
Like Sterling, larger Eddyline has been busy during the pandemic. It moved into a new building in Burlington just before the pandemic slammed everything shut in 2020. It began production at an additional facility in Queretaro, Mexico in 2021 and was named Best Touring Kayak by Paddling.com the same year.
In January 2022, Eddyline took a minority growth equity investment — amount undisclosed — from RZC Investments of Bentonville, Arkansas. If that firm sounds familiar, perhaps it's because RZC is the direct investment firm of Runway Group, founded by Steuart Walton and Tom Walton, grandsons of Wal-Mart founder Sam Walton.
The investment announcement indicated that increased distribution, too, is also in Eddyline's future with expectations to set up a "physical presence" in northwest Arkansas "to support the distribution needs of our existing and future dealer partners." All told, Holley said Eddyline now employs about 40 people in Washington state and Mexico.
But some local kayak makers aren't waiting out the slowdown — at least not here. 
Swell Watercraft announced in May that it was moving from Bellingham to Ames, Iowa, effective in July. Citing attractive financial incentives to locate in rural Iowa, Swell Watercraft General Manager Jim Marsh said flatly that "Bellingham is the worst place in the country to distribute kayaks from" due to distances to big markets like Florida. 
"Shipping is the biggest factor affecting kayaks, which are bigger than refrigerators," Marsh told me. Bellingham and Washington state "is a fine kayaking area, but it's not a large-selling kayak area because it has a small population. This is a fact most locals don't understand." Marsh, Swell's only employee, said he will join his business partners in Iowa.
Still, Sterling, Eddyline and others — such as fishing kayak maker NuCanoe — remain. There seems to be something about having a base in northwest Washington state that enhances the product and reputation.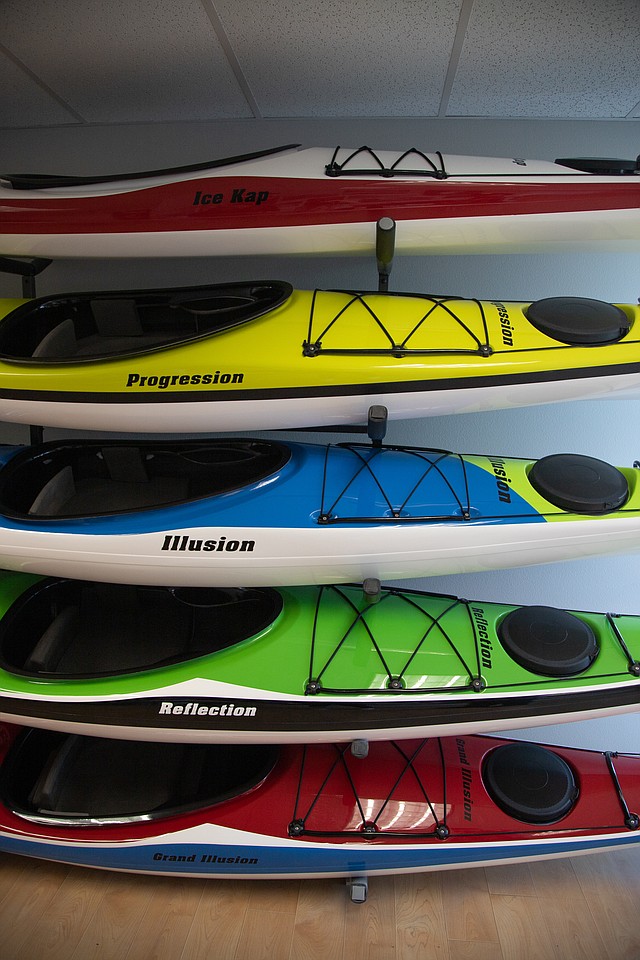 "We believe that our ability to continually produce high-quality designs is directly correlated with the proximity of world-class paddlers and test-paddling locations," Sterling's Vrampas said. "We fine-tune our designs with suggestions from local paddlers and are awarded credibility nationally and internationally due to the connections to these areas."
Holley at Eddyline said despite acquisitions and departures of some companies, both legacy players and startups in the region have been trendsetters. 
"If Washington can continue to generate innovations in the space, it can continue to maintain its reputation as an important industry center for the paddlesports sector," he said.
And that, the companies clearly hope, will lead to smooth sales on a more global scale.
Places & things
Contrary to earlier reports that it would be closing permanently in mid-August, Everyday Music at 115 E. Magnolia St. in Bellingham will continue to stay open under a new owner and name. Previous owner Sarah Hefte announced that, as of August, the new owner is Cory Blackwood of Bellingham, and the store will be rebadged as Ritual Records. "I hope for continuing success as an indie record store in that sweet spot downtown," Hefte said.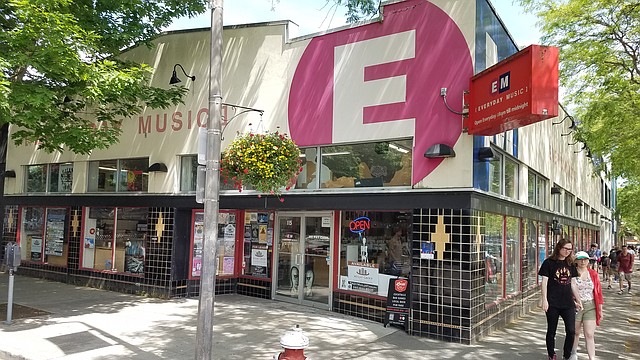 Citing pandemic, supply chain and sales headaches, Evolve Espresso + Provisions is closing at 1226 Cornwall Ave. in Bellingham on Sept. 6. Evolve's other location, Evolve Chocolate + Cafe inside Village Books in the Fairhaven neighborhood, "is still going strong." 
(For the latest Places & Things, check here throughout the week.)
Frank Catalano's column appears Wednesdays. Email: frankcatalano@cascadiadaily.com; Twitter @FrankCatalano