The A-List
A&E calendar: Mysteries, musicals and Australian Pink Floyd
A curated selection of events from Whatcom and Skagit counties
August 10, 2022 at 5:15 a.m.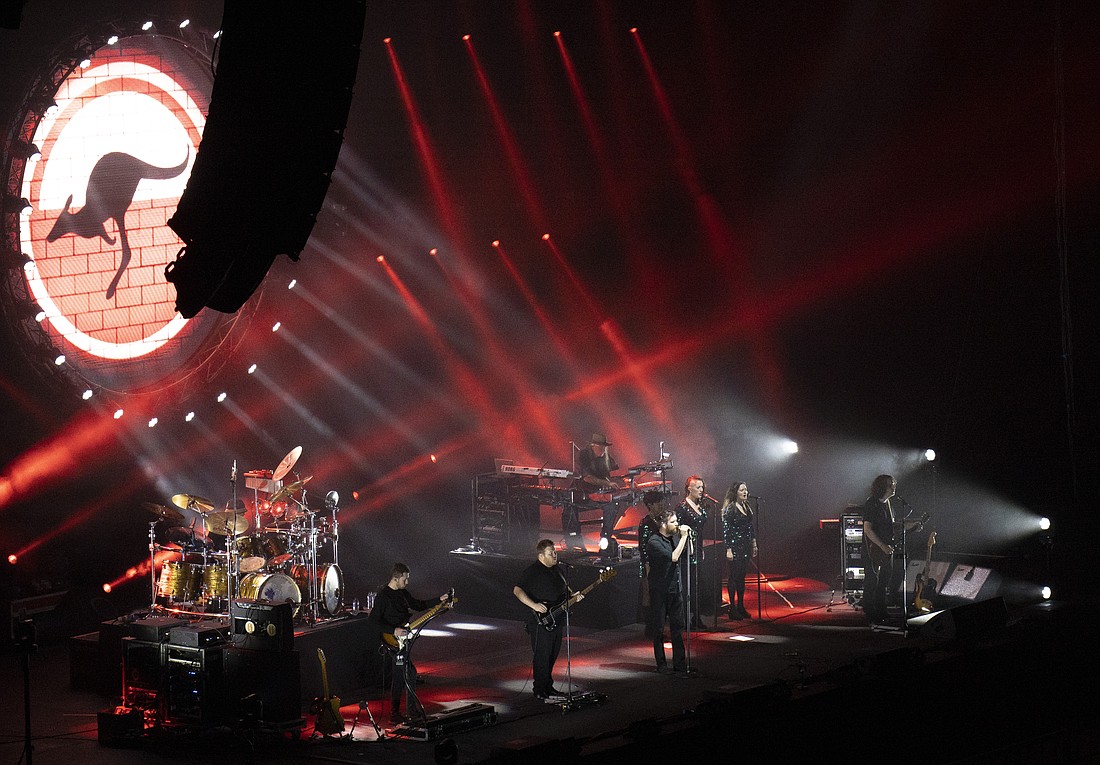 ---
---
Wednesday, Aug. 10
Katt's Meow
8:30 p.m., Katt's Westside Stories, Mount Vernon
Ben Menard hosts this 21-and-older standup comedy event with Katie Chandler, Megan Doyle, Brett Emerson, Nikki Kilpatrick, Kyle Kordsmeier, Charlie Myers, Timmy Riney and Annie Sutherland. Entry is free. Info: kattswestsidestories.com. 
Thursday, Aug. 11
Shakespeare NW Farewell 
7 p.m., Rexville Blackrock Amphitheater, Mount Vernon 
Shakespeare Northwest concludes its summer season with showings of "Henry V" at 7 p.m. Thursday and Saturday, and "Love's Labour's Lost" at 7 p.m. Friday. Tickets to individual shows are $15–$18; family passes are available. Info: shakesnw.org. 
Friday, Aug. 12
A Calculated Retreat 
7:30 p.m., Anacortes Community Theatre, 918 M Ave.
Local playwright Willow McLaughlin's comedy/mystery opens this weekend with showings at 7:30 p.m. Friday and Saturday, and 2 p.m. Sunday at ACT. The production features one remote cabin, eight strangers, a dead diva and a puzzling mystery to solve. Expect laughs and twists galore. Tickets are $25. Additional performances take place weekends through Sept. 3. Info: acttheatre.com. 
An Improvised Musical
8 p.m., Sylvia Center, 207 Prospect St.
Plot, lyrics, music, choreography and comedy will combine to make an epic improvised production worthy of (off) Broadway at 8 p.m. every Friday and Saturday through August. Proof of vaccination or of a negative COVID test will be required. Masks are optional. Tickets are $10–$15. Info: theupfront.com.
Comedy Night
8 p.m., Station 49, 4620 Birch Bay Lynden Rd. 
Actor and comedian Mo Mandel will headline standup comedy shows at 8 p.m. Friday and Saturday, with Cameron Peloso opening. Mandel has made appearances on "Chelsea Lately," "Conan, the Late Late Show," and many other television shows and specials. Tickets to the outdoor performances are $25. Info: station49.yapsody.com.
Saturday, Aug. 13
Coupeville Arts & Crafts Festival
10 a.m. to 6 p.m., Coupeville waterfront
Celebrate arts and handcrafts with more than 100 artisan vendors in this picturesque town from 10 a.m. to 6 p.m. Saturday, and 10 a.m. to 5 p.m. Sunday on Whidbey Island. Additionally, there will be activities for kids, a unique food court and shopping specials in local stores. Entry is free. Info: coupevillefestival.com. 
Youth Arts Festival 
11 a.m. to 4 p.m., Hillcrest Park, Mount Vernon
At this free, family-friendly event, kids can use their creativity on all sorts of fun arts and crafts, while also enjoying some great local children's entertainment. Bring a picnic lunch and settle in for fun. Info: mountvernonwa.gov. 
Concert on the Green
4–8 p.m., Barkley Village Green
The Naughty Blokes will perform classic rock for the modern age and The Walrus will cover tunes from the Beatles, Pink Floyd, Queen and more at this all-ages fundraising concert for Lydia Place. A Kid Zone, beer garden and food trucks will be on site. Tickets are $20 in advance, $25 at the door. Info: lydiaplace.org/events. 
Hayley Heynderickx 
7:30 p.m., MBT's Walton Theatre, 104 N. Commercial St. 
As part of the Mount Baker Theatre's Lookout Sessions music series, this Portland, Oregon-based singer-songwriter will play a rescheduled show at the intimate venue. With vocals that range from sultry to operatic, Heynderickx is a force to be reckoned with. Tickets are $24.50. Info: mountbakertheatre.com. 
'Grease'
7:15 p.m., Fairhaven Village Green, 1207 10th St.
Mark Ashworth and Mark Kelly will make music before the screening of this musical romantic comedy starring John Travolta and Olivia Newton-John begins at dark. The outdoor flicks at the Fairhaven Outdoor Cinema take place every Saturday (weather permitting) through Aug. 27. Entry is $7 at the door. Info: enjoyfairhaven.com. 
Sunday, Aug. 14 
Second Sunday Jazz
2 p.m., Heart of Anacortes, 1014 4th St.
Anacortes Public Library and the Manieri Endowment will host the Holly Pyle Quintet for this monthly concert. Pyle channels her "liquid-like" voice and intense presence into several local and traveling music projects. The all-ages event is free. Info: library.cityofanacortes.org. 
Monday, Aug. 15
Comedy Saloon
9 p.m., Horseshoe Cafe, 113 E. Holly St.
Head to one of the the oldest cafe and cocktail lounges in Washington state when this event hits the Ranch Room stage. The free show has happy hour prices, featured standup comedians — tonight's include Kyle Kordsmeier and Dan Mills — and a fast-paced open mic round. The events take place the first and third Monday each month. Info: horseshoecafe.com. 
Tuesday, Aug. 16
History Sunset Cruise 
6:30–8:30 p.m., Bellingham Bay 
Pack a picnic, sunglasses and a light jacket for this weekly outing put on by the Whatcom Museum every Tuesday through Aug. 30. Local historian Brian Griffin leads the outing, which focuses on stories about the region's history and up-to-date facts about bayside activities. Tickets are $35–$40. Info: whatcommuseum.org. 
Australian Pink Floyd Show
7 p.m., Mount Baker Theatre, 104 N. Commercial St. 
Expect blazing lasers and high-tech video animation as part of the All That's to Come tour, replicating music from every phrase of Pink Floyd's journey — from "Ummagumma" (1969) to "The Division Bell" (1994), and all albums in-between. The show reproduces the state-of-the-art lighting, video, pinpoint lasers, a gargantuan inflatable and flawless live sound that were the highlights of the Pink Floyd experience. Tickets are $50–$179. Info: mountbakertheatre.com. 
Wednesday, Aug. 17
Beach Cat Comedy Open Mic
8 p.m., Beach Cat Brewing Co., 7876 Birch Bay Drive
Nikki Kilpatrick hosts this free standup comedy show on the first and third Wednesdays of the month. Signups start at 7:30 p.m., with each performer getting five minutes onstage. The event is 18+, with some mature content. There will be zero tolerance of "punching down" on marginalized groups of people. Info: asnailspace@gmail.com. 
Before attending in-person happenings, check with individual venues to make sure the event is still taking place as scheduled.
The A-List appears weekly on Wednesdays. To submit an event for consideration, email calendar@cascadiadaily.com.