Uncorked
Matchmaker: Monsieur Crab, meet Grüner
Wines of the times
August 6, 2022 at 5:05 a.m.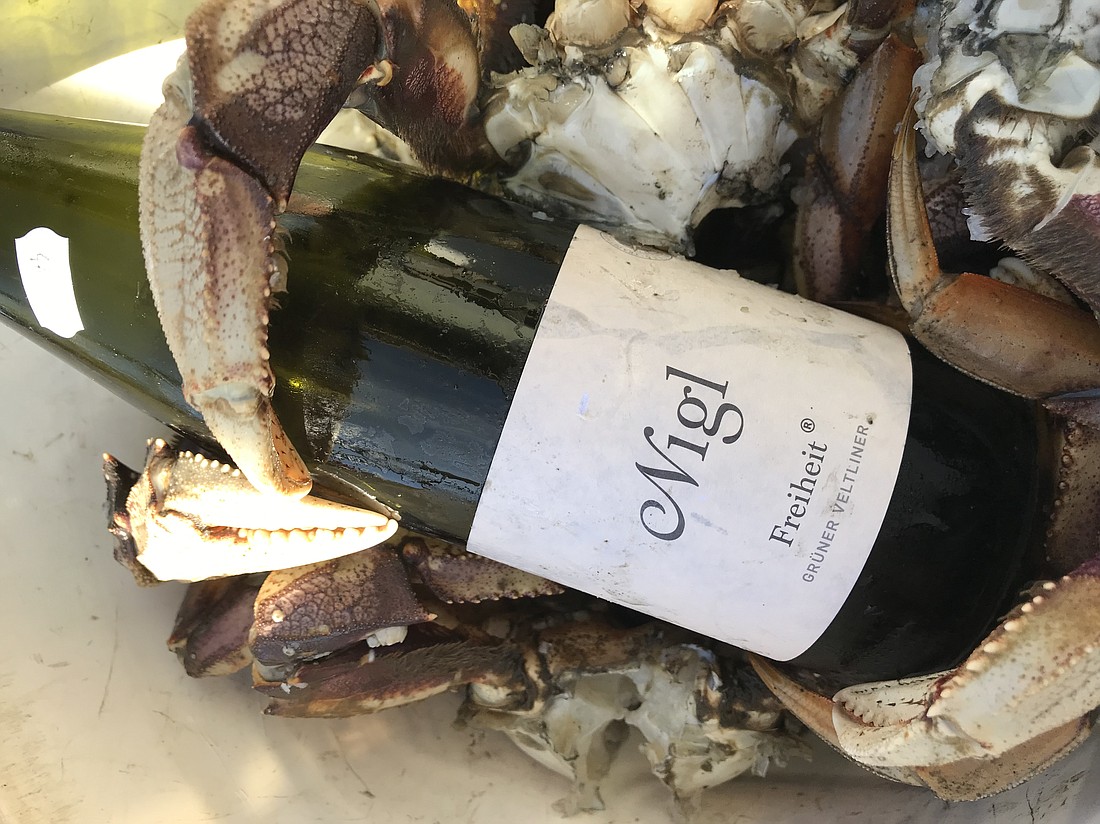 ---
---
As I mentioned last month in my first column, I grew up in Bellingham — it was where I spent many summers catching and eating a lot of Dungeness crab. There was, however, a period of about 18 years when I bounced around from state to state, moving further inland, and my summers were crab-less.
I didn't realize how much I missed "Dungies" until I moved back and needed to make friends with people who went crabbing. You know, the people who have the audacity to complain about having too much crab and even being sick of it?  These days, I'm catching my own crab — via canoe — and have been exploring different white wines in hopes of making a perfect match for my fresh catch (and behaving a little audaciously myself).
My first attempt at crab-and-wine matchmaking was a white blend from Alsace. I'm very fond of Alsatian white wines, but had to swipe left on that as it was a little too fruity. Next up, a Chenin Blanc from South Africa I've been flirting with for the last few months. It was a superb wine but, again, too fruity; swipe left. Feeling more than a little off my game, I started to think like a crab tastes. 
I finally met my match one day while waiting for a sandwich at Old World Deli in downtown Bellingham. I didn't mind the wait; in fact, I appreciated it because it gave me a chance to explore the wine selection. With crab in mind and the memory of my brief encounters with mismatches, I really needed to zero in. 
And that's when my eyes locked on a familiar bottle shape with the words Grüner Veltiner printed on the label. My heart skipped a beat as I glided toward the object of my affection, and I thought, "Monsieur Crab, meet Grüner."
Grüner Veltliner, the workhorse white grape of Austria, has a personality all its own; it is not the type of wine whose aromas make your nostrils flair and mouth pucker in anticipation of that first sip. Grüners have a tendency to be shy and a little reserved — there is no speed dating with Grüner, they want you to get to know them.
The first wine I successfully swiped right on was a bottle of 2020 von Donabaum Jahrgang Grüner Veltliner, Austria ($15.95). The Jahrgang shimmered like white gold as I held it up to the sunlight and its brilliance was that of a perfect summer day in July. Being true to form, the nose was reluctant to give too much away. As I was already familiar with this behavior, I smiled in acceptance of its slow approach.
Much like Dungeness crab, the flavors of Grüner Veltliner are subtle and somehow sophisticated; nothing is over the top and the delicacy is part of its allure. Grüner Veltliner is the perfect match to freshly cracked crab because it doesn't distract from the flavor of the crab — it enhances it. The briny minerality of the crab with its nuanced notes of sweetness crave a wine with the same personality.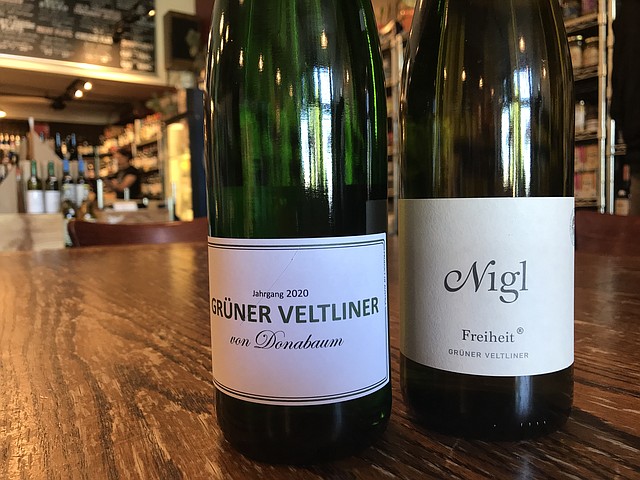 Along with the above-mentioned wine, I highly recommend the 2019 Nigl Freiheit Grüner Veltliner, Austria ($23.95). While both possess a subdued nose of fresh peas and citrus, the Nigl has more weight, body and complexity — a touch more sex appeal.
If you're looking for a very clean and light-bodied wine to pair with fresh Dungeness, go with the von Donabaum. This Grüner allows the crab to be the center of attention, in a good way. The 2019 Nigl, however, takes the pairing a step further by acting as an equal to the crab, comfortably finishing its flavors; the clean-cut crunchy freshness of green bell peppers and fine concentration of subtle yeast and mineral notes are a perfect match for your fresh catch.
Both of these wines are currently available at Old World Deli, 1228 N. State St. Whatever your talent is (or isn't) for matchmaking, you can't go wrong swiping right on either of these Grüners. 
Katie Bechkowiak owned Vinostrology wine bar in downtown Bellingham from 2013–19. If you have wine suggestions for this monthly column, contact vinostrology@gmail.com.