Root-to-Leaf
Seasonal eating: Fresh summer salad with kohlrabi two ways
Recipes to reduce food waste
August 5, 2022 at 5:00 a.m.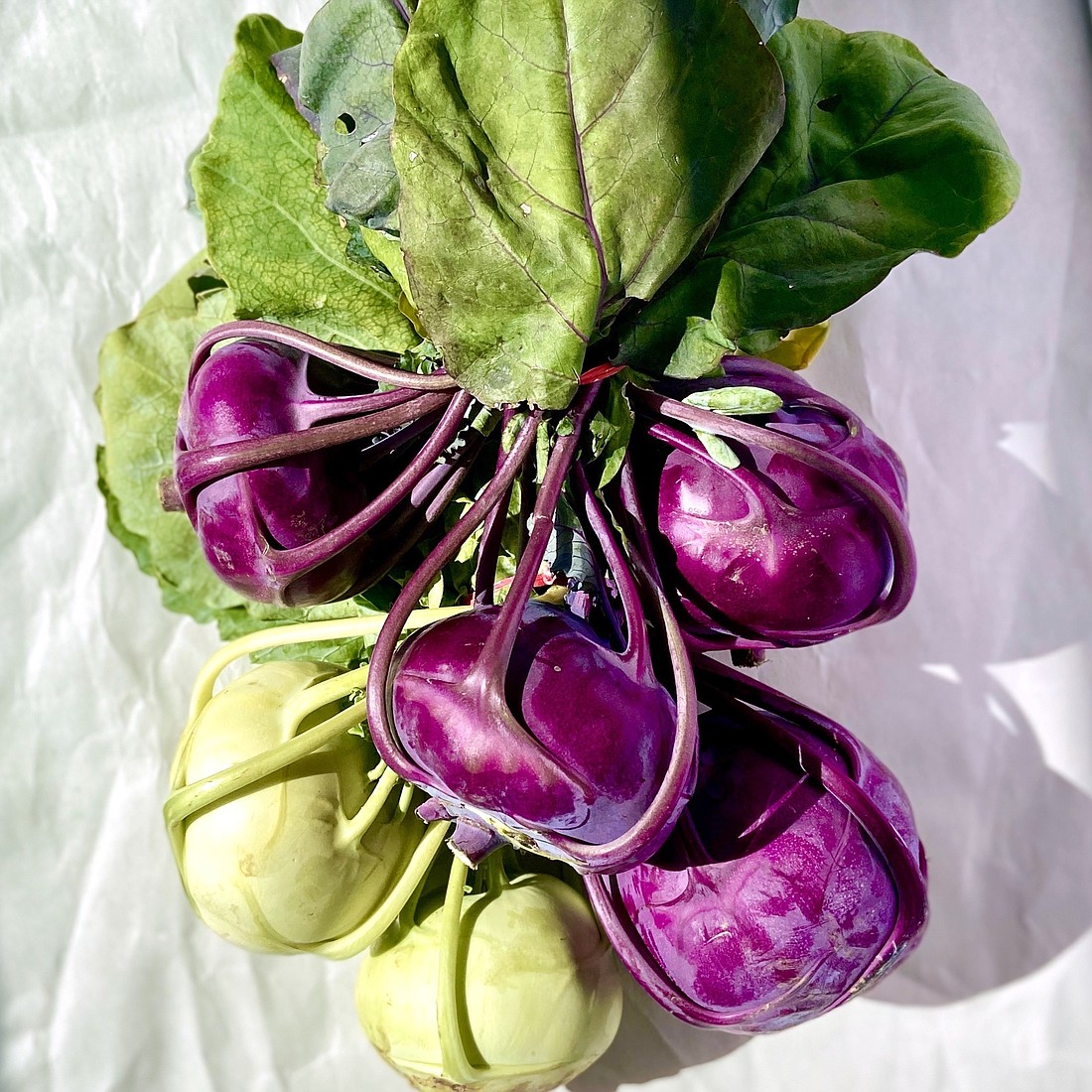 ---
---
Root-to-leaf cooking uses all edible parts of the plant. It's a destination with many paths: It can reduce food waste, honor the land and labor of agriculture, stretch a grocery budget and introduce cooks to a whole new world of flavors and foods that are right at the edge of your cutting board. This kind of cooking draws on centuries of collective wisdom and necessity, creativity and curiosity. Above all, this approach is rewarding and delicious. Let's eat something new.
Some fruits and vegetables can seem challenging or simply bewildering. Kohlrabi is one such vegetable. With its spiny skin and twisting stems, it looks like a lot of work but is surprisingly simple to prepare, and the payoff is many times over.
Kohlrabi is a brassica, like broccoli and cabbage. Its flavor is sweeter than broccoli florets, more like the soft, creamy center of the stems. Eaten raw, it has a less acidic bite than an apple, and a slightly peppery note reminiscent of young arugula. With its appealing crunch, kohlrabi is often enjoyed shaved into salads or grated into slaw. When cooked, the bulb becomes creamy and mild and takes on other flavors very well. Kohlrabi can be used as a substitute for turnips, radishes or some applications for green apples (such as salads or savory gratins).
Kohlrabi can be separated into four parts: the leaves, stalks, bulb and skin. Its leaves are mild and lemony, a little thicker than spinach, but sweeter, too. The leaves become more tender with steaming, sautéing or massaging, just as kale does. The stalks can be cooked like you would chard or beet ribs, including sautéed, in stir-fries, or finely diced and added to braises and stews.
The bulb is the part most people eat. Leave it raw and bite straight into it like you would a crisp apple, or thinly slice and enjoy like green apples or jicama. When cooking the bulb, treat it like a potato: mashed, fried, baked, boiled, steamed or scalloped. Cut thick sticks for kohlrabi fries, or even roast it whole until tender, then scoop out the center and fill like a stuffed pepper or zucchini boats. Unlike other fruits and vegetables, cut kohlrabi won't turn brown after a day in the fridge, so it's a good choice for make-ahead dishes. 
The skin looks a little curious but is perfectly edible. Sometimes, though, with particularly large or mature kohlrabi, the skins can become too tough to digest. Peel these skins and add the scraps to flavor soups or compost them. To figure out if your kohlrabi skins are good to eat, test the skin with a vegetable peeler: if the thinly shaved skin tastes and feels good to you, go ahead and leave it intact.
Another summer treat in season now is blueberries. They pair beautifully with crisp kohlrabi and tender greens. This summer salad uses both ingredients for a simple but spectacular seasonal meal.
Fresh summer salad with kohlrabi two ways
1 fist-sized kohlrabi, leaves and stalks, removed and washed
1 lemon, zest and juice
Handful of blueberries
1-ounce fresh goat cheese
1/16th teaspoon fresh ginger
Olive oil
Prepare the Kohlrabi. Peel if desired. Quarter and thinly slice, around 1/8th-inch thick. Cut leaves, stalks attached, into rough ribbons. Place in steamer basket set over about an inch of water. From cold, steam the leaves for about 6–8 minutes, depending on thickness of leaves, until bright green and tender.
Transfer leaves into large bowl, and fluff ribbons with a fork. Grate lemon zest over bowl, and grate fresh ginger root for just one or two passes over the zester. It won't seem like much, but we're going for a hint of ginger's warmth and bite, not for the ginger to stand out. Salt to taste; drizzle with olive oil. If you don't have ginger on hand, add 1/16th teaspoon freshly cracked black pepper instead.
Add blueberries and goat cheese to kohlrabi. Squeeze fresh lemon over bowl. Toss to combine and serve. Makes one main serving or two side servings.
Variations: This recipe is infinitely customizable. Add grilled or broiled chicken for a heartier salad. Substitute the goat cheese for feta or other soft mild cheeses, or add a scoop of silken tofu. Add apple slices, cherries or golden raisins for a colorful plate. For extra crunch, sprinkle with toasted nuts, sunflower seeds or poppy seeds. 
Wine pairing: Brassicas are notoriously difficult to pair with wine. Kohlrabi is mild and sweet, but you don't want to ignore its piquant side, particularly when cooking with its greens. Pair with grassy gruner veltliner to accentuate its peppery flavor, or with floral gewurztraminer to highlight its sweeter nature.
Hannah Green's Root-to-Leaf column runs on the first Wednesday of every month.