Business Matters
Skagit County weighs expanded agritourism for farm income
Whatcom County and Skagit County tourism revenue overall was up in 2021
August 3, 2022 at 4:55 a.m.
---
---
From farm to wallet. The sign along I-5 is inviting, in a warm metallic brown freeway sign kind of way:  "Welcome to Skagit Valley: Agricultural Scenic Corridor."  Depending on the outcome of a Skagit County planning initiative, that scenery could also support increased tourist activities at — and business for — area farms.
The long-range planning effort, already more than a year in the making, is considering options to allow additional forms of agritourism. A report issued by county planners in March proposes defining agritourism, generally, as "a commercial enterprise at a working farm or ranch conducted for the enjoyment of visitors that generates supplemental income for the owner." For most people, simply pointing to the month-long Skagit Valley Tulip Festival or a corner farm stand with fresh produce is probably definition enough.
But festivals and stands only scratch the surface. The policy options report, followed by a May presentation to the Skagit County Planning Commission, reflects requests the county has received to consider other income-producing activities on farms. Three options now under consideration would explicitly allow weddings (think barn or tent), temporary farm stays in RVs (bed and breakfasts are currently allowed) and some type of restaurants or small tasting rooms tied to farms. 
It's a delicate balance, said Hal Hart, the county's planning and development services director. 
"We are a strategic food production area for the world," Hart said. "We have 81,000 acres, more or less, of farmland. You don't want to lose any part of the ag economy."
Feedback survey results released in June as part of the process found agreement on top areas of importance, essentially that agritourism should be closely tied to the land.
"Survey respondents identified rural character, connection to onsite agriculture, and adequate facilities for agritourism uses (water, septic, parking)," the survey report said.
As recently as July, the published project timeline had a preferred policy option heading to the Planning Commission in the same month, with a recommendation afterwards forwarded to the Board of County Commissioners. That time frame has now been extended.
Hart said the critical nature of the valley for food production is prompting additional outreach sessions, possibly with local agricultural leaders, over the next two-to-three months. 
"We've brought up a lot of ideas, now it's time to filter those ideas into a recommendation," he said.
Whatever form a recommendation takes, it'll be alongside Whatcom County's seemingly more mature agritourism efforts. Those include "glamping" at Oostema Farmstead, the just-completed Northwest Raspberry Festival and the just-launched Farm to Table Trail mobile passport on the Visit Bellingham Whatcom County website.
However, the organization behind the new passport says it's not a competition; it is about the success of the entire region. "After all," said Sandy Ward, president and CEO of Visit Bellingham Whatcom County, "visitors don't see county lines."
Ultimately in Skagit County, any expansion of agritourism is going to involve "strategic protection of farms and agriculture as an activity" Hart said, "and finding a way to balance that with making a living in a way that's consistent in agriculture." 
Tourism revenues bounce back 
The smiley-face-emoji news: Tourism spending in Whatcom and Skagit counties was up significantly in 2021. 
The flat-mouth-emoji news: Up from 2020, the deepest pit of tourism despair.
Recent data released by Tourism Economics, as part of a study for State of Washington Tourism and the Washington State Destination Marketing Organizations Association, pegged direct tourism spending in Whatcom County at $527.4 million for 2021. That puts the total up 38.4% from 2020 and almost back to the $555 million level of the pre-pandemic year of 2019.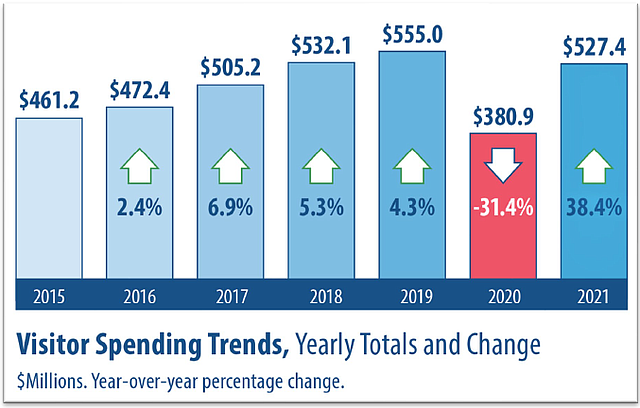 Accommodations — at 30.26% the biggest of five segments, based on proportion of spending — was the only segment to exceed 2019 spending levels. But food and beverage (25.91%), retail sales (19.04%), transportation (12.81%) and recreation, arts and entertainment (11.98%) were also up from 2020. 
Skagit County also had good news year to year, tallying $295.6 million in direct spending and a 2020-21 growth rate of 39.5%. Numbers provided by State of Washington Tourism for the county show spending on lodging and food and beverage nearly tied for the top spot (27.71% and 27.10%), followed by retail (23.34%), transportation (12.04%) and recreation (9.81%). The better news was Skagit County actually exceeded its 2019 revenue total of $288.4 million. 
There's a wistful bit of what-could-have-been in Whatcom County's calculations. Had it not been for the pandemic, Visit Bellingham Whatcom County wrote in its announcement, the previous average 4.7% annual rate of increase meant Whatcom County had been on track to exceed $600 million in 2021.
The biggest continuing concern? Tourism jobs. 
"There is a huge demand for travel and experiences after the challenging past couple of years, and having enough staff to meet that demand is the number one challenge," said Amy Guerra, marketing director for Visit Bellingham Whatcom County. "What is causing that shortage is a complex thing across all industries including access to child care and housing — it isn't hospitality-specific — but the hospitality industry just has a large proportion of jobs that are front-line workers."
Places & things
After four years as a custom bakery, It's the Sweet Things will be opening its first storefront at 1206 Cornwall Ave. in downtown Bellingham this month. Owner and chef Jennifer Worthley said the bakery specializes in "unique flavor combinations" and will have "a wide variety of European-style pastries, as well as handcrafted artisan desserts and chocolates." 
IV hydration and wellness lounge Peak Hydration opened in July at 1216 Bay St. in Bellingham. Co-owner Ingrid Nishiyama said the location — locally owned and operated by a family-practice physician and nurse — provides "elective IV hydration, vitamins, minerals and amino acids for a range of benefits."
North Fork Brewery in Deming is opening a second location on Aug. 4 in the Sunnyland neighborhood of Bellingham at 1900 Grant St. The North Fork Barrel House & Beer Shrine will be used for fermenting and bottling, with a 10-tap tasting room. 
Fans of Fairhaven Poke at 1102 Harris Ave., in Bellingham's Fairhaven neighborhood, received good news on Facebook: Though the location will still close as earlier announced on Sept. 6, it'll reopen under the new ownership of its manager who "plans to continue Fairhaven Poke as we know it."

(For the latest Places & Things, check here throughout the week.)

Frank Catalano's column appears Wednesdays. Email: frankcatalano@cascadiadaily.com; Twitter @FrankCatalano.