Profiles
Guerrilla Garmentry: Mobile mender sews clothes, sows activism
Have thread, will travel
August 3, 2022 at 5:55 a.m.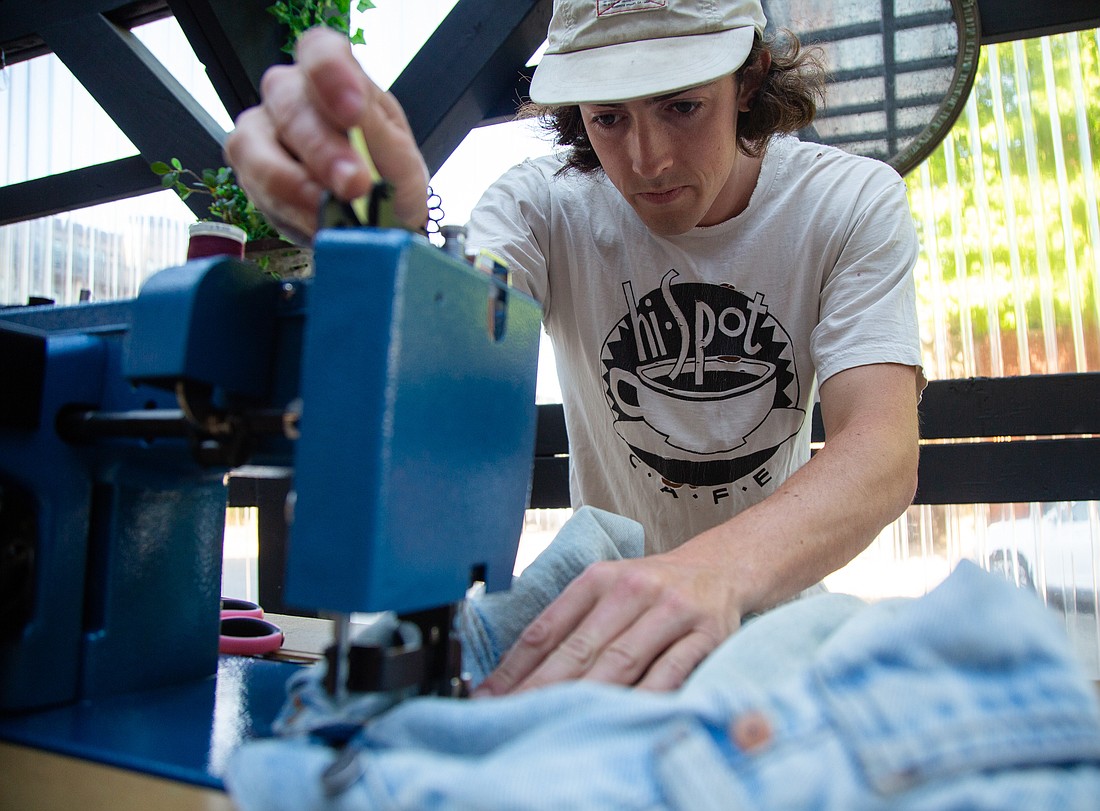 ---
---
Once a week, Jack Kingsley sets up his 50-pound Sailrite LSZ-1 sewing machine in the covered courtyard outside Cafe Blue in historic Fairhaven and settles in for three or four hours of textile repair work — patching jeans, replacing or fixing zippers, swapping out buttons, adding pockets, sewing up ripped seams and problem-solving a variety of other clothing-related conundrums.
A recent graduate of Fairhaven College, Kingsley, 23, doesn't charge for his services. It was only recently that he started accepting donations, half of which he will be donating to Bellingham Occupied Protest Mutual Aid (formerly Camp 210), a volunteer-based organization in Bellingham that provides assistance to marginalized members of the community.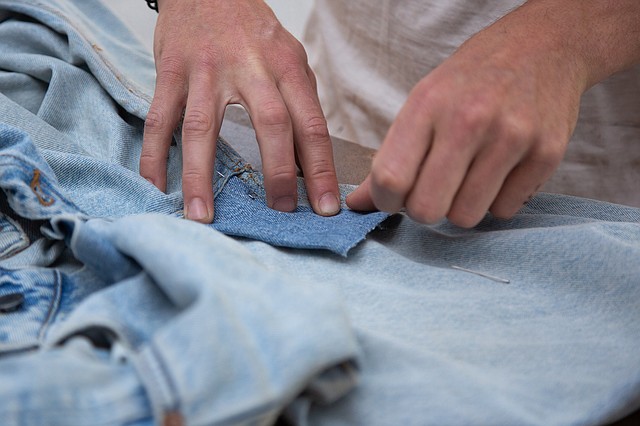 Although his mother taught him to sew more than a decade ago, it was only when Kingsley started volunteering for Ragfinery that his long-fomenting idea for a mobile sewing setup came to fruition. The nonprofit on Forest Street known for its "textile transformation" diverts unwanted textiles from the waste stream and upcycles them in a variety of ways. When Kingsley volunteered his mending services there, he realized how much fun it was to be around other people when he was sewing.
When it came time to declare his senior project at Fairhaven College this spring, Guerrilla Garmentry was born. For the project, Kingsley modified his new sewing machine with old components from a midcentury Franklin treadle-powered machine, so instead of relying on electricity, he uses his feet for power. This means the portable unit can go anywhere, any time.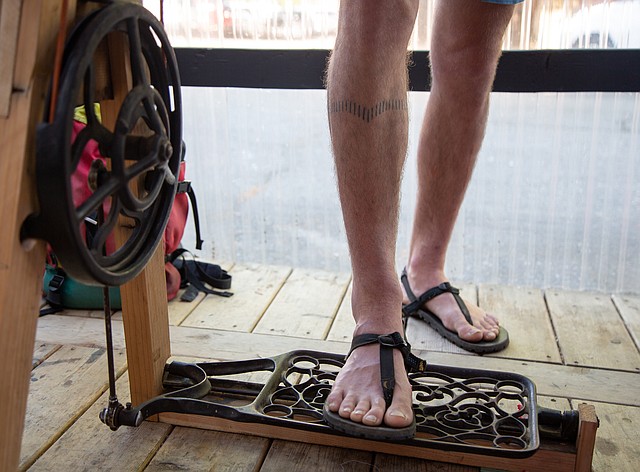 Eventually, Kingsley would love to team up with organizations such as BOP Mutual Aid to bring his sewing setup to aid stations or homeless camps. One of the reasons he started Guerrilla Garmentry was to teach people about how easy it is to mend something instead of throwing it away, and education remains a big part of his ultimate goal.
"I'm doing everything I can to work against the fast-fashion industry, which is hard as one person," Kingsley said as he bent over blue jeans while affixing a patch to a busted seam. "But that's the reason I want to do this in public."
Kingsley said one of his sewing mentors told him he should always let people watch him make something from scratch, because they'd then realize it was more difficult than they thought, and they'd be willing to pay full price for it. 
The same mentor cautioned him to never let people watch him repair their things because then they'd realize how easy it is and wouldn't want to pay as much as it was likely worth.
"I don't blame them for thinking about it in a profit-oriented way, but that's sort of exactly what I'm trying to do here — showing people how easy it is by putting it right in front of them," Kingsley said. "And making it a social thing is really helpful for people wanting to do something, too. They can hang out, be around the process."
Although Kingsley once had a business where he charged for his mending services, he said having to keep track of the time he was spending on each project wasn't as fulfilling as approaching each challenge as a puzzle to be solved. Instead of trying to get something finished as quickly as possible so as to not overcharge his clients, he can now focus on the art of it.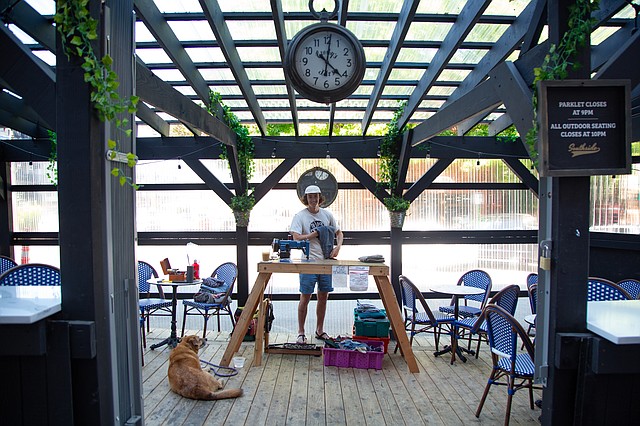 "It just feels better," Kingsley said. "That was a big thing I learned from volunteering at Ragfinery. Most of the stuff I'm repairing there is stuff that people have donated and that I'm repairing before it gets sold. With that, I have a lot of creative freedom."
Kingsley doesn't have a set time or day of the week that he brings his sewing machine, boxes of fabric, buttons, scraps and fishing tackle box full of thread and needles to Cafe Blue, but he said he tries his best to alert people on Instagram the day before he arrives.
On a recent Thursday, he was working on a pair of jeans handed to him through his car window by a neighbor, as well as a stack of clothes from his housemates, three pairs of pants from one of Cafe Blue's employees and a smattering of items from people responding to his Instagram stories.
As Kingsley was finishing affixing snaps to a pair of shorts, a man came in holding black motorcycle pants. He was hoping to get a pocket put on them for his cell phone, and wasn't having any luck getting a local tailor to take on the project. After a short back-and-forth between Kingsley and his "client," they agreed a durable fabric such as heavy-duty canvas or denim would work.
How did he hear about Kingsley?
"I was across the street and my wife thought he was making waffles, so she came over to check," the man answered.
Kingsley laughed and told the man his pants would be ready within the hour.
If you're interested in learning about textile waste diversion and helping at a local nonprofit, drop by Ragfinery from 10 a.m. to 5 p.m Tuesday through Saturday at 1421 N. Forest St. to fill out a registration form. To see what's available to purchase, stop by during a First Saturday Sale, Saturday, Aug. 6. Before donating fiber arts supplies, home goods and garments to Ragfinery, check the website for a list of acceptable items. Info: ragfinery.com. Jack Kingsley's Instagram handle: @mr_frazzle.