Flooding
Whatcom group rebuilding communities post-flood
Flood 'has already slipped out of people's minds'
April 30, 2022 at 6:00 a.m.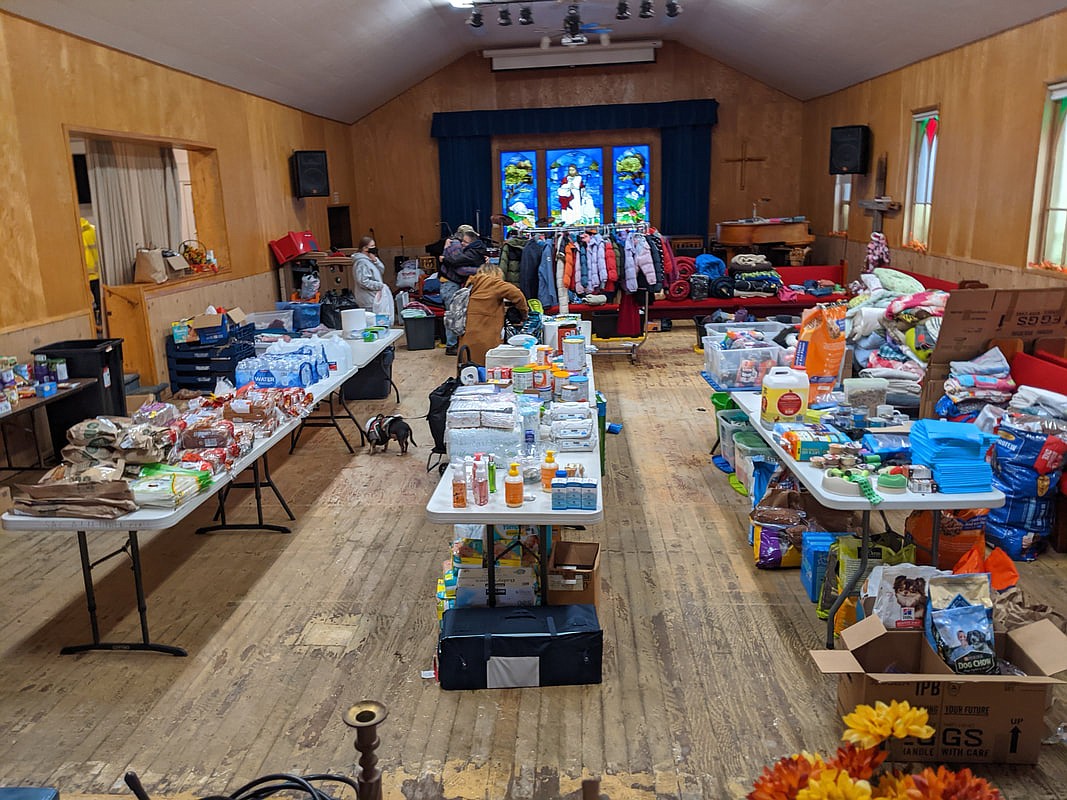 ---
---
When November's floods ravaged his community, Sumas pastor Chad Hammond rolled up his sleeves and got to work. 
He opened the doors of his church, the Sumas Advent Christian Church, turned the sanctuary into a donation center for food and clothes, and offered the space as a hub for city staff and federal emergency responders. 
"City Hall flooded, and so did the fire department, so the mayor and the police department all started using our building to meet," Hammond said. "Then people started bringing clothes and donations … We gave away fans, dehumidifiers, clothes and food." 
"There are still a lot of people that are really carrying the wounds of the trauma they've experienced." – Chad Hammond
Now, Hammond leads the new Whatcom Long Term Recovery Group, formerly known as Whatcom Strong, a local 501(c)3 that got its start in the weeks following November's floods. 
"We're here to stay and we're here for any future disasters that'll come," said Ashley Butenschoen, the organization's vice president. "We started at about 20 people: church pastors; leaders; and business owners, but it grew and morphed into something much bigger … Now, we have set up a nonprofit and are nationally recognized to work with FEMA and a whole bunch of other national groups." 
November's catastrophic floods were unprecedented, meaning most locals were not prepared for the extreme damage and the long-term recovery. 
"We have never had an event like November's flood here," Butenschoen said. "Whatcom Strong formed right after the floodwaters came and it was a group … getting together to do what needed to be done in the very beginning."
Butenschoen's brother lived across the street from the Nooksack River when it flooded. When she arrived the next morning to help with the damages, she ended up helping "everybody we could."
Hammond said the group's first priority is restoring homes to pre-flood condition. 
Through partnerships with the Whatcom County Sheriff's Office Division of Emergency Management and the Whatcom Community Foundation, the group has organized recovery services and financial support for locals. Currently, qualified businesses have until May 3 to apply for the Whatcom County Foundation Small Business Relief Fund, with grants of up to $5,000 available to businesses damaged during last year's floods. 
They also have several disaster case managers contacting more than 1,500 impacted county households to evaluate remaining needs in the community. 
The group's second goal, though, looks beyond physical home repairs. 
"We want to be able to support people as they've gone through this trauma," Hammond said. "There are still a lot of people that are really carrying the wounds of the trauma they've experienced."
Part of the problem, Hammond says, is that people are already forgetting how destructive the floods were. 
"It's already slipped out of people's minds," he said. "There's still a ton of people who are still displaced from the flood, and every time it rains, every time the river rises, it causes trauma. A lot of people are reliving that moment every day." 
The group is moving forward as an emergency response organization for all natural disasters, not just flooding. 
"This is going to be a long process," Hammond said. "It's going to be years, not months, to rebuild and we'll need all the help we can get."