Film
Review: 'The Joy Luck Club'
Mothers, daughters and the tales they tell
April 29, 2022 at 5:05 a.m.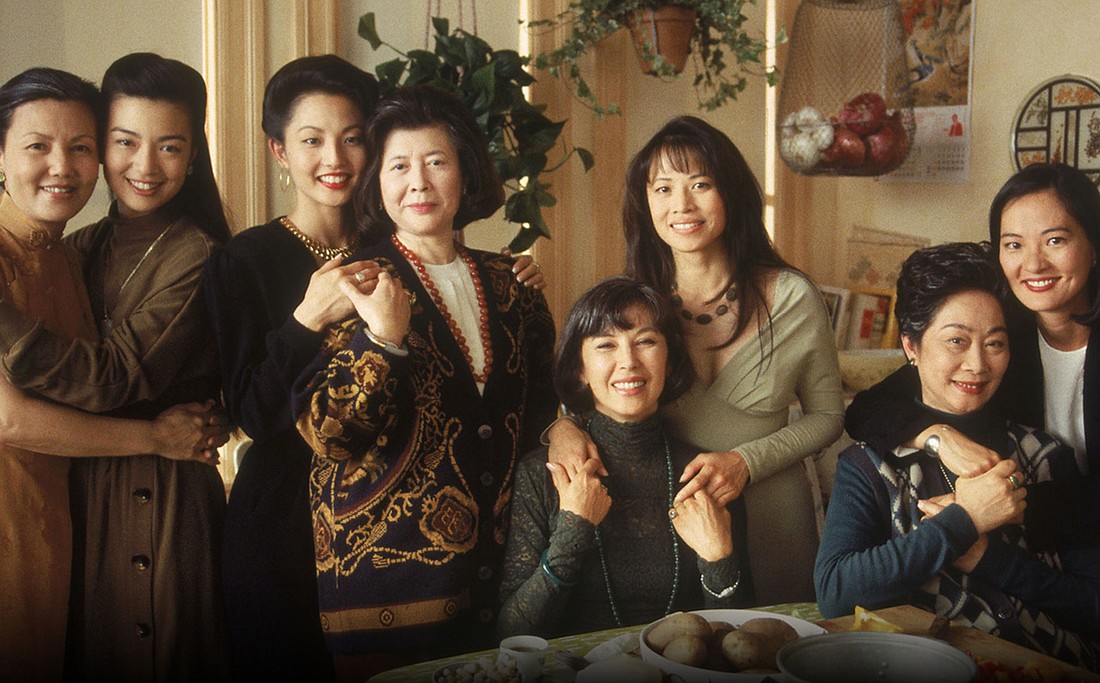 ---
---
Timing-wise, it is fitting that "The Joy Luck Club" is showing on the big screen at the Mount Baker Theatre on the evening before Mother's Day.
Those who've read the book or seen the 1993 film based on author Amy Tan's bestselling novel of the same name already know that the story revolves around the often-tempestuous relationships between four Chinese mothers and their born-in-America daughters. But after recently rewatching the movie for the first time in more than a decade, I was reminded that the story also includes brief backstories on the grandmothers — the women who gave birth to their daughters in China, but never left their country of birth.
The movie toggles back and forth in time to tell these tales, with the seminal scene taking place in San Francisco at a surprise going-away party for June Woo (Ming-Na Wen). It is soon revealed that her mother Suyuan (Kieu Chinh) died four months previously, and friends and family have gathered to bid farewell to June before she travels to China to meet her older twin sisters for the first time. Suyuan had abandoned them by the side of the road while escaping an invasion by the Japanese during World War II, but viewers don't learn why until near the end of the movie.
At the party, June is called to a side room by her "aunties" to take her mom's place to play a game of mahjong. In a voiceover, June reveals that her mother was the one who started The Joy Luck Club after meeting the three other women at church after they had all emigrated to the United States from China. Lindo Jong (Tsai Chin), Ying-Ying St. Claire (France Nuyen) and An-Mei Hsu (Lisa Lu) have daughters near June's age, and the film explores the different dynamics of the familial duos.
"Their connection with each other had more to do with hope than joy or luck," June says in the voiceover. 
It's a theme that repeats throughout the movie, as each of the club members' histories are revealed and their daughters struggle to come to terms not only with their relationships with their mothers, but also with their mother's pasts.
All of the storylines get a vignette in "The Joy Luck Club," including that of Lindo — mom to Waverly (Tamlyn Tomita), a childhood chess prodigy and longtime rival of June's. When Lindo was 4 years old, her parents promised her to another family. When she was 15, she'd be sent to live with them and marry their son. For the next 10 years, Lindo says, her own mother treated her as if she already belonged to him. But when the duo is finally wed, Lindo discovers that he's still a kid, just like her. Sparks do not fly, and eventually, Lindo figures out a clever way to escape the situation.
The back-and-forth between Lindo and Waverly is one of the most compelling in the movie. Lindo doesn't realize how much Waverly depends on her opinion. Waverly says she married a Chinese man and gave her a granddaughter, and now wants Lindo to accept her new relationship with a man she says is the love of her life.
At a tearful exchange at the hair salon before Waverly's second marriage, Waverly says to Lindo, "You don't know the power you have over me. Nothing I do could ever, ever please you." 
Lindo, realizing she's spent decades trying to be strong and withhold her emotions, breaks down. "Now, now you make me happy," she responds. When they laugh through their tears, it's one of the most believable moments in the film.
I don't want to give away too much more for those who aren't familiar with the plot, but the stories of Ying-Ying and her daughter Lena (Lauren Tom), and An-Mei and her daughter Rose (Rosalind Chao) are darker. Domestic abuse, infidelity and rape take place in the past, and the present sees the daughters struggle with finding their place in the world. They're not abused in their relationships, but they've talked themselves into thinking they're not worthy. In both cases, their mothers are the ones who help turn their lives around.
Director Wayne Wang did an admirable job of bringing the 16 interwoven stories about the conflicts between Chinese immigrant mothers and their daughters to life. Nearly 30 years later, the first Hollywood film to feature an all-Asian cast of primary characters holds up — although it's disappointing its release didn't immediately open the floodgates to a flurry of films featuring more diverse casts.
Rumors have it a movie sequel to "The Joy Luck Club" is in the works, and that may be something Amy Tan discusses when she makes her way to Bellingham for a Mother's Day event at the Mount Baker Theatre. She may also discuss her own experience as someone born in the U.S. to immigrant parents from China; the 2021 documentary "Amy Tan: Unintended Memoir"; how she responds to critics; and what it was like to help write the screenplay and produce the 1993 film.
For a limited time, those who purchase tickets to "A Conversation with Amy Tan" will also receive free tickets to the viewing of "The Joy Luck Club." If you need a date, call your mom and see if she's up for it.
"The Joy Luck Club" screens at 7:30 p.m Saturday, May 7 at the Mount Baker Theatre, 104 N. Commercial St. Tickets are $10.50 (or free). Tickets to see Amy Tan at 3 p.m. Sunday, May 8 are $30-$60. Info: mountbakertheatre.com. To listen to columnist Margaret Bikman's April 25 interview with Tan, go to kmre.org. The interview will also be rebroadcasted in the 10 a.m. hour on April 29, and in the noon hour April 30 and May 3.