Food
Forage, then feast: An edible adventure at Birch Bay State Park
April 28, 2022 at 5:20 a.m.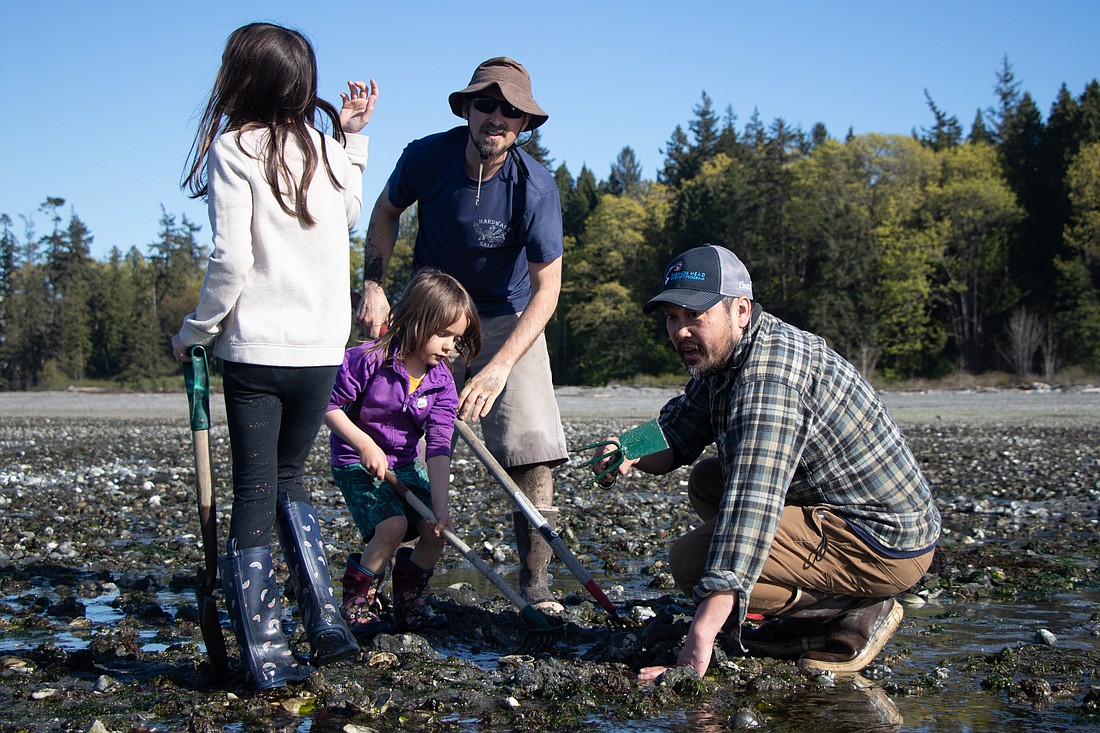 ---
---
Ten minutes into a short foraging tour in the forested campground trails behind Birch Bay State Park, I popped a fir tree needle in my mouth and chewed.
"What does it taste like to you?" Ficus Chan asked those of us who'd come from Bellingham, British Columbia and beyond to join him for an Earth Day clam dig and potluck along the 8,255 feet of saltwater shoreline.
"Very citrusy," "tastes like rosemary," "lemons" and "grapefruit" were some of the responses to his question, and "minty with a hint of forest funk" was my answer.
During the walk, Chan — a commercial fisherman, environmental educator, Canadian fisheries observer and owner of Salish Sea Trading Co. — filled us in on the edible nature of various greenery we encountered. We discovered that the seed-bearing "catkins" of red alders can be used for smoking food; lady fern and bracken fern have been eaten by Japanese and Korean people for centuries; and big leaf maple blossoms can be fried in tempura or blanched like a vegetable. We also learned young blackberry shoots can be peeled and sauteed in garlic and olive oil.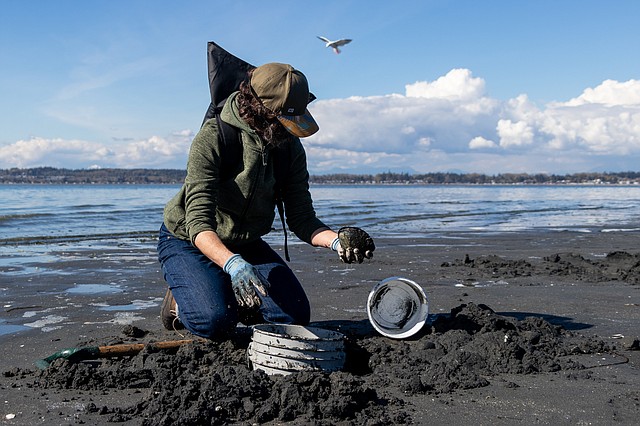 Chan may be familiar to patrons of the Bellingham Dockside Market, where he sells fresh Dungeness crab when it's in season. Those who drop by his Crab Bellingham booth at Squalicum Harbor are also likely to discover a variety of oysters from Taylor Shellfish Farm, Totten Inlet mussels and clams. This season, sea urchins he sold for Lummi fisherman Tre Lawrence and diver Shayar Valandro were also available to purchase.
"I have dreamt of bringing wild regional foods to people for over 30 years but never had the resources to bring it to reality," Chan said, noting that he's long studied and worked in renewable resource management. "In my work and with my knowledge, I am lucky to access fresh wild foods all the time. I know that the majority of people living around the Salish Sea have very little understanding or idea of what is or can be harvested in our region. I have had so many wonderful experiences eating wild foods — it is in my nature to want to share with others."
Chan's generosity was on full display on Earth Day, when blue skies and warm temperatures welcomed attendees to the Birch Bay shoreline. Many brought menu items to add to the post-clam-dig feast, but we wouldn't know the extent of what was on the menu until after we'd spent a couple of hours with our arms buried in beach mud searching for the briny bivalves.
In addition to making sure we knew to arrive with shellfish licenses in hand, Chan had also cautioned us to try to start clamming before low tide instead of after and to be sure and fill in any hole we dug instead of just moving on to the next one. We were also advised not to exceed our limit of 40 clams per person, and that we shouldn't grab gapers (also called horse clams) by their siphons to pull them out of the mud, as it would likely break off and kill them.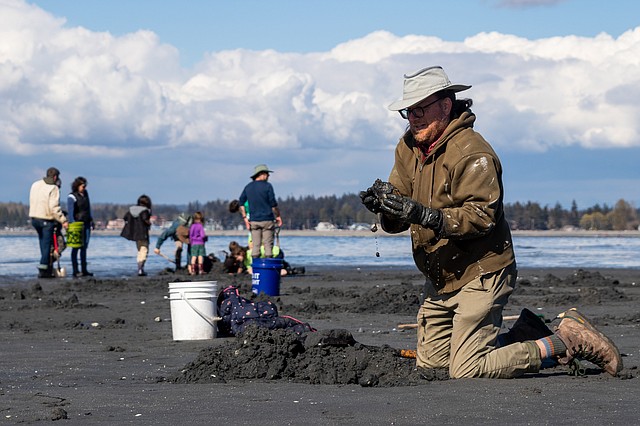 With these sustainable harvesting tips in mind, we hit the rocky beach. I had a slow start but teamed up with a couple of other women who'd found their clamming groove, and ended up just a few clams under the limit. Most of them were butter clams, but I also scored a few cockles and razors.
Those who'd chosen to pursue the gapers stuck to a sandy strip of the tidal flats and had to dig a lot deeper to find them. More seasoned clammers gave advice to beginners, kids participated in the harvest, and when it came time to bring the shellfish to shore, our buckets were heavy with springtime bounty. Some of the catch was donated to the feast, but many of us also went home with fresh clams.
When I checked out the cooking station, Chan was making a crab dish in a wok with mussels, coconut milk, lemongrass and pumpkin. When asked if he thought the day had been a success, he said bringing food-lovers and people who want to learn and share together was always a good thing. He's hoping to host seasonal events like this throughout the year, based on what wild foods are available. In the future, the gatherings may be open to the public.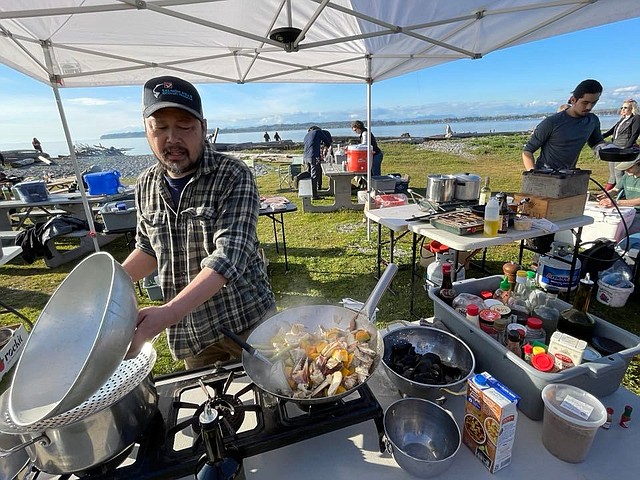 In addition to the delicious creation Chan served with the last of his fresh crabs and sticky rice, menu items cooked by chefs and other participants included horse clam sashimi, alder-wood-smoked mussels, albacore tuna salad, various oysters for slurping, grilled Pacific oysters with truffle oil, fire-warmed artichokes, fresh clams cooked with chorizo sausages and red bell peppers, and grilled fern stalks and seaweed.
The last two items were cooked by Chef Robin Kort of Swallow Tail Culinary Adventures, who also provided a furikake blend of bullwhip kelp from Galiano Island as a seafood topping. A green sauce made with spring-foraged chickweed, wild sorrel and dandelion blossoms for the mussels was another one of her creations, as was an amazing alder-smoked poblano pepper hot sauce placed atop raw oysters.
At her B.C.-based business, Kort leads foraging tours and hosts dinners and pop-up events meant to connect the dots from wilderness to plate. Like Chan, she takes care to pick only what is abundant and leave the rest for "other beasts."
As we head into May and June, Kort said to be on the lookout for seaweeds like nori, sea lettuce and bull kelp, wild berries, sea asparagus and wild mushrooms (including morels, prince mushrooms, oyster mushrooms and chicken of the woods).
What's the main lesson Kort hopes to impart when giving foraging advice?
"How to make the connection and enjoy the food that the forest and seas naturally provide while understanding your impact and maybe understanding more about how we are part, not separate, from the natural world," she said. "It's first about respect and then about the pure pleasure of eating the freshest ingredients you can find."
On the Swallow Tail website, watch a free foraging video series with Chef Robin Kort. She'll also be hosting an "Outstanding in the Forest" pop-up dinner on June 10 and 11, where she'll be foraging from the Knapp Research Forest in B.C. and making a 6-course dinner. Info: swallowtail.ca.