Softball
Nooksack Valley topples Mount Baker
Pioneers claim first place in conference standings with win
April 27, 2022 at 9:29 p.m.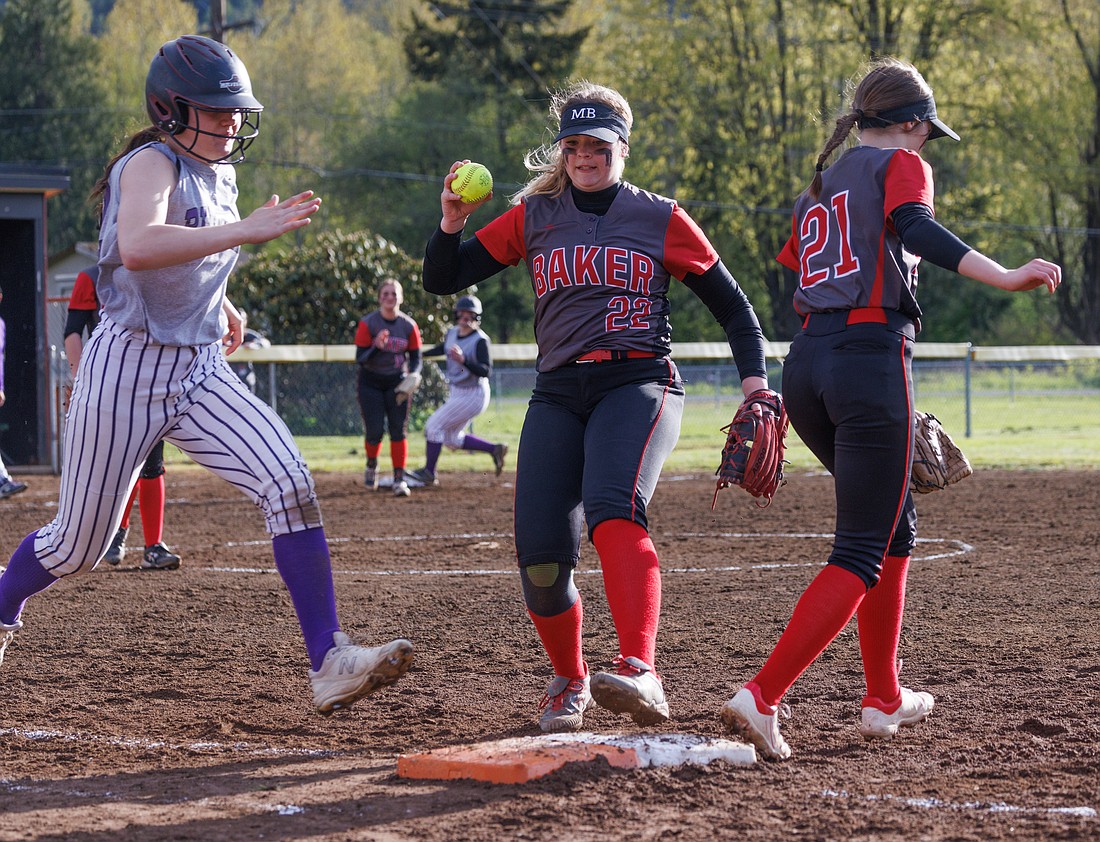 ---
---
DEMING — The Nooksack Valley softball team was nearly perfect against Mount Baker in a 10-1 win Wednesday evening.
Senior pitcher Jordyn Relethford sat down the first 13 Mount Baker batters she faced before giving up her first hit of the game.
The Pioneers wasted no time in the matchup of the Northwest Conference's top two teams, scoring two runs in the top of the first inning. 
Relethford hit an RBI single off Mount Baker pitcher Ava Jeretzky's foot to bring in a run, and sophomore Lainey Kimball wore a pitch with the bases loaded to bring in the other.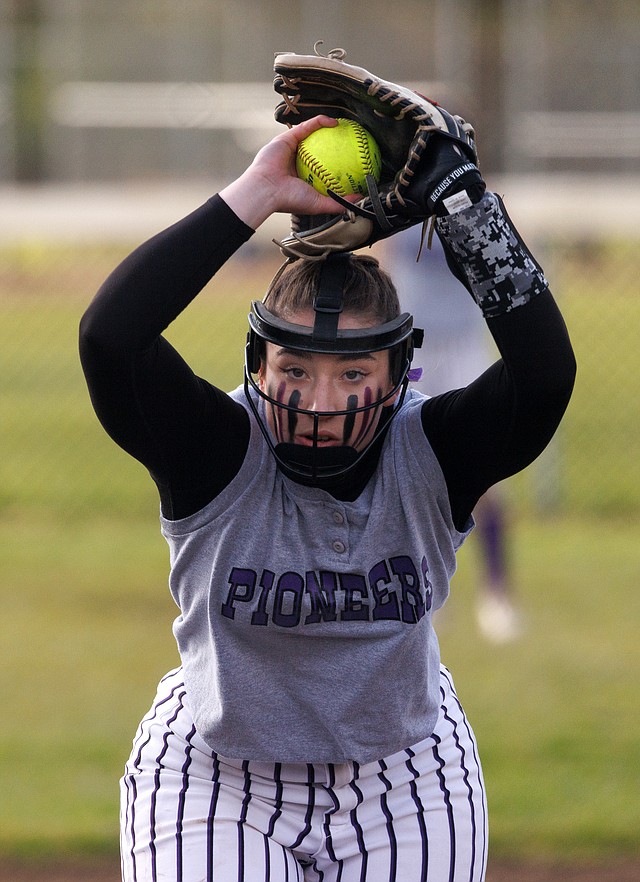 Nooksack Valley added to its lead in the top of the third on an infield single by Ellie VanBerkum to make the score 3-0.
"I think both teams were pretty excited because we're both pretty good teams," Nooksack Valley head coach Tom Harmon said. "We just have a pretty good rivalry. The kids know each other and when you play a pretty good team you get up for that."
The Pioneers' offense was far from done there. Junior Sierra Anderson and Kimball both hit home runs and by the end of the sixth inning, Nooksack Valley led 10-0.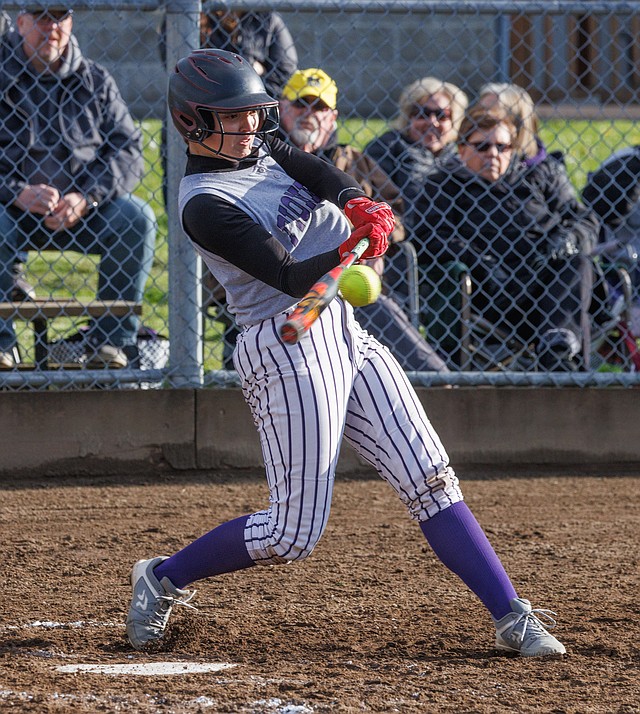 Mount Baker's lone run of the game came on a squeeze bunt by senior Madison Barter. 
"This is the time of year you want to play high competition and want to go out and take a challenge, and we didn't play as well as we were capable of today," Mount Baker head coach Ron Lepper said.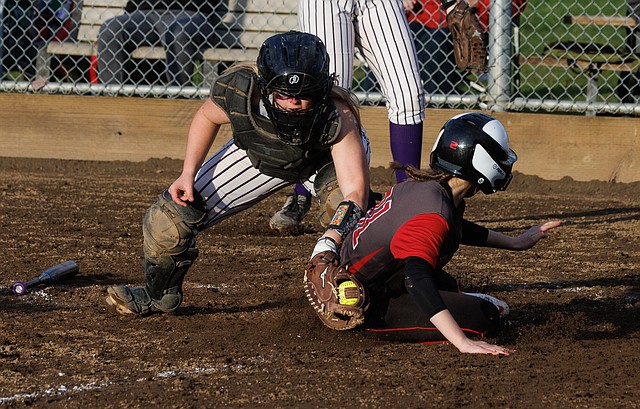 Relethford earned the win in the pitcher's circle, giving up only one run in a complete game effort. She finished the game with 12 strikeouts.
"I was just thinking 'I didn't want to give them anything down the middle.' I was not going to hang anything for them," Relethford said of Mount Baker's lineup.
Harmon said with a lineup as powerful as Mount Baker's, they kept the approach simple in how they wanted to attack them.
"We wanted to do well and make them hit ours and not give in when they got ahead in the count," he said. "They have some really good hitters and we were just fortunate today."
Nooksack Valley leaps over Mount Baker in the Northwest Conference standings with the win. The Pioneers' record sits at 15-1 overall and 9-1 in the conference with four games left in the regular season. Mount Baker drops to fourth in the conference with a 15-2 record overall and 9-2 in conference play.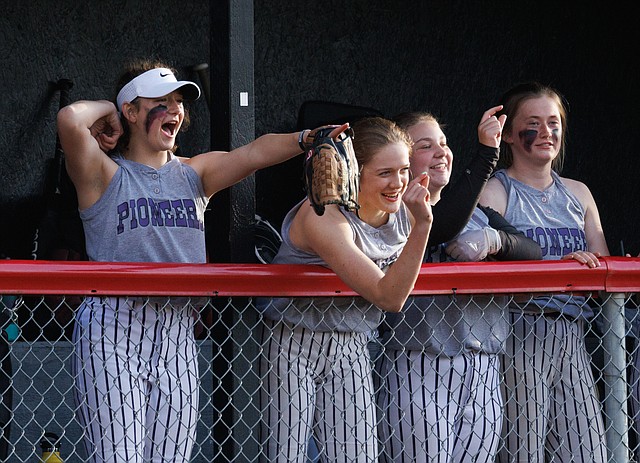 Lepper said while the scoreboard was disappointing, the Mountaineers have good competition left in the regular season, which is what they want with the postseason right around the corner.
"We knew us and Nooksack are going to be high seeds in districts," Lepper said. "Now, we have to refine a few little things and make sure we come out ready to go."
Mount Baker will play at 4:30 p.m. Friday against Sedro-Woolley at the Janicki Playfields. Nooksack Valley's next game is also at 4:30 p.m. Friday against Burlington-Edison at Nooksack Valley Middle School.