Recreation
Bellingham slacklining community finds its balance
Easy to start, hard to master
April 24, 2022 at 5:00 a.m.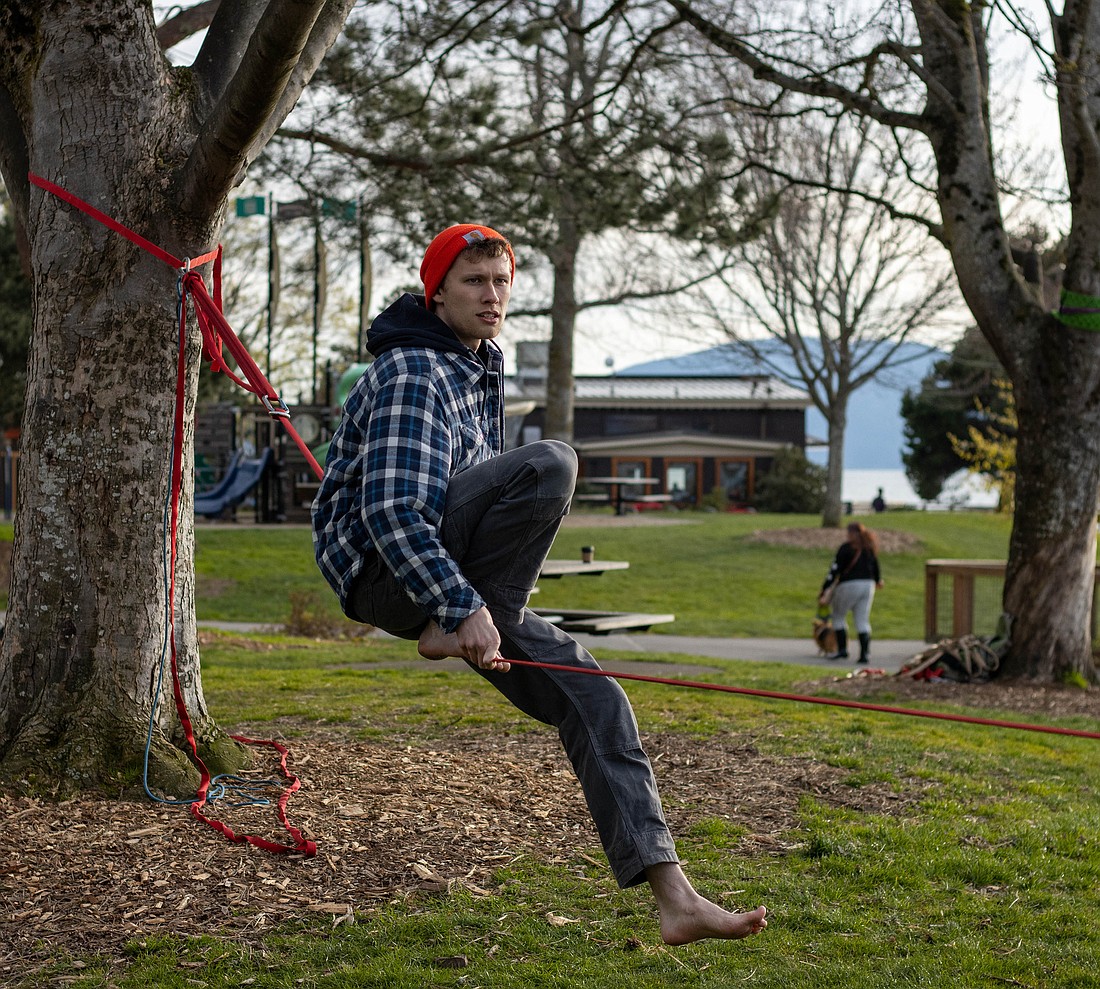 ---
---
Like wires between telephone poles, slacklines decorate the trees up and down Boulevard Park, especially on sunnier days. Balancing on synthetic webbing remains a popular warm-weather pastime.  
The slackline no doubt looks daunting, like a circus tightrope act playing out in a park. Enthusiasts say the hobby is easy to pick up, yet difficult to master. 
"It was something that I was really bad at for a super long time," said Kip Creech, who has been slacklining for about two years.  After a rough start, he said, "I figured it out and it became a lot easier. Now I really enjoy it."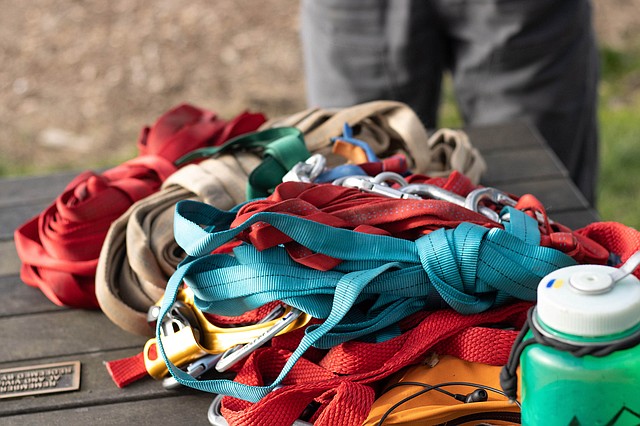 One of Creech's biggest successes since starting has been learning how to turn around while on the line. The process involves bouncing and pivoting on your heels, making it a difficult maneuver to complete without losing balance.  
The low bar of entry allows slacklining to be the perfect group park event, where anyone in a group can hop on and try it.  
"I just started slacklining. Today was the first day I have had any success," said Dashell Adams, a friend of Creech. Adams had just made her first few steps without using Creech as a stabilizer while at Boulevard Park. 
The best way to start is to just get on the line and spend the day trying to maintain your balance, Creech said.  
"You got to fail so many times. If you fall a thousand times, maybe you'll be able to slackline," Creech said. 
Falling is integral to learning how to slackline, but it is important to keep getting back on the line and trying again.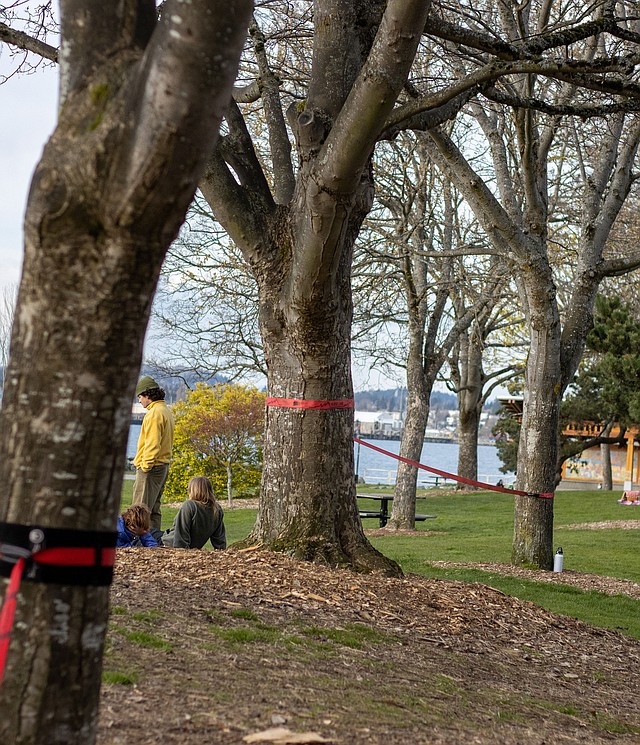 "It's just persistence," said Chandler Johnston, who has been slacklining for about two months. "You'll get on the line, and you will be shaking all over the place and you will keep falling. Then suddenly you can stand and then, you know, you can stand for a little bit longer, then you can take a step, two steps, three steps." 
All the falling comes with mental and physical rewards once you really start walking along the line. 
"It is a meditative process," Creech said. "It's nice to fully zone out and just think about the way your feet are touching something." 
"It's good for your core strength, and it's good for your balance," Adams added. 
Bellingham has lots of spots perfect for slacklining. The trees that dot Boulevard Park's landscape provide perfect places for beginners to start on shorter distances and more challenging longer areas for experts. The grass also provides a good cushion for falling, Johnston said. 
Western Washington University's campus also has trees all along campus that make suitable anchors for a line.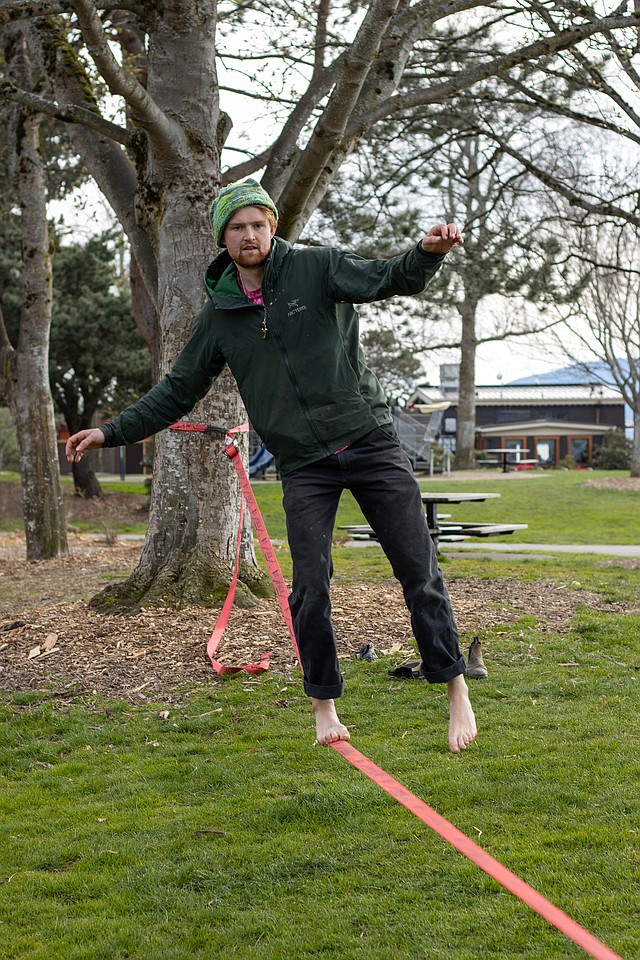 To protect the trees, the International Slacklining Association recommends avoiding trees that are visibly dead or have thin bark. Another tip to prevent tree damage is to attach your anchor to trees at least 30 centimeters in diameter. You can also use a tree sling, which is put on before attaching the slackline to prevent friction damage. 
While a slackline kit will run about $50 to $75, the best way to get on a line is to simply ask. 
"Go to Boulevard, find someone with a slackline and make friends with them and then start using it," Creech said. 
Another place to start slacklining is at Vital Climbing Gym in downtown Bellingham. Its permanent slackline is an excellent place to train your balance before buying a line of your own.