Environment
Teenagers protest corporate ocean pollution
Students host a "die-in" at Target
April 23, 2022 at 10:10 a.m.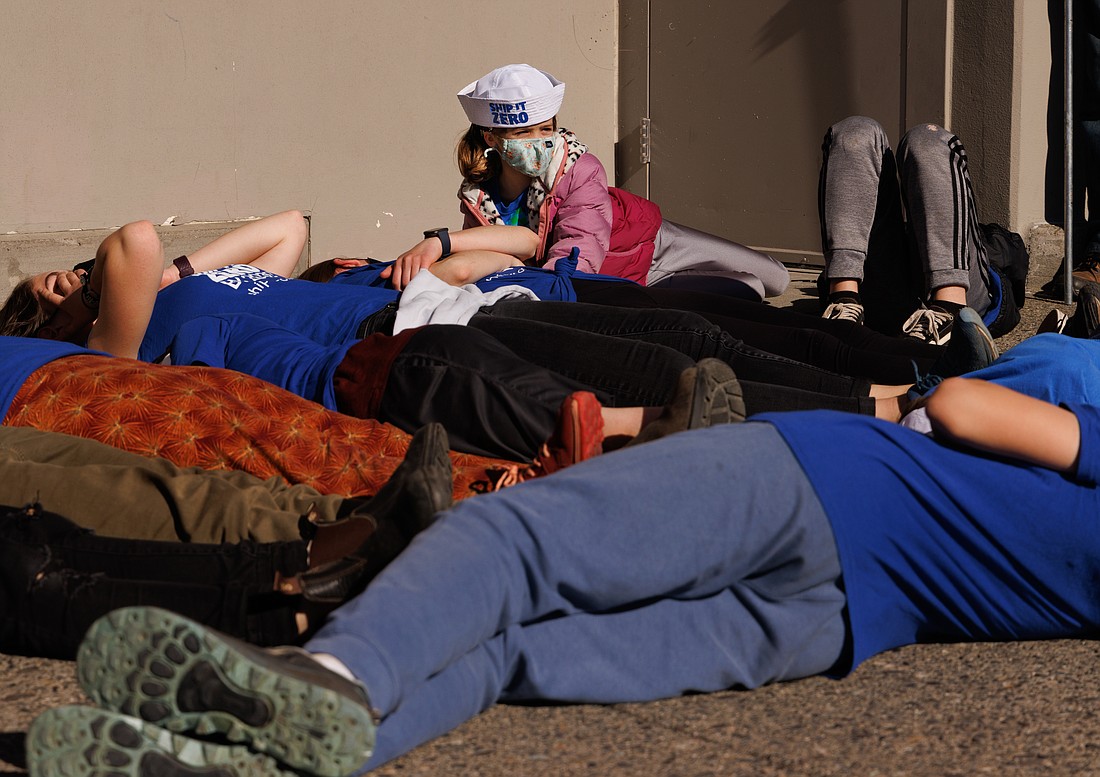 ---
---
Jack Beglin, 13, faked his death at the Bellingham Target on Earth Day, surrounded by classmates and teachers. He "died" peacefully, calling for the corporate giant and the entire maritime shipping industry to become more environmentally conscious.
Beglin, along with about a dozen of his classmates and friends, organized and participated in an 8-minute "die-in" in the Target parking lot during a day of environmental action targeting ocean pollution. 
"The eight minutes signifies how the people in port communities have an eight-year reduction in their life expectancy," Beglin said. "We're speaking for the people in port communities, people of color, Latinxs, because they're the communities most affected by climate change and shipping pollution."
The teenagers protested on behalf of the Ship It Zero campaign, co-led by the Bellingham-based advocacy organization Stand.earth. The movement calls on some of the world's largest maritime shippers, including Target, Amazon, IKEA and Walmart, to transition to zero-emission cargo shipping by 2030.
While many of the large corporations like Amazon have pledged greener practices, Target has yet to commit.
"The maritime shipping industry is actually the world's sixth-largest producer of fossil fuels and emissions," Beglin said. "Target is using crude oil, which is actually one of the worst fossil fuels for the planet, which is already a low bar. Target is using these methods that are not green, not good for the environment, and they are contributing exorbitantly to this huge problem."
His classmates, who helped him organize the event, agreed. 
"It's extremely important that these giant companies with their giant ships that pollute so much are held accountable for their actions," Ruby Webb, 13, said. "I hope that we can actually have a say and a future like the people who grew up before us." 
Ship It Zero hosted several "solidarity actions" at Target locations around the West Coast on Thursday and Friday, including similar protests in Seattle and Long Beach, California. While the protests in Long Beach and Seattle were predominantly high school and college-aged people, Bellingham's participants were all pre-teens and young teenagers. 
Several of the students discussed making a positive change for future children, even though they're still children themselves. 
"We're just trying to make sure that everyone has a future that they deserve," 11-year-old Bailey Waterhouse said. 
"The way things are shaping up, there might not be another generation past us unless we fix this climate crisis now," Beglin said. "We have to spread the word, do whatever we can, and help these corporate giants change their ways that will benefit both people and the climate."