Restaurants
Review: Cob & Cork
From the land to the sea
April 23, 2022 at 5:00 a.m.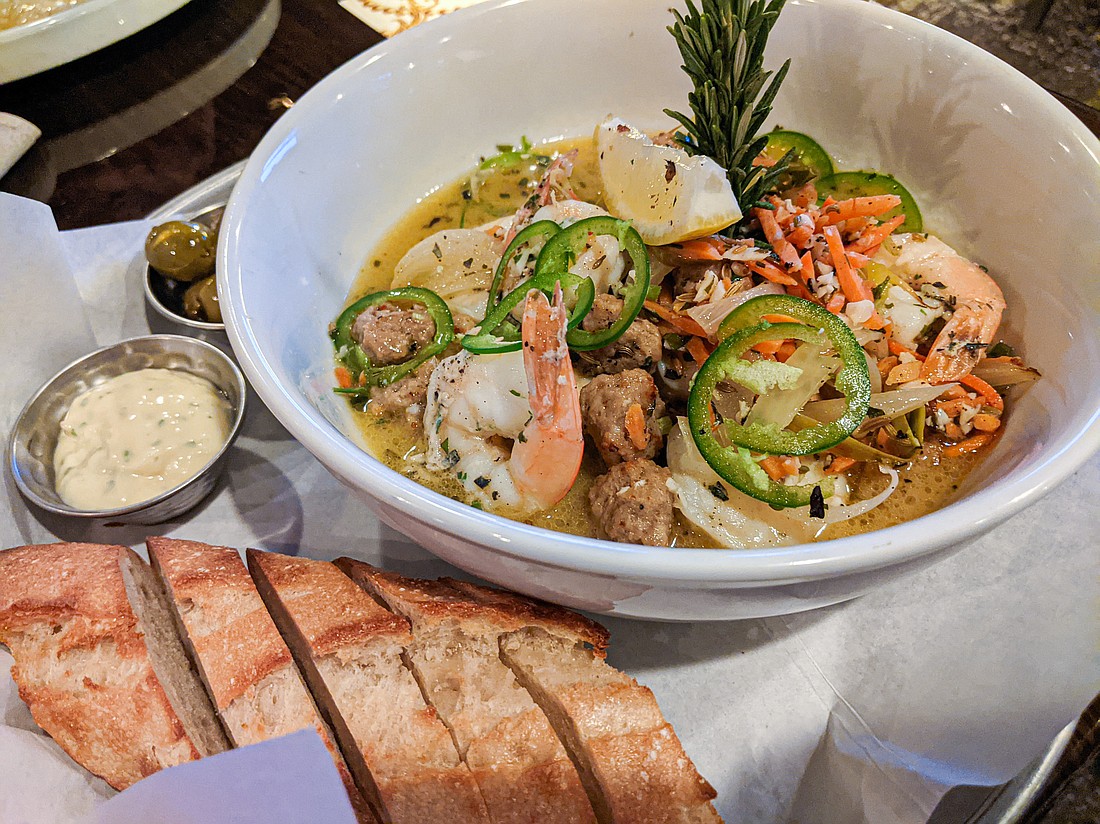 ---
---
At the crossroads of Bow Hill Road and Chuckanut Drive, just outside the town of Edison, Cob & Cork occupies a space that has held a number of different restaurants over the years. Serving as both a local hangout and date-night restaurant, it sometimes seems a bit uncertain of its identity, but it's a fun place to go.
The interior is similar to the building's previous incarnation, BowEdison, with moody lighting, polished dark wood and a pleasant bar area. Two small outdoor seating areas provide a nice view of the sunset.
Service is not always confident but is always friendly and well-intentioned. On my first visit, the menu included a pasta primavera with pesto and asparagus. I asked about nuts in the pesto, as I always do, and was told they would be happy to make me a nut-free pesto, which was much appreciated.
The current dinner menu is eclectic, divided into "land," "sea," "start" and "share." We've had a few starters, including a couple that are no longer on the menu but that I would love to see return (a beautifully presented hummus plate, and smoked salmon crostini with pickled rhubarb). But the kale avocado Caesar ($17) is a standout, with one of the best Caesar dressings I've had in ages, with actual anchovy flavor permeating the greens.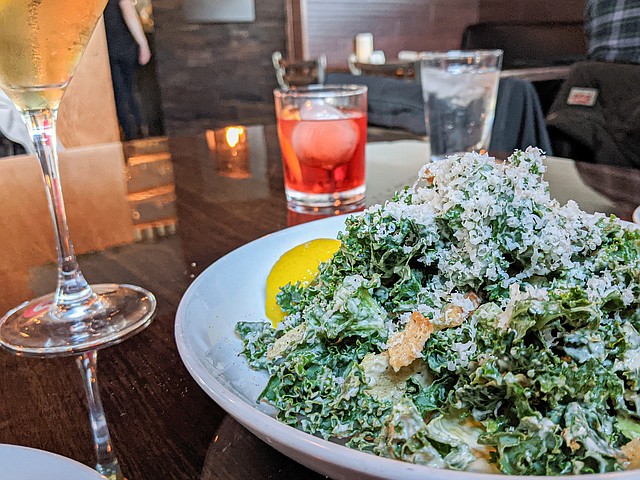 In the "land" category, the pork schnitzel ($27) was the biggest hit with my friends, served with a fresh berry chutney. The burger ($24) was also excellent, with a heavy char on the outside but nicely pink inside, and three kinds of cheese. Oven fries on the side were a fun mix of Yukon gold and sweet potato, charred on the outside and richly tender inside, with a dish of (in my opinion) oddly spiced ketchup and a big pile of tartar sauce.
On the "sea" side, the Sicilian prawn bowl ($27) was blander than I expected — both the crumbled sausage and the jalapeño slices being extremely mild — but it came with plenty of bread for mopping up the sauce, and it paired perfectly with an Albarino that was on the wine menu that night.
Smoked salmon ravioli, while not as thin as they could be, were topped perfectly with cream sauce and pink peppercorns ($30). The salmon "burger" ($25) turned out to be an entire skin-on fillet of fresh salmon piled onto a charred bun with miso aioli, lettuce, onion, tomato and a bright overlay of pickled ginger — messy to eat but very tasty.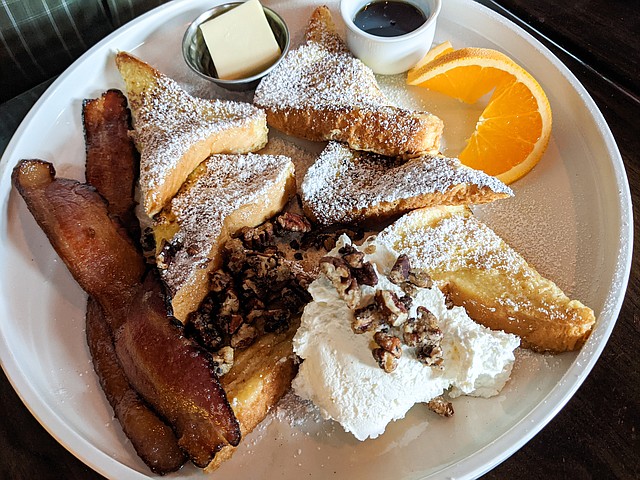 On Sundays Cob & Cork serves its full menu all day, with brunch specials in the morning. I thought the eggs Benedict was excellent (although I would have preferred English muffins or biscuits rather than the brioche hamburger buns tucked under the eggs), and the French toast was tender and served with a generous pile of whipped cream and pecans. The full bar is available, and they also offer mimosas with your choice of hibiscus or tangerine juice.
The bar offerings are not extensive but include a decent range of drinks. House cocktails tend toward fruity and bubbly, but they can make a very fine martini or negroni when requested, and the wine list has some nice selections. 
I don't have much of a sweet tooth, but on every single occasion that I have eaten here the best thing at the table was dessert. Chocolate caramel cake ($14) was my husband's favorite, but I adored both the strawberry rhubarb crumble ($12) and a special of molten chocolate cake topped with brightly minty ice cream.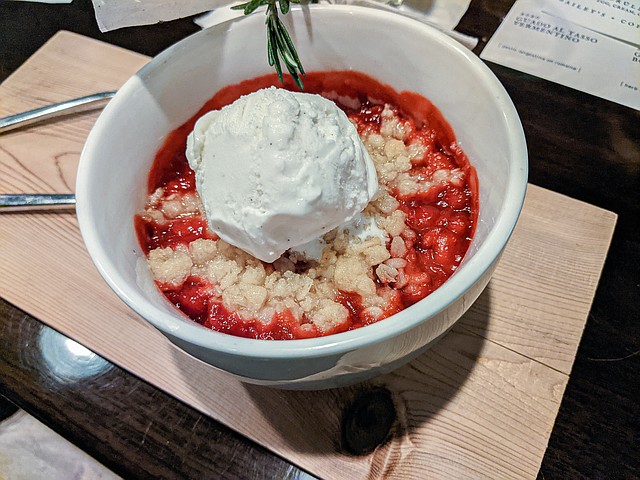 Once a month, on Thursdays, Cob & Cork holds an event called Bite Club, each featuring a different wine region. Pre-purchased tickets get you a flight of wine tasters with accompanying snacks included, plus the option of ordering additional dishes from a short menu. The one I attended was enjoyable but obviously a bit beyond the restaurant's capacity, although the staff did its best to compensate.
The name Bite Club turned out to be very appropriate, since we were each supplied with approximately three bites of food to accompany three very small pours of wine — not entirely satisfying for the $29 per person we had paid. At least the additional options on the menu were substantial, including a duck sausage ravioli ($27) and a beef tenderloin ($38), so none of us left hungry.
Cob & Cork is a charming restaurant in a great location, and the things they do well are worth visiting for. I look forward to them continuing to settle in and become a destination for tourists and locals alike.
Cob & Cork is open from 5 p.m. to 9 p.m. Wednesday through Saturday, and 10 a.m. to 4 p.m. Sunday at 5545 Chuckanut Drive, just outside of Edison. Info: cobandcork.com.