Community
Windfall: At Fourth Corner Frames, a storm led to a silver lining
When a wall was blown down, the community stepped up
April 21, 2022 at 5:00 a.m.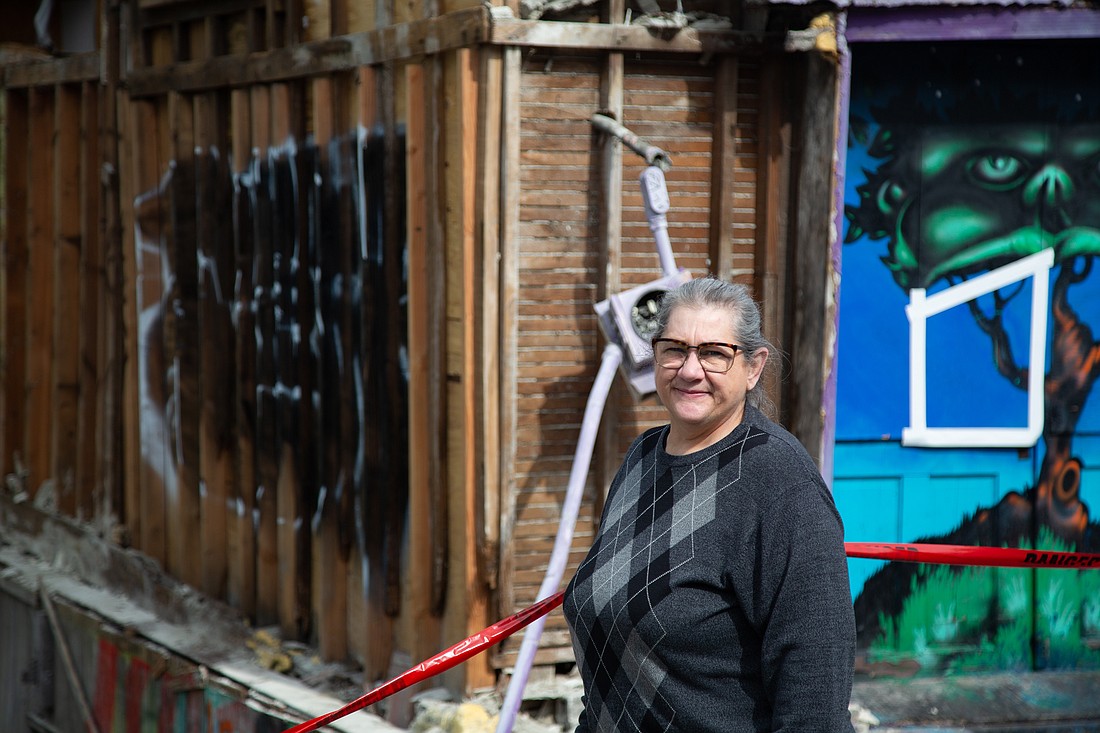 ---
---
Fourth Corner Frames & Gallery owner Sheri Wright arrived to work on Monday morning, April 4 to discover the back wall of the 1880s-era building and business she purchased in 2001 had sheared off during the previous night's windstorm. The wall had fallen into the ravine behind the structure. A brick facade and wood remained in some areas, but other sections were open to the elements.
"I pulled into the parking lot and the wall was gone," Wright said, shaking her head. "As I continued back and saw the damage I realized the extent of it. There was a big picture window of Bellingham Bay that wasn't there before."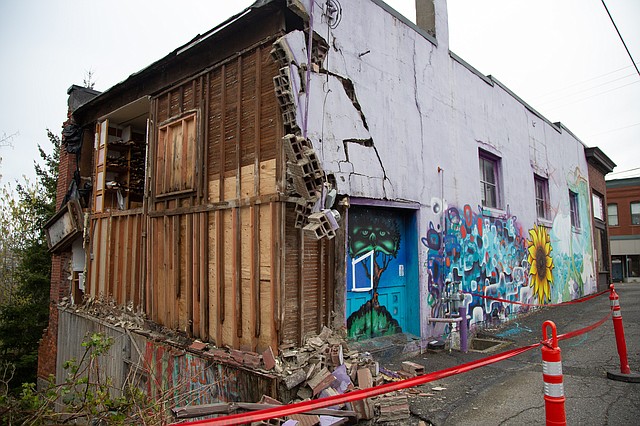 After peering in the front door at 311 W. Holly St. and realizing no damage was immediately evident and that the electricity appeared to be functioning, Wright, 65, immediately went inside and started moving customers' artworks to a storage space she maintains a couple of doors away in Bay Street Village. Above all, she said she wanted to make sure anything that was irreplaceable was safe.
Soon after, a client — who'd come by to pick up some work that was ready — rolled up her sleeves and began to help Wright move items from one space to the other. Then the owner of RAM Construction showed up with a crew who'd been working on a site across the street with an edict to Wright to "tell them what you need." 
They got to work, and before long, the storage space had been filled with artwork and the entire corridor of the lower level of Bay Street Village was lined with boxes of frames, various equipment, tools and crown molding of many lengths and sizes.
People in Bay Street Village, like Studio UFO's Trish Harding, opened up their businesses for additional storage, and many artists who have depended on Wright to professionally frame their works over the years heard the news and arrived to help clean and move and shift — whatever was needed, she said. One day, a trio of firefighters emerged from their firetruck to help lug a heavy, custom-made countertop from Point A to Point B.
"We've been getting that kind of help," Wright said. "It's absolutely selfless. I love the people of Bellingham."
While Wright figures out her next steps, she's doing so from a large space she's currently leasing on the lower level of Bay Street Village. On a recent afternoon, she said it was a place she'd already considered moving to before the storm damage made the original Fourth Corner space uninhabitable.
Over the years, Wright noted, she's become aware that the bluff behind Fourth Corner Frames was eroding. She'd been keeping an eye on stormwater runoff and changes in the terrain in the parking lot near the property, and had documented small cracks that had formed in the back of the building. Pre-pandemic, she hired someone to inspect the foundation to see if it could be shored up and had been told that because of the continued erosion of the embankment, it wouldn't be possible.
"I had been looking for another location for a while," Wright said. "I'd actually put an offer down on a building about three or four weeks ago. I was in the mindset that I'd have to move, so I had several plans in mind, which I think is one of the reasons things went as well as they did with this."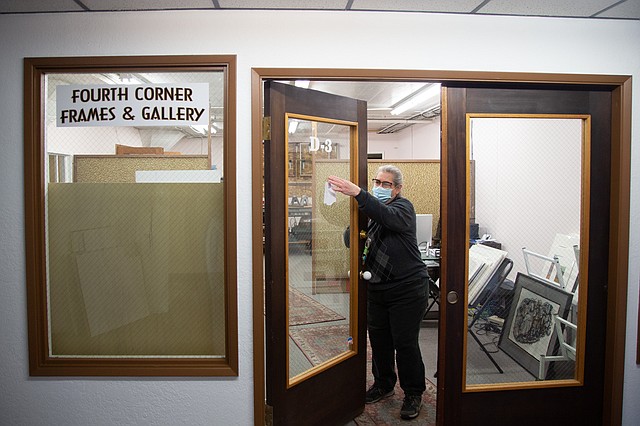 While some might not look at a storm destroying a part of a building they own as an unexpected piece of good fortune, Wright refers to what happened as a "windfall." The structure didn't have a drop of water come in that wasn't blowing in from the open holes, and the roof remains intact. Most importantly, Wright said, almost everything that could be salvaged has been, and she didn't lose anything that couldn't be replaced.
"The universe seems to be aligning for the next phase of Fourth Corner Frames," she said.
At this point, Wright doesn't know if the damaged building is salvageable. The city has restricted access to it, and she's still waiting on the adjustor's assessment. Meanwhile, she's prepared to stay where she is for up to six months or longer and is currently catching up on projects that were in the works when the wall went down.
Within a couple of weeks, Wright estimates she'll be able to start accepting new framing jobs. She knows they'll be coming because the community that recently banded together to help her in a time of need is also the same one that has trusted her to frame their art, photographs and memorabilia for more than 20 years.
People often don't realize what goes into framing, Wright said, noting that a successful framer needs to have a lot of different skill sets — from woodworking to drawing, cutting glass, cutting mattes and handling artwork so it's not damaged.
"Custom framing is kind of a dying art, in that you can't really get it off the internet," she said. "But I still enjoy every minute of it. This is what I do for fun and always have."
While Wright and her employees recalibrate after the windfall, people can keep track of the progress they're making on their website and Facebook page, which will be updated when they're ready to take new orders.
"It's just a matter of getting everything organized," Wright said. "I want to make sure this is a safe, well-lit space."
To get updates about Fourth Corner Frames & Gallery, go to fourthcornerframes.com.