Outdoors
Fed up with trailhead smash/grabs?
Hikers organize Chuckanut lot patrols
April 20, 2022 at 4:50 a.m.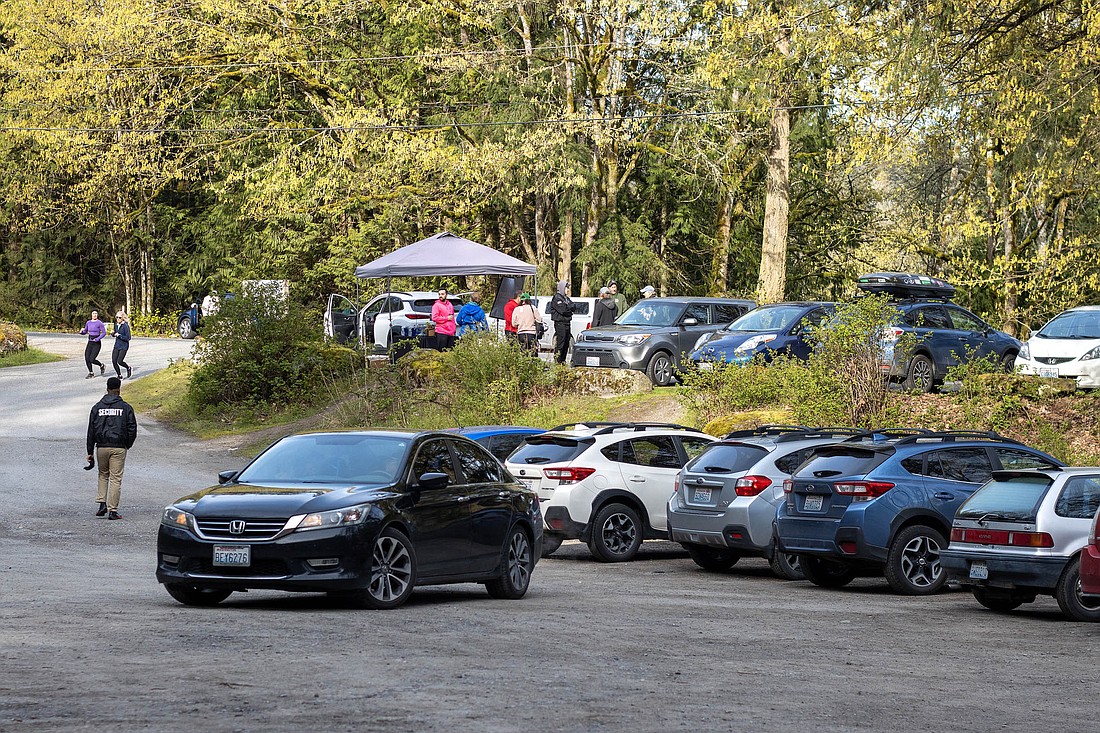 ---
---
I knew about murder hornets but had no clue about another invasive species lurking among the sword ferns and blackberry brambles.
Scientific name: clepta lowlifetis.
It turns out car prowling at trailheads is a Pacific Northwest thing and Steve Avila of Bellingham has had enough.
"I can't even enjoy the trailheads because you are worried about coming back to a broken window and stuff stolen," he said.
Avila, 58, organized a security patrol Saturday at the North Chuckanut Mountain Trailhead near Arroyo Park, where three piles of shattered glass in the lot provided all the evidence one needed to see what has outdoor enthusiasts so frustrated.
Break-ins have become a scourge on our way of life. Bellingham and surrounding communities are magnets for people looking to escape the trappings of urban living. Now such crime has followed the parade north. 
"We want to take our city back and relax again," said Avila, who owns Fitness Evolution gym and other Bellingham businesses.
He plans to post employees at vulnerable parking lots throughout the summer. Hikers and interested recruits can contact Fitness Evolution at Support1@Bellinghamevo.com to get details on the security schedule.
Avila also hopes to ignite a volunteer movement where residents fight car prowling by having a regular presence at popular trailheads. 
The volunteer shifts started organically this past Saturday when Matt Perry of Fairhaven saw five men standing sentry as he headed up the mountain for his regular run. Perry, 63, cut the trail run short to relieve the guards for the afternoon shift. 
Avila picked the Arroyo Park area because a half-dozen cars had smashed windows at the trailhead one Sunday morning last month. 
Washington State Patrol, which patrols Highway 11, has already received 25 theft calls on Chuckanut around parks and trailheads from Jan. 1 to mid-April, trooper Jacob Kennett said. 
Whatcom County authorities received 92 reported incidents at trailheads from April 5, 2021, to April 5 of this year. Sheriff Bill Elfo said it accounted for 24% of the total reported car prowls during the one-year span.
It also marked a 56% increase from the 52 reported trailhead incidents the previous year.
"It's just nuts that we have to come to this," Avila said. "This is an opportunity to get back to where Bellingham started, where they had strong community ties."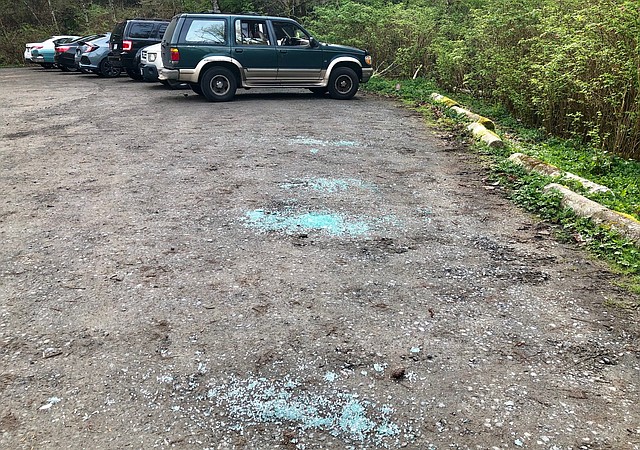 Mike Kaminski of Ferndale would appreciate that community involvement after he found the driver's side window of his BMW shattered last month at a trailhead parking lot along the Nooksack River.
He lost nothing because someone drove into the Slater Road lot during the heist to scare off the thieves, Kaminski said. Still, it cost him $246 to replace the window.
Kaminski, 66, fared much worse five years ago at the Douglas Fir Campground lot off Mount Baker Highway. He reported losing five expensive watches and an 1879 $5 gold piece.
"They cleaned me out," Kaminski said.
Kaminski and his wife have resorted to "doing laps" at Ferndale's VanderYacht Park instead of being away from their car too long. They will now only park in a spot visible from a road.
Thieves hit Jeri Mumma's car a few weeks ago while she enjoyed a short hike off Y Road near her home close to Lake Whatcom. The prowlers smashed a window, damaged a doorknob and absconded with Mumma's teacher's bag from Lummi Nation School that contained tax information.
"I'm not going to let that prevent me from hiking but I'm not going to park up there anymore," Mumma said.
The only time I experienced a break-in was 25 years ago on a November snow hike near the town of Index off Highway 2. Thieves jimmied the door open and took nothing, rejecting my music cassettes, old emergency blankets and jumper cables.
People have suggested all sorts of ploys to catch the culprits. But a singular effort to discourage prowling is complicated by competing authority of trailheads. Depending on location, local trailhead parking areas are under the jurisdiction of city police, county sheriffs, Washington State Patrol, Washington State Parks and Mt. Baker-Snoqualmie National Forest, which relies heavily on local law enforcement for help.
"The problem is there are more people breaking into cars than we have folks to enforce it," said Colton Whitworth of the Forest Service Baker-Snoqualmie unit.
Officials at the public agencies stress common sense: park in well-lit or visible areas; don't leave valuables in the car; lock doors and trunks and be aware of suspicious activity in the lots. But in some recent break-in spates, windows have been smashed anyway.
Officials also warn against leaving garage door openers and extra keys in cars. Some outdoor veterans recommend taking the vehicle registration on an outing, so thieves won't have immediate knowledge of home addresses.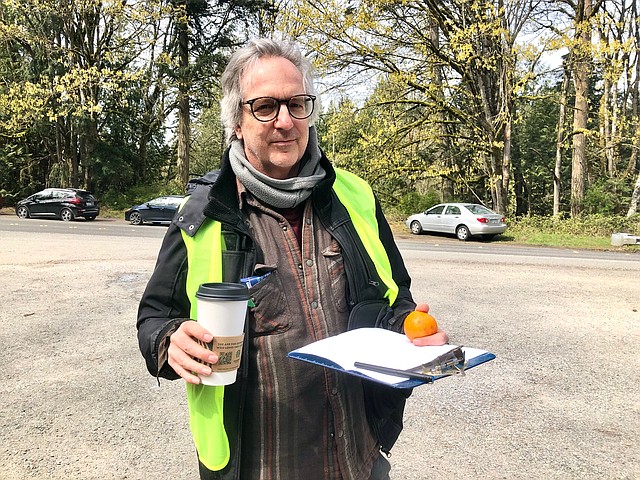 "Be mindful of what you're leaving in plain sight in your car," Kennett said. "If you're going hiking or mountain biking or dropping a kayak in a lake there is no reason to have $1,000 in cash in the car. That's not my go-to thing to pack when I'm going out on a hike."
Outdoor vets have recommended taking "junker" cars to trails and leaving them unlocked with the windows rolled down as many thieves have perfected the use of a window punch to quietly do their business.
Authorities encourage victims to report incidents even when thieves take little. Kaminski called from the parking lot near Hovander Homestead Park where thieves smashed his window. Later, he filed an online report as instructed. Kaminski said deputies never got back to him. Mumma said she had a similar experience with the break-in at Y Road.
Sheriff Elfo said in an email that staffing issues have hurt efforts to thwart thieves. He also said the county had suspended a volunteer program of patrolling trailheads because of COVID-19 restrictions.
"We feel for people," said Vincent VanZant, one of the men helping patrol the Chuckanut lot Saturday. "It's time for people to take responsibility and help out."
Washington State Patrol is increasing visibility in Whatcom County, Kennett added. And Washington State Parks officials have placed security cameras in sensitive areas at Birch Bay and Larrabee state parks, agency spokesperson Amanda McCarthy said. The parks also use warning signs in targeted locales.
U.S. forest officials place surveillance cameras in specific places but do not discuss their tactics, Whitworth said.
All of this left me wondering how I escaped a break-in while spending hundreds of hours in remote areas in California, an overpopulated state with systematic crime. I left quarters in cup holders, a box of emergency gear in the back and compact discs in the glove compartment.
I'm no longer so cavalier. I've taken almost everything out of the car for Whatcom excursions. 
"Leave no trace" has taken on new meaning.
Elliott Almond's outdoors column appears monthly. Email: elliottalmond4@gmail.com.