WTD?
What's the Deal With: Bellingham sound therapy?
Finding your zen with local sound guides
April 13, 2022 at 5:35 a.m.
---
---
One Friday each month, the Maritime Heritage Park pavilion is transformed into a palace of rejuvenation. 
Using Chinese wind gongs and crystal sound bowls, Kristi Moseley, owner of Mystic Heart Vibrational Sound Meditation, guides participants through a healing sound bath session.
The warm tone of the gong is hypnotic as the mind is immersed in a state of calming relaxation. Participants are encouraged to bring yoga mats, blankets and pillows to create the most comfortable environment possible.
"This time is about entering into the meditative space, the relaxing space, you find right before you fall asleep," Moseley said.
Bellingham Parks & Recreation collaborates with Moseley as well as Everitt Allen from Sound Therapy of the Pacific Northwest, to create a space for community members to find rest.
The sound therapy project began in August 2021. Since then, it has received positive support from the community. Registration is required to participate and oftentimes, many eager participants are waitlisted due to the restrictions of the pavilion space.
Moving forward, these enchanting sound therapy sessions may take place outside, weather permitting. Visit apm.activecommunities.com to register for a mind-tingling journey of restoration.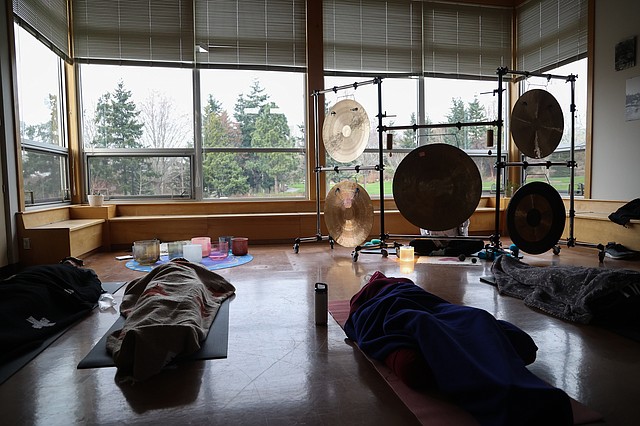 WTD runs on Wednesdays. Have a suggestion for a "What's the Deal With?" inquiry? Email us at 
newstips@cascadiadaily.com
.