Profiles
WWU professor's quest to document melting in Earth's frozen lands
Alia Khan is helping improve climate models across the globe
April 3, 2022 at 5:00 a.m.
---
---
Mountains and snow have always beckoned biogeochemist Alia Khan. The Western Washington University assistant professor conducts research on the cryosphere, or Earth's frozen environments. Her work has taken her to the Himalayas, the Chilean Andes, the Arctic and, most recently, Antarctica. 
But Khan grew up in Raleigh, North Carolina where snowstorms were rare and the rolling Appalachian mountains in the state's western tip were dwarfed by the peaks Khan would later encounter.
"Somehow I had this affinity for snow," she said.
Khan, who teaches in the Department of Environmental Sciences, studies how soot and algal growth accelerate snowmelt and climate change in the cryosphere. The data she collects can help scientists predict how fast snow, sea ice and glaciers are melting and how changes in the cryosphere will affect climate. 
"Seasonal snow, glaciers, sea ice — all of those have a really high albedo, meaning that they reflect almost all of the incoming solar radiation," Khan said.
By reflecting solar radiation, white snow keeps the cryosphere cool and frozen. But when soot settles on the snow and snow algae blooms in the summer, they absorb that heat like a dark T-shirt on a hot day, Khan often says. The resulting warmth quickens melting in frozen landscapes.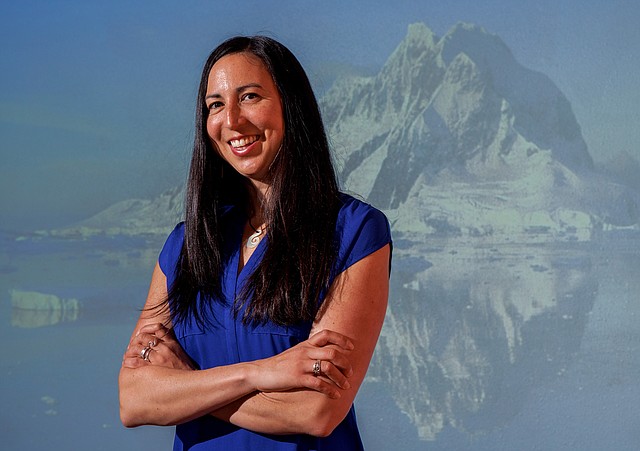 Khan's latest research, published in February in Nature Communications, showed that soot deposits from research and tourist activities in the heavily trafficked Antarctic Peninsula are accelerating snowmelt in the region by 1 inch per year.
Khan's interest in the cryosphere began when she was an undergraduate student at the University of North Carolina in Chapel Hill. Her father is from Bangladesh, and on a research grant, she traveled to the small South Asian country to connect with her roots and investigate drinking water quality in the region.
Always gravitating toward snow, Khan visited the Himalayas in Nepal when she finished her research. In the mountains, she saw the headwaters that caused flooding and drinking water problems in Bangladesh and realized the connection between snow, water and climate.
"I found myself thinking about the impacts of climate change on the cryosphere and what that means for these downstream communities," Khan said.
Khan pursued a master's degree at the University of Colorado in Boulder where she studied how longer, hotter summers increase harmful algal blooms in the state's lakes and reservoirs, degrading drinking water quality.
Khan "really excels at understanding processes and how those processes play out in different settings," said Diane McKnight, Khan's master's and Ph.D. adviser.
McKnight knew Khan loved snow and ice, so while she was in the process of completing her master's, McKnight invited her to come to Antarctica as an assistant for a long-term research project.
"I essentially caught polar fever," Khan said, recalling how she was captivated by the remoteness and beauty of Antarctica.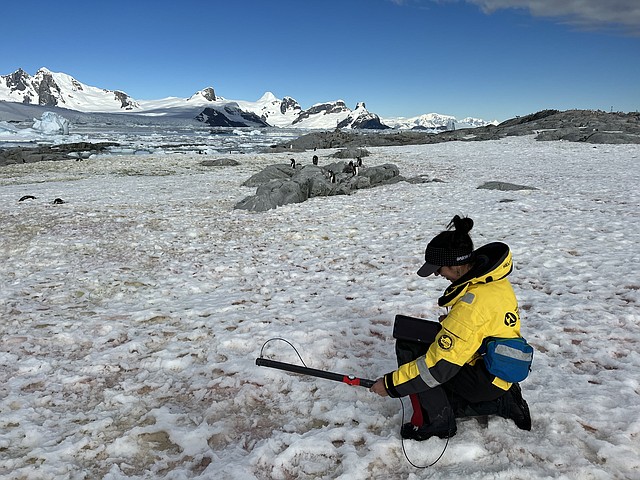 For her doctorate in civil and environmental engineering, Khan traveled to Greenland in 2014 where she linked black carbon deposits with recent Canadian wildfires. As climate changes, wildfire season is extending into the spring and fall, and fires are occurring at higher latitudes, Khan said. Since the 1990s, the average annual acreage burned by wildfires has more than doubled in the U.S.
"The intensifying wildfire season is obviously a concern in the Pacific Northwest," Khan said, adding that part of her current research is to examine how black carbon deposits from regional wildfires affect the recession and melt of Washington's glaciers.
Khan took the assistant professor position at Western in 2019 and is eager to engage her students in snow and ice research on Mount Baker and in the North Cascades. She also will continue her work in Antarctica and the Arctic. In October, she was awarded a $1.2 million grant from the National Science Foundation to support her research on the effects of black carbon and snow algae on melting and climate change in Earth's cryosphere.
"It's exciting to see that these topics are gaining traction," Khan said.
But even as she seeks to understand the impacts of black carbon on snow and ice, her work is contributing to the problem. The findings published in February show that Antarctic research stations, powered by generators and accessed by fossil fuel-burning vehicles, are adding to the layers of soot in the area.
To mitigate the problem, part of Khan's current research involves exploring remote-sensing technologies such as uncrewed aerial vehicles and satellites that can gather data without the need for human presence.
"The main thing is just being really intentional about traveling there," Khan said, adding that she visits these remote places with clearly-outlined objectives and tries to publish her data whenever possible.
Taking extended excursions to remote places has become more challenging for Khan since she and her husband had a daughter last spring. While the addition to the family has kept her closer to home, she's excited to share her passion for Earth's frozen landscapes with her daughter.
"Having my daughter has really changed my perspective on my hope for the long-term impact of my research," Khan said.